Pernell: Nebraska's 2021 D-Line Class
The rebuilding of the defensive line is going to benefit a lot from the eligibility freeze. With Ben Stille opting to return for a sixth year, every major contributor along the D-line will be returning in 2021. This gives promising youngsters Ty Robinson, Casey Rogers, Nash Hutmacher and Mosai Newsom an additional year of development without counting against their eligibility. It also allows an extra year for juniors Damion Daniels and Jordon Riley. With everyone coming back, the staff was content only adding a couple bodies to the mix. Tony Tuioti brought in two prospects who appear to be perfect fits for the 3-4.
As the staff began their evaluations for the 2021 class, they quickly determined Ru'Quan Buckley was one of their favorite D-line targets and made him a priority. Nebraska offered the Godwin Heights (MI) High School star on May 2, 2019, after Ryan Held came to his school during the spring evaluation period. At the time, the Huskers were his third offer – following Central Michigan and Kentucky – and were the first school to offer as a defensive lineman. Buckley played both sides of the ball for Godwin Heights. The 6-foot-5, 280-pounder played left tackle, where he was a four-year varsity starter, and also started at defensive tackle for the Wolverines. Throughout his recruitment, Buckley was recruited to play both sides of the line by different schools.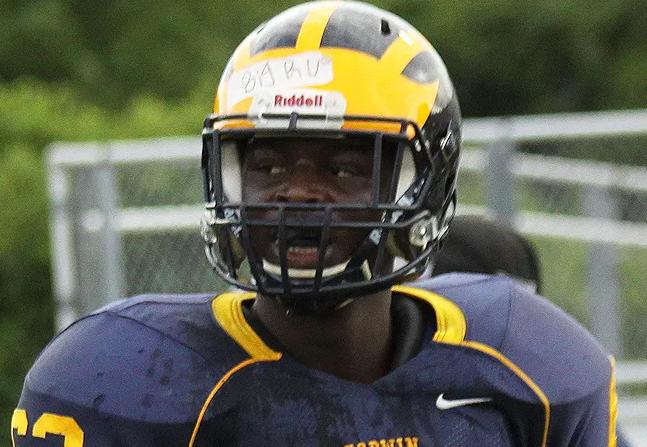 Ru'Quan Buckley
Buckley amassed over 20 offers, with the majority of schools wanting him as an offensive tackle. But Buckley preferred defense, and the Huskers viewed him as an ideal defensive end in their 3-4 from the beginning. Unlike other schools, the Huskers didn't try and sell him on playing defense only if things didn't work out on the O-line. They were all-in on defense.
After originally planning to commit on October 14, Buckley pushed back the date in order to continue considering his options. Sifting through offers that included Arkansas, Boston College, Colorado, Indiana, Iowa State, Michigan, Oregon, Purdue, TCU and West Virginia, on November 20, Buckley announced a top five of Nebraska, Michigan State, Florida State, Minnesota and Cincinnati.
Buckley and his mother were able to visit campus last January for a Junior Day event before the coronavirus pandemic shut down in-person recruiting two months later. That trip set Nebraska apart. Buckley hit it off with Casey Rogers, and persistent attention from Tuioti and Held put the Huskers in the drivers seat by the arrival of summer. As it turned out, Nebraska and Michigan State were the only teams in his top group that were able to receive a visit. On December 5, Buckley committed to Nebraska over the hometown Spartans, and that most likely doesn't happen if not for that tour of Lincoln in January. In doing so, Buckley became just the fourth Michigan native to sign with Nebraska since 1974. An early enrollee, Buckley arrived on campus a few weeks ago and is the youngest player on the roster. He actually won't turn 18 until October of 2021.
He certainly fits the profile the staff is looking for out of their defensive ends. Buckley is a good athlete who plays with a high motor and intensity. Strong at the point of attack, Buckley is explosive and agile with a long wingspan. He's a bit further along as an O-lineman, so he'll need to work on the intricacies of playing defensive end. Buckley plays with pretty good leverage, but he'll need to get better with his hands. He has the frame and tools to set the edge and still offer a pass rush threat.
A multisport athlete, Buckley ran the hurdles as a freshman and sophomore until he got too big, and he also plays basketball. Buckley is a high-ceiling prospect who is only scratching the surface of the player he can become. He was starting varsity as a 200-pound, 13-year-old freshman. The strides he has made year-to-year physically and with his development are impressive. As a senior, despite only getting to play seven games, Buckley finished with 74 tackles (22 for loss) and 11 sacks.
Joining Buckley is Jailen Weaver out of Antioch High School in California. Listed at 6-foot-8 and 320-pounds, Weaver is a massive defensive end prospect with over a 7-foot wingspan. Weaver also plays basketball and is a track and field standout. As a junior, prior to the season being shortened by the coronavirus, Weaver won the shot put and finished second in the discus at the Pittsburg Relays. At the same event, he ran a leg for the school's 400-meter relay team. As a sophomore, Weaver won three titles and added four second place finishes in both the shot put and discus, while qualifying for the state championship in the discus after a third-place finish at the North Coast Section Meet of Champions. He was also a two-time shot put and three-time discus meet champion as a freshman.
According to John Lucido, his head coach at Antioch, Weaver runs the 40-yard dash in the 4.8-second range. His size and athletic traits are extremely rare. You don't see a lot of kids his size move the way he does. He shows very good flexibility, acceleration and change-of-direction. I like how aggressive and violent he plays as well. Weaver can be a little inconsistent and gets away from playing with a low pad level, but he's someone with a ton of potential. As a three-sport athlete, Weaver has never participated in spring football due to his commitments in other sports. He could really take off as a player once he focuses only on football and takes advantage of a strength and conditioning program geared toward his growth in the sport. His physical upside is incredible. If he can maintain his athleticism as he matures into his body, he can be a guy that causes a lot of problems for an offense. He has some natural pass rushing ability and he's going to be an obstacle to throw around.
Weaver has been starting varsity since he was a sophomore. As a junior, he finished with 46 tackles (12 for loss), 9 sacks, two passes defended and one forced fumble in 10 games for Antioch, which earned him honorable-mention All-Metro honors by the San Francisco Chronicle. Unfortunately, the coronavirus pandemic took away his senior season, at least a traditional fall schedule. For now, games will be played this spring.
Weaver, who was ranked among the top 50 players in California by Rivals, was able to participate in the first stop of the Under Armour All-America Camp Series. The event was held in Mission Viejo (CA) on February 9, before the pandemic shutdown recruiting. He showed well, by all accounts. Weaver was offered by Nebraska on April 29, 2020. With offers from Arizona, Arizona State, Arkansas, Texas A&M and Washington State, among others, Weaver whittled his list down to Nebraska, Tennessee and Indiana in early October. Thanks to the coronavirus, Weaver was never able to visit any of his finalists. Like so many, he was only able to do Zoom calls and virtual visits. He committed to the Huskers on Halloween, becoming the first defensive lineman from the Golden State to sign with Nebraska since Cameron Meredith in 2008.
2021 analyses
Prior to contributing to HuskerMax, Jeremy Pernell co-founded the all-football website N2FL.com. From 2002-2014, he served as the editor in chief of the college football portion of the website which focused heavily on talent evaluation, which included NCAA recruiting and the NFL Draft. He has analyzed and covered the NCAA and NFL for 25 years. You can email him at jgpernell@comcast.net.
---