Pernell: Nebraska's 2021 DB Class
Nebraska signed a very promising defensive back class in 2020. Unfortunately, COVID-19 and other factors caused three of the four members of that group to enter the transfer portal before the 2020 season had ended. Thankfully, the NCAA's eligibility freeze will essentially give Nebraska a mulligan in their efforts to build that room. Seniors Deontai Williams and Marquel Dismuke decided to return to Nebraska in 2021. Couple that with the decision of budding star Cam Taylor-Britt to forgo an early NFL career, and the Huskers basically have a do-over.
With Quinton Newsome or Braxton Clark likely the next man up to replace Dicaprio Bootle, the trio of defensive backs in this class will have the benefit of easing their way into regular playing time. That's ideal. But if there is someone who might be prepared to play his way onto the field sooner than expected, it's probably Marques Buford. The 6-foot, 190-pound Buford is the nation's top-ranked prep school recruit. The uber-athletic, versatile athlete spent his first two years of high school playing at Bolingbrook High School in Chicago. He was a starting wide receiver as a freshman before transitioning to primarily defensive back as a sophomore. Growing up in the Chicago area, he became friends with Husker receiver Alante Brown, when the two met in grade school. They would remain close and played together in 7-on-7 tournaments.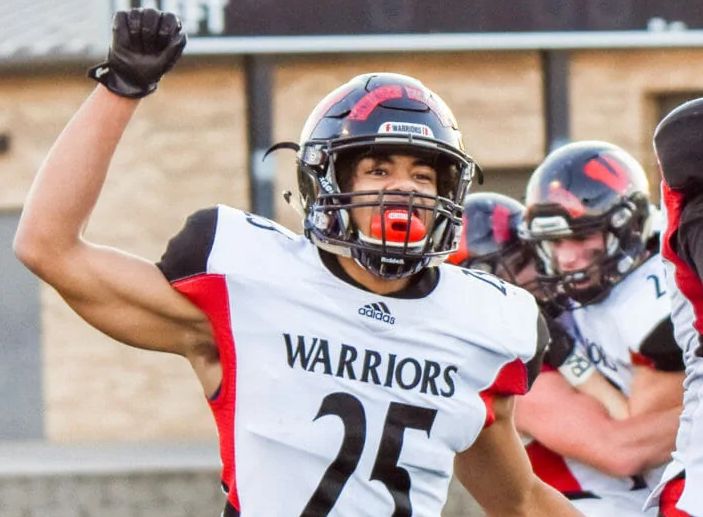 Koby Bretz
Buford made a name for himself immediately on the 7-on-7 circuit. In January of 2017, following his freshman season, he was named the top 2020 prospect in attendance by 247Sports at the Midwest BOOM 7-on-7 annual Best of the Midwest High School Showcase at Naperville Yard Indoor Sports Complex. As a sophomore the following January (2018), he was named Alpha Dog at the EFT/Edgy Tim Showcase held at the McCook Sports Complex in Illinois. Buford was establishing himself as one of the better prospects in the Midwest. He routinely stood out on the camp circuit as well. Whether it was the Under Armour regional in Chicago in May of 2018 or separate showings at the United Stars Chicago Showcases in March of 2018 and 2019, Buford always drew high praise for his play.
Prior to his junior season, however, he moved to Texas with his family as a result of his father's job. He enrolled at Trinity Christian High School in Cedar Hill. There he would excel as a two-way player, lining up at receiver, running back, cornerback, safety, nickel and nickel linebacker, while also returning kicks. At Trinity Christian, Buford was mentored by a pair of former NFL defensive backs-turned coaches in Deion Sanders and Kevin Mathis. The duo really helped Buford hone his skills as a defensive back. They routinely put Buford in charge of covering the opponents best playmaker, and lined him all over the field in doing so. Buford's skill set benefited greatly from that. He was twice named all-district and all-state in helping Trinity Christian win back-to-back TAPPS state championships.
Despite thriving on the field for Trinity Christian, Buford wasn't getting the sort of offers he wanted. Heading into the summer of his senior year, he had mid-level offers from schools including Florida Atlantic, Memphis, Miami (Ohio), New Mexico State, Northern Illinois, Rutgers, Southern Miss, Syracuse, Toledo, Utah State, Western Michigan and Wyoming. He was leaning towards Iowa State when he embarked on his last camp tour in the summer of 2019. He was named one of the top performers at TCU's camp in June, and then received the same recognition after excelling at Florida State's camp a month later in July. That performance changed his recruitment. The Seminoles offered soon after and Buford promptly accepted – albeit as a silent commit – and shut down his recruitment.
Unfortunately for Buford, in November of 2019, Willie Taggart was fired. Suddenly a man without a home, Buford spent the next month pondering his options. He got late offers from Ole Miss and Michigan State and considered signing with one of them, but he didn't feel comfortable committing to staffs with whom he had a limited relationship. Ultimately, he decided to attend St. Thomas More prep school in Connecticut and reclassify to the 2021 class. Buford's longtime friend Alante Brown had just spent a year at the prep school and recommended it. But Brown did more than that. He put the bug in Buford's ear about Nebraska and the idea of the two playing together in Lincoln.
The move to St. Thomas More paid off. Buford received a lot of attention after his decision to reclassify, garnering over 20 offers. The Huskers joined that group on May 15, 2020, and jumped towards the top of his list. Alante Brown continued to peer recruit his close friend, and would often give FaceTime tours of the Husker facilities to Buford. Brown was also front and center showing Buford around campus when he and his family toured Lincoln during the weekend of July 11. With coaches unable to have any contact because of the dead period, Brown and several other Husker players – including Cam Taylor-Britt – acted as guides during the visit. The following weekend, on July 18, Buford committed to Nebraska over finalists Texas A&M, Ole Miss, Iowa State, California, Pittsburgh and Washington State.
Buford certainly fits the mold of what Travis Fisher likes out of his defensive backs. He has good size and length and is capable of playing anywhere in the secondary. He's played a lot of press coverage as a corner, and also has the instincts to play in the back end of the secondary in zone coverage as a safety. Buford is a very fluid athlete, smooth in and out of his breaks. He has good hips and a quick twitch. He's coming to Lincoln with a pretty polished game for his age. Thanks to the coaching he received from Sanders and Mathis at Trinity Christian, Buford has a tremendous football IQ and his knowledge of schemes and coverages is quite advanced. One thing I like about Buford is that he's always looking for the takeaway. He has really good ball skills stemming from his background as a receiver, so he's not just looking to deflect a ball, he's looking to intercept it. He also makes it a habit of trying to punch the ball out of receivers hands. Buford is an early enrollee and will participate in spring ball. Don't be surprised if he makes a favorable impression and finds his way onto the two-deep by August.
The Huskers were able to grab a pair of teammates from powerhouse Buford High School in Georgia. Along with tailback Gabe Ervin, the staff also signed defensive back Malik Williams. Buford is one of the more talented high schools in the country. They send at least a handful of players to Power Five programs every year and it's not unusual for them to hit double-digits. Every school in the SEC and ACC keep tabs on Buford and make it a point to swing through during the spring evaluation period. Nebraska has been no different under Scott Frost. It was during the spring of 2018 when Williams first got onto Nebraska's radar. Already looking the part athletically, the Huskers weren't the only team to take immediate notice of the youngster just finishing his freshman year of high school.
Nebraska kept track of Williams' progress and offered him a scholarship on May 6, 2019, after seeing him in person again during the spring evaluation period. Over the next few years, Williams would collect over fifteen Power Five offers including Arizona, Colorado, Florida State, Georgia Tech, Kentucky, Maryland, Minnesota, Mississippi, Mississippi State, Pittsburgh, Rutgers, and South Carolina, among others. Travis Fisher and Sean Beckton would spend the next year talking to Williams nearly every day.
By last spring, Nebraska had started to separate themselves from a final group that also included Florida, Louisville, Texas and Arizona State. Williams did numerous virtual tours with his finalists, but felt a stronger connection to the Huskers. He just wanted to see campus in order to feel confident pulling the trigger. The plan had been for Williams and Ervin to visit Lincoln together in March, but the coronavirus pandemic scuttled those plans. Williams silently committed to Nebraska in late spring, but was forthright with coaches that he wanted to wait to make it official. He wanted to wait and see if the NCAA would allow visits, and if so, when?
He was at Gabe Ervin's house when his good friend publicly announced his commitment to the Huskers in late-June. The two had been discussing going to the same school since the fifth or sixth grade, and often spoke of it being Nebraska ever since the Huskers offered the pair on the same day as sophomores. Now Ervin would encourage his friend to make it official with the Huskers.
There was yet another Husker connection to Williams. Nebraska safety Myles Farmer grew up living next to Malik and his older brother LeAnthony – a four-star defensive back in the 2017 class who signed with Clemson and recently entered the transfer portal. Myles has known Malik since he was 6-years-old and played with LeAnthony at Westlake High School in Atlanta. Malik looks at Myles like an older brother and the two still talk almost daily. After Malik was offered by Nebraska, Farmer would often talk about his affinity for the coaches and the program.
Over the next few months, Williams came to realize visits weren't going to be allowed, but knew his mind was set anyways. So on July 21, he made his commitment official and announced his decision publicly.
All the tools are there for Fisher to work with. Williams has an excellent frame. He has really long arms and runs very well. Williams has the sort of position versatility Fisher prefers, but the plan is to develop him at corner. That's where his length, twitch and ball skills can be put to good use. Williams played a lot of off-man coverage for Buford, but in camp settings excelled playing aggressive press coverage. Right now, he's more advanced with man-to-man and could work on understanding zone concepts. He holds Buford's school record in the long jump – 23 feet, 2 inches – which is a testament to his explosiveness. Williams is physical and will stick his head in there in run support, too. He has a reputation for being intensely competitive and confident, two traits that are prerequisites if you play on an island. The 6-foot, 190-pound Williams still has his best football ahead of him. Because of the talent at Buford, kids often don't play key roles until they're upperclassmen. As a junior, Williams played behind T Lee and Jalen Huff, a talented duo who signed with Arizona State and Georgia Tech, respectively, in the 2020 class. Williams is a nice developmental player who could really pop in a couple years.
Nebraska might have a difficult choice on their hands where to play Omaha Westside athlete Koby Bretz. The 6-foot-2, 195-pounder has been an exceptional two-way player for the Warriors, splitting time between safety and receiver. The staff could use his talents at safety – the plan for now – or could transition him to outside linebacker in the mold of JoJo Domann. This feels like a similar situation to that of Javin Wright, who signed with the Huskers as a defensive back in 2019. Wright flirted with cornerback and safety his first year on campus before making the move to outside linebacker, where his frame and athleticism make for an intriguing option. Bretz has a lot of the same characteristics.
What's so appealing about Bretz is the upside he brings. Before playing football for Westside, he was actually a state champion diver, winning a silver medal at the Class A diving championships his sophomore year. He also took third place as a junior. It wasn't until his junior year that he started playing extensively on the football field. The progress he made that season was astonishing, and he did so playing the entire season with a partially torn meniscus. After helping Westside to a state runner-up finish, he earned honorable-mention all-state honors from both the Omaha World-Herald and Lincoln Journal Star. He took his game to another level as a senior. In fact, many observers felt Bretz was just as good, if not better on film than his good friend and teammate Avante Dickerson, who was a consensus four-star recruit who signed with Oregon. In November, the duo led Westside to its first state championship in 38 years with a 37-21 win over Teddy Prochazka's Elkhorn South team. For his efforts, Bretz was named Super-State first-team by the Lincoln Journal Star and first-team all-state by the Omaha World-Herald.
There might not be a better athlete in the state than Koby Bretz. During in-school testing at Westside, he clocked in the 4.6-second range in the 40-yard dash, recorded a 36-inch vertical jump and 10-1 broad jump. Steve Warren has been around Bretz extensively since November of 2019 when Koby started playing on the Warren Academy's 7-on-7 team. The former Husker defensive lineman has called him easily one of the top athletes he's ever had come through the Academy in 15 years.
Nebraska had Bretz on their radar since the fall of 2019, along with several teams in the region. There were no mistaking his athletic gifts, but there were concerns over his academic situation. Even still, by last spring, he started receiving offers from mid-tier programs such as Wyoming, Buffalo, Ohio and Northern Illinois. Kenny Wilhite had been keeping tabs on Bretz for the Huskers well over a year. Nebraska liked Bretz and wanted to offer, they just needed assurances that Koby could qualify. To his credit, Bretz worked extremely hard in the classroom his junior year to get caught up. Nebraska then helped him sign up for several summer school courses with a Florida virtual program.
With things looking positive on the eligibility front, Kansas State became his first Power Five offer in mid-June. But Koby felt a sense of loyalty to Nebraska for helping him get his academic situation on track. So when the Huskers came through with an offer on August 21, it took him only three days to commit to Frost. There's no doubt had Bretz been in good academic standing and the coronavirus pandemic not shut down football camps, Bretz would have collected double-digit Power Five offers. Ranked among the top 50 safeties nationally by Rivals and 247Sports, Bretz has a bright future ahead of him. He's been on an upward trajectory the past few seasons and has a tremendous ceiling.
Bretz is extremely versatile and could be a valuable chess piece in Chinander's defense. Positionless players on defense is becoming a big trend both collegiately and in the NFL. Bretz possesses the sort of frame, physicality, athleticism and intelligence to play all over the field in a variety of ways. From his safety position, you see him diagnose plays quickly and then get downhill in a hurry to help in run support. He hits hard and runs through ball carriers. He takes good angles to the ball and is a sure tackler. There is a lot to like on his high school film in run support. You couple that with his standout play during 7-on-7 competition and you can envision the sort of package he offers. Bretz is a fluid athlete with above-average ball skills. Even if he stays in the secondary, Bretz could be used as a hybrid linebacker who can slide out to the slot or serve as a nickel back.
2021 analyses
Prior to contributing to HuskerMax, Jeremy Pernell co-founded the all-football website N2FL.com. From 2002-2014, he served as the editor in chief of the college football portion of the website which focused heavily on talent evaluation, which included NCAA recruiting and the NFL Draft. He has analyzed and covered the NCAA and NFL for 25 years. You can email him at jgpernell@comcast.net.
---
---
---
---