Pernell: Nebraska's 2021 WR Class
Nebraska continues to try and build up their wide receiver room. I covered how difficult that process has been for Frost in my
recap of the early signing period
, if you'd like to review that. Now you lose Wan'Dale Robinson, which is a body blow of massive proportions on so many levels. Yet, the staff keeps plugging away valiantly. They added a nice-looking trio to this class.
Latrell Neville is one of the more intriguing wide receiver prospects in this class thanks to his frame and athletic potential. With nearly 50 scholarship offers to his credit, most college programs agreed. Nebraska joined the growing list back on January 15, 2019. A list that would include the likes of Alabama, Auburn, Florida State, Georgia, LSU, Michigan, North Carolina, Ohio State, Oklahoma, Oregon, Texas, Texas A&M, USC and Washington, among dozens of others. If the last name sounds familiar, you're right. Latrell's grandfather is R&B legend Aaron Neville.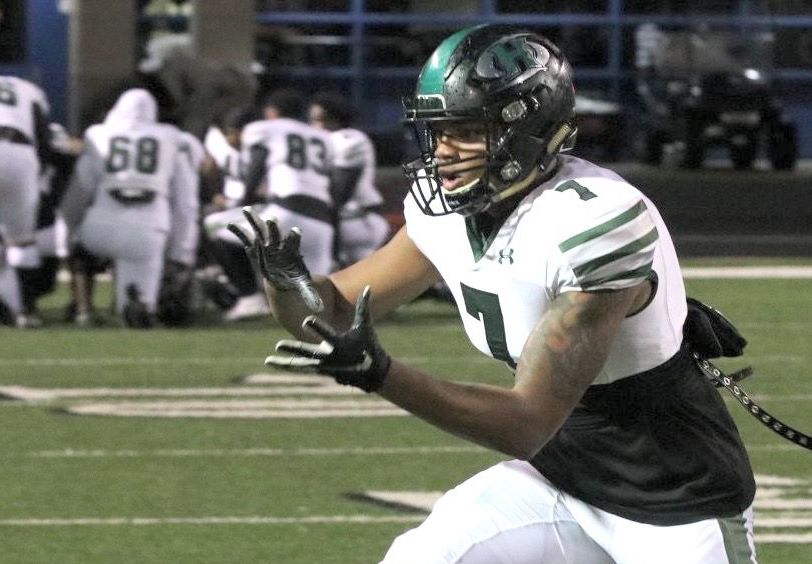 Latrell Neville
Neville had been a hot commodity nationally since he was a freshman, and at one time or another had favored Texas, LSU and Oklahoma before initially committing to Virginia Tech this past April. He chose the Hokies in large part because fellow Texan Dematrius Davis, a heralded quarterback from the Houston area, peer recruited him with the vision of the two being a dynamic duo in Blacksburg. After Davis decommitted a month later, Neville followed suit in June. Nebraska never stopped recruiting Neville, but it was the addition of new offensive coordinator and wide receivers coach Matt Lubick that had Neville looking harder at the Huskers. The two of them had a strong relationship already established from the time Lubick was at Washington and was recruiting Neville back in 2018.
The Huskers weren't the only team to circle the wagons with the Hightower (TX) High School product, however. Several programs continued their efforts through his Virginia Tech commitment. On July 4, Neville finally put his recruitment to bed, committing to the Huskers over Florida, Penn State and West Virginia.
His first love is football, but throughout various points in high school, Neville has participated in several track and field events including the high jump, triple jump, 100 meters, 200 meters and 400 meters. His times in the 100m (11.84) and 200m (23.60) seem modest, but they are put into perspective when you consider he is already a well-built 6-foot-4 and 195-pounds. Neville is a raw prospect with a huge upside, though there's no doubt his production on the field hasn't matched his immense physical gifts. Neville has played for multiple high schools and most haven't featured wide open passing attacks. It's largely accepted his output has been effected by that fact. Nebraska's coaches are banking on his incredible ceiling.
Neville is a physical mismatch for almost any defensive back he'll face, even in the Big Ten. He has strong hands and because of his height and long arms, possesses a large catch radius that makes him a huge target in the passing game. It helps him battle for 50-50 balls downfield, as well as contested balls thrown in the short-to-intermediate range. It also makes him a threat in the red zone. Neville plays physical and uses his size well. He has an impressive burst off the line, but will need to get better as a route runner. He clearly projects on the outside, but Neville has been surprisingly effective out of the slot, so Frost and Lubick can use him all over the field to try and exploit mismatches. Neville is tough to bring down after the catch in the open field. He has enough speed and surprising elusiveness to create chunk plays. Neville is a willing blocker, something the Husker coaches demand from their wideouts. Latrell was able to enroll early and will take part in spring practices.
Thanks to the coronavirus, the majority of players in this class weren't able to visit campus during their recruitments. That wasn't the case for Camden County (GA) High School standout Shawn Hardy II. With family connections in Omaha, Hardy was able to visit Lincoln twice during his recruitment, once being for the Huskers game against Ohio State on September 28, 2019. The staff identified Hardy early in the process and finally offered him back on May 17, 2019. As the coaches began putting their board together for the 2021 class, Hardy emerged as one of the top two receivers on their board.
Hardy was the first receiver to join the class when he committed to the Huskers on May 29, 2020, over fellow finalists LSU and Georgia Tech. Hardy didn't seek out the spotlight during his recruitment and gave very few interviews. He let his play on the field do the talking. Hardy emerged as one of the top 2021 prospects in the region after a breakout sophomore campaign when he caught 36 passes for 795 yards and five touchdowns. As a junior, he was named first-team Georgia Class 7A after he hauled in 44 passes for 782 yards and 10 touchdowns. He caught 29 passes for 446 yards and three scores in only seven games as a senior. Along with his finalists, Hardy also received offers from Arkansas, Auburn, Kentucky, Mississippi State, Ohio State, Purdue, South Carolina, Tennessee, UCF and West Virginia, among others. The 6-foot-3, 190-pound Hardy was a multisport standout for Camden County. He was also one of the best soccer players in the district, leading the team in goals as a freshman and sophomore before the coronavirus put a halt to that season last spring.
Hardy was a regular on the camp circuit in the summer of 2019, routinely standing out. In January of 2020, he was named to the 2019 EXOS Select 50 All-American Football Team as a first-team wide receiver for his work at one of their camps the previous summer. EXOS is a sports performance training company that specializes in preparing college athletes for the NFL combine and pro days. They held five regional instructional showcases within Arizona, California, Florida and Texas. The rankings were determined by overall evaluations and grades given by NFL coaches and players in attendance.
According to his coaches at Camden County, Hardy is a very hard worker and a respected team leader. He's best suited on the outside, but was used all over the field for the Wildcats. He would occasionally work out of the slot and was utilized on jet sweeps and tunnel screens. He has deceptive speed and can make people miss in the open field. Hardy has been a very good downfield threat throughout his career. He high points the football nicely and is adept at winning 50-50 balls. He really seems to take pride in his blocking.
Rounding out the wide receiver class is 6-foot-3, 200-pound Kamonte Grimes, who received his Husker offer back on March 27, 2020. The Palmetto Ridge (FL) High School star is a versatile athlete who did a little bit of everything for the Bears. During his prep career, Grimes played inside and outside receiver on offense and both safety and cornerback on defense – while also being a return man on special teams. He also saw snaps at quarterback and outside linebacker. A four-star prospect according to ESPN, Grimes was recruited to play both offense and defense, depending on the school. Some wanted him as a receiver, while others saw safety, linebacker or cornerback in his future. Michigan, who were the runner-up in his recruitment, liked him as a defensive back and tried to sell him on a role similar to that of Jabrill Peppers, who played defensive back and nickel linebacker, while dabbling on offense for the Wolverines.
Nebraska always saw Grimes on offense, which was his preference. In the end, the opportunity to play in Frost's offense won out, and on August 16, 2020, Grimes committed to Nebraska over Michigan and a final group that also included Miami, Kentucky and Maryland. Grimes held over 20 offers, which also included Cincinnati, Georgia Tech, North Carolina, Ohio State, Pittsburgh, Tennessee, UCF, Utah, Virginia and Wisconsin, among others.
Grimes has been on a consistent upward trajectory since starting varsity as a freshman. Following his junior season, he was chosen to play in the Legend's Football All-Florida Junior Showcase. His prep career culminated with being selected for the prestigious All-American Bowl two days prior to his Husker commitment.
A playmaker on both sides of the ball for Palmetto Ridge, Grimes has a high ceiling and should really come into his own once he is able to settle into one position and focus on receiver. He's relatively new to the position, having not played receiver until his freshman year, mostly focusing on quarterback and safety prior to high school. Despite that, he is already a very good route runner. Grimes also competed in basketball and track, and is a smooth, fluid athlete on the field. He doesn't have elite speed, but he's plenty fast. Grimes is physical and doesn't go down easily.
2021 analyses
Prior to contributing to HuskerMax, Jeremy Pernell co-founded the all-football website N2FL.com. From 2002-2014, he served as the editor in chief of the college football portion of the website which focused heavily on talent evaluation, which included NCAA recruiting and the NFL Draft. He has analyzed and covered the NCAA and NFL for 25 years. You can email him at jgpernell@comcast.net.
---
---
---
---