Pernell: Nebraska's 2021 LB Class
I wrote of Nebraska's difficulties bringing in outside linebacker talent in my recap of the early signing period. You can find that write-up
here
if you missed it. Despite that, the staff was able to sign an impressive quartet of linebackers. There is position flexibility with each of them, however they were all initially recruited to play on the inside. Glass half full; these four are going to really improve the overall talent at linebacker. Glass half empty; it's not ideal having to sacrifice your vision at one position to accommodate another that you're struggling to build.
With the staff perhaps needing to move a guy from this class outside, I think Mike Dawson might be champing at the bit to take Randolph Kpai out of Barrett Ruud's room. It would be a really difficult decision, and one that could ultimately come down to how Kpai's body matures. Nebraska wants versatility at the inside spot. Someone with the ability to cover slots, play in the box, play in space and be an effective blitzer. The staff identified Kpai early with this prerequisite in mind. Nebraska needs playmakers on the inside who can run and cover. Kpai does that extremely well.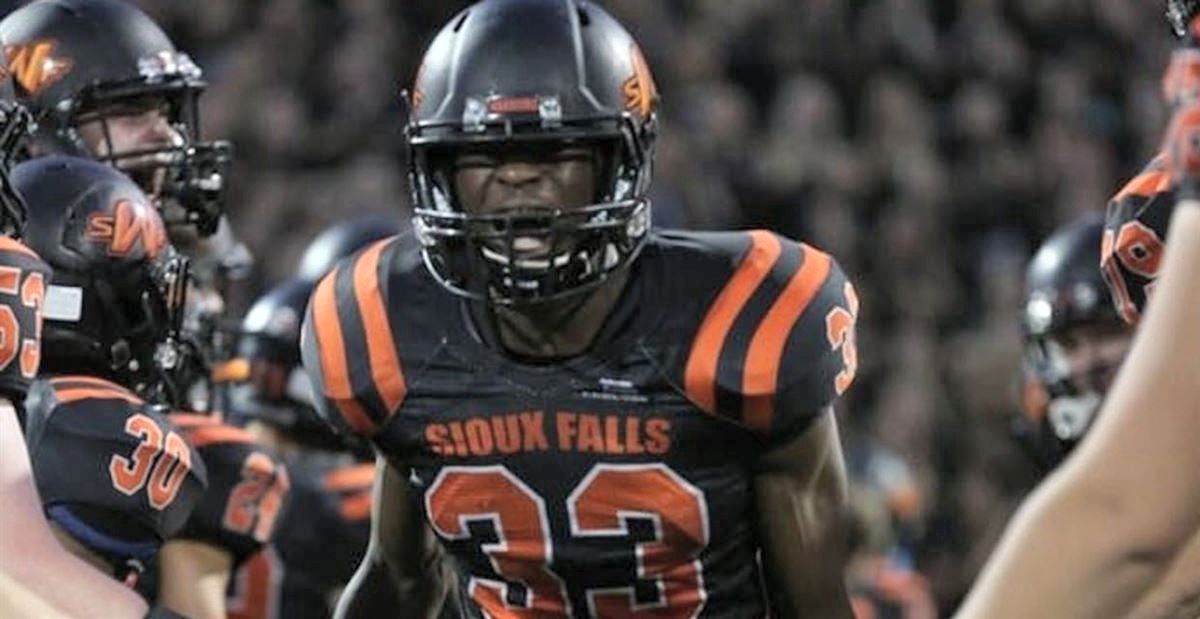 Randolph Kpai
Kpai is extremely gifted athletically. He has great speed and acceleration, and is very explosive. He closes on the ball with tremendous burst and impact. He's very impressive in lateral pursuit. Kpai has fluid hips and changes directions like a defensive back. In fact, I could see a team wanting to turn him into a strong safety. Kpai moves well in space and uses his speed to chase down plays all over the field. He checks all of the boxes this staff wants out of its inside guys. But he also offers a skill set that would be a fit on the outside as well. Kpai has played mostly outside linebacker for his Washington High School, and has developed into a tremendous pass rusher coming off the edge in blitz situations. His speed is also a major asset on the perimeter.
At 6-foot-3, he has the length and frame to play anywhere. It'll just be a matter of how his body matures under Zach Duval. Currently listed at 185-pounds, how much weight can he gain before he sacrifices the athleticism that makes him such an elite prospect? It will certainly be interesting to watch him develop. Will he stay on the inside where the staff originally viewed him as the inside linebacker prototype of the future? Or will he end up on the outside playing a similar role to JoJo Domann? Over the past two or three years, we've seen how valuable an outside linebacker like Domann is to this defense. The staff calls Domann's position the 'Cinco'. Domann is used as a Swiss Army knife, allowing Nebraska to go back and forth between its base 3-4 look and nickel package without having to substitute, thanks to his ability to play the run and drop back into coverage. Kpai has this skill set.
Kpai was an early regional target the staff identified thanks in part to Nebraska's longstanding relationship with Chad Stadem. He'd spent 17-years as head coach at Washington High School in Sioux Falls (SD) before leaving this past May to accept the activities director position at Jefferson, an $80 million high school 20 minutes away opening in the fall of 2021. Stadem had sent Nate Gerry to play for Bo Pelini in 2013, and saw Matt (2016) and Will (2018) Farniok choose to play for Mike Riley.
Kpai was a priority target of Barrett Ruud very early on and the Husker coach made sure he knew it. Nebraska offered Kpai during his first visit to campus on March 30, 2019. He returned a few weeks later for the Spring Game on April 13. Kpai garnered additional early offers from Indiana, Iowa, Iowa State, Kansas State and Minnesota, but it was his offer from Oregon in late April of 2019 that signaled he would be a national target. Kpai was intrigued by the Ducks, but luckily for Nebraska, preferred to stay inside the region. He took several unofficial visits during 2019. Along with Nebraska, Kpai also trekked to Iowa, Wisconsin, Iowa State and Minnesota. He returned for an unofficial visit in October when Nebraska beat Northwestern on a last-second field goal. Despite increased interest from Wisconsin, as well as several national programs including Florida, LSU, Notre Dame and UCLA, by late 2019, Kpai narrowed his focus to Nebraska, Iowa and Minnesota. He chose the Huskers on January 2, 2020, and never wavered.
Born in Ghana and raised as a child in Liberia, Randy's father, Erick Kpai, moved to America a few years after he was born with the hopes of securing a better life for he and his family. When Randy was 6, along with his older brother Jordan and their mother Utee, the three joined Erick in Chicago. Unfortunately, Randy and his brother were still learning English and their thick accents led to intense bullying. In 2012, when he was 9, the family moved to Sioux Falls where Utee's sister lived. By then, his English had improved and Randy took up sports as a way of fitting in with the other kids. He'd played soccer his whole life, but quickly found that 'American Football' was now the preferred sport.
Without much knowledge of the game, he began playing as a seventh-grader, starting out as a running back. With his natural athleticism, he immediately stood out. He entered high school weighing 140-pounds and was moved to linebacker as a sophomore for depth purposes. It was apparent rather quickly he was meant to play defense. Still only having a rudimentary grasp of the game, Kpai started that sophomore season, getting by with speed and aggression. He took a huge step as a junior, making 63 tackles (12.5 for loss), three sacks and two fumble recoveries. For his efforts he was named Argus-Leader's Class 11AAA all-state. Kpai took his game to another level as a senior. He earned second-team All-America honors from Sports Illustrated after finishing with 79 tackles (9.5 for loss), four sacks and two forced fumbles. Kpai played outside linebacker as a sophomore and junior, and transitioned to more of an inside position as a senior.
Kpai is just scratching the surface as a player and has tremendous upside. Whether he settles on the inside or outside, one of his biggest assets will be the ability to play different roles. Husker coaches could get really creative with a player like Kpai. He's considered a four-star prospect by 247Sports and ESPN, who regards him as the nation's No. 163 prospect. Kpai is an early enrollee who arrived on campus in late January.
Another early regional linebacker target for the Huskers was Seth Malcom, who played 8-man football for Fremont-Mills High School in Tabor, Iowa – a town with a population under 1,000 and a school with an enrollment of 93 students. It's rare to see an 8-man player receive attention from several Power Five programs, but there was something Barrett Ruud and Erik Chinander saw and liked about the 6-foot-3, 205-pounder. Malcom landed his first offer from Iowa State in March 2019, after he had 101 tackles and 18 tackles for loss as a sophomore. An offer from Kansas State soon followed, and Nebraska officially jumped on board not long after on April 3, 2019, after Malcom was in town for an unofficial visit.
Malcom visited schools several times prior to his junior season. He took Junior Day visits and camped at several schools, including in-state Iowa and Iowa State. He also visited Lincoln at least five times during his recruitment, including return trips for the Northern Illinois game September 14, 2019 and for a Junior Day on January 25, 2020. He had hoped to continue taking visits this past spring, but because of campus shutdowns and NCAA regulations, he was unable to do so. With additional offers from Boise State, Iowa, Minnesota and Wyoming, in May, Malcom narrowed his focus to Nebraska and Kansas State.
With the NCAA-mandated recruiting shutdown extended through July at the time, Seth and his parents, Alex and Tracy, took matters into their own hands. The Malcom's decided to take a road trip and visit both campuses one more time. During the last weekend of May, they made the 90 minute drive to Nebraska's campus. They followed that up with a 165-mile drive to see Manhattan on Tuesday, June 2. The three walked around both stadiums and both campuses. Coaches at both schools – who, by rule, couldn't meet with them in person – offered advise on places to tour and tips where they could find a good meal. The family cruised around both towns to get a feel for the communities. Seth had been leaning towards the Huskers and the visits helped solidify his decision. After returning home from those visits, Seth got on Zoom with several of Nebraska's coaches the night before he publicly committed and informed them of his intentions. On June 6, 2020, Malcom committed to Nebraska. In doing so, he became Nebraska's first 8-man scholarship recruit since fullback Steve Kriewald in 2000. Safety Andrew Shanle was also a grayshirt in the 2002 class.
Malcom comes from a family of Husker fans. His grandparents often drove him from Tabor to attend Husker games growing up. His father played at Peru State and works as a firefighter in Omaha, while his mother is an educator and volleyball coach at Fremont-Mills. Malcom is also a product of the staffs ramped-up efforts in recruiting the state of Iowa, led by Erik Chinander. The Huskers have now signed five players from the Hawkeye State in the last three classes. There had only been two between 2001-2018.
Malcom enjoyed a breakout junior season for the Knights. As a two-way standout, Malcom racked up 70.5 tackles (15 for loss) and three interceptions from his linebacker spot, while adding 29 touchdowns as a running back. Unfortunately, he would need knee surgery following the season to reattached his LCL to the bone. He showed no effects of the injury as a senior, however, when he took his game to another level. He finished with 92.5 tackles (17 for loss) on defense, and rushed for 1,606 yards and 24 touchdowns on offense, while leading Fremont-Mills to a runner-up finish in the state playoffs. Like Thomas Fidone and Henry Lutovsky, Malcom was named to the 2020 Des Moines Register All-Iowa Elite Team, comprised of the best players in the state regardless of class. He's also a two-time all-state selection, and was named KMAland Class 8-Man Defensive Player of the Year as a junior and senior.
Nebraska has needed to upgrade its overall athleticism at the inside linebacker position since Frost and his staff got to Lincoln. Seth Malcom is a step in the right direction. He runs extremely well and makes plays sideline-to-sideline. But his bread and butter is playing downhill and shooting gaps. Malcom has been a man among boys at the 8-man level, which you'd expect from a player recruited as highly as him. He has strong instincts and a high football IQ. Malcom was comfortable making defensive calls and identifying audibles and tendencies of opponents. Malcom will need to work on his coverage skills, however. He has a nice frame to work with and above-average athleticism and natural tools. But he'll likely take a bit longer to develop thanks to his thin build and the level of competition he's coming from. Malcom is an early enrollee who is already on campus participating in winter workouts.
Outside linebackers coach Mike Dawson is extremely connected to the state of New Jersey. He first began recruiting Mikai Gbayor when he was still with Frost at Central Florida. On January 16, 2020, Dawson officially returned to Nebraska after spending the 2019 season in the NFL with the NY Giants. Perhaps the first scholarship offer he made on his return to Lincoln was to the Irvington High School standout on January 28. The Huskers moved Gbayor towards the top of their inside linebacker board, while Erik Chinander and Barrett Ruud joined Dawson in his recruitment.
Gbayor was ranked the No. 5 player in the state by NJ.com and the No. 10 player in New Jersey by 247Sports. He received over 20 offers, including Alabama, Boston College, Cincinnati, LSU, Maryland, Michigan, Pittsburgh, Texas A&M, and Virginia, among others. By last summer, he had narrowed his focus to Nebraska, Michigan State, Ole Miss, Kentucky and West Virginia. In late August, Gbayor drove to Lincoln and spent a few days around the campus, trying to get a better feel for the area. He really enjoyed himself and was sold on the Huskers. He committed to Nebraska on September 4, 2020.
The Huskers are getting a very instinctive, athletic inside linebacker. Gbayor moves really well laterally and makes plays sideline-to-sideline. He is adept at sifting through the trash and then strikes hard coming downhill to fill a gap. He played some defensive end in the past for Irvington and developed into a really good blitzer from various points of the defense. Gbayor mainly played inside, but would occasionally shift outside in some packages for the Blue Knights. Really takes his mental and physical development seriously. Gbayor was 5-foot-10 and 165-pounds as a freshman, but dedication in the weight room has molded him into the 6-foot-2, 220-pound prospect he is today. He has good length and could still put on another 10-15 pounds without sacrificing any mobility. According to his coaches at Irvington, Gbayor loves to watch film and is a student of the game.
Gbayor plays a physical style that will be a good fit in the Big Ten, while also having the athleticism to play in space. Really aggressive in run support and seems to thrive on contact. Gbayor arrives with a thump and drives through contact. Breaks down well in space and is a wrap-up tackler. Has the speed to be an asset in coverage, but he'll need some work here. Played mostly zone when asked to drop back into coverage at Irvington, which mainly consisted of covering the flats. He's fast enough to run with tight ends or running backs, but he has a limited background in man coverage.
Ranked by Rivals as the country's No. 20 inside linebacker, Gbayor has been one of the best high school linebackers in the Northeast region the past two years. As a junior, he finished with 86 tackles (32 for loss), 14 sacks, five forced fumbles, three fumble recoveries and one interception returned for a touchdown. For his efforts, he was named Gatorade Player of the Year in the state of New Jersey, and the Essex County Defensive Player of the Year. This past season, Gbayor had 56 tackles (29 for loss) and nine sacks through Irvington's first six games and then missed some time with an injury. He was still named to the USA Today All-New Jersey first-team, and awarded the 2020 Maxwell Football Club New Jersey High School Player of the Year award.
The only player to be added to the class after the early signing period in December was Wynden Ho'ohuli, the consensus No. 1 player in the state of Hawaii. The 6-foot-3, 220-pounder chose the Huskers on January 2 over Washington, Utah and Kansas State during a two-hour "Declaration Day" TV special on NBC. The event was a replacement for the All-American Bowl game that was canceled by the pandemic. It honored the prestigious games 100 prep All-Americans, which also included Thomas Fidone and Kamonte Grimes. Ho'ohuli is the first Hawaii recruit to sign with Nebraska since 1999.
The versatile linebacker had long been on the Huskers radar and that of Tony Tuioti, in particular. Nebraska's defensive line coach grew up in Laie, Hawaii, on Oahu's north shore. Tuioti played for the Rainbow Warriors in the late-90's and then got his coaching start as a graduate assistant for his alma mater. After spending two-years as the head coach at Kalaheo High School in Kailua, Tuioti would later return to Hawaii and spend six years on separate staffs for head coaches Greg McMackin (2008-11) and Norm Chow (20012-13).
Tuioti and Scott Frost offered Ho'ohuli back on May 15, 2019, while the two were touring the state during the spring evaluation period. Ho'ohuli quickly became a top linebacker target and stayed in constant contact with the Husker staff over the next year and a half. Tuioti took the lead in his recruitment, but Ho'ohuli also received plenty of attention from Frost, Erik Chinander, and Barrett Ruud. Amazingly, despite not being able to visit Lincoln, Ho'ohuli's relationships with the staff were strong enough for him to be comfortable playing someplace sight unseen nearly 4000 miles away, instead of going somewhere familiar like Washington or Utah. Kudos to Tuioti on building that relationship.
Ho'ohuli played for powerhouse Saint Louis School in Honolulu as a sophomore before transferring to Mililani, where he enjoyed a standout junior year. Following his junior season, Ho'ohuli earned second-team all-state honors from the Honolulu Advertiser. Hawaii high schools didn't play football this year because of the pandemic, which cost the linebacker his senior year and even more notoriety. Even so, Ho'ohuli garnered over a dozen offers, nearly all of them coming by winter of 2019. Along with his finalists, he also had opportunities with Arizona, Arizona State, Hawaii, Oregon, Oregon State, San Diego State, USC, Utah State, Virginia and Washington State.
You don't see a lot of kids as highly regarded as Ho'ohuli fly relatively under the radar like he did this past cycle, and you can attribute that to COVID-19 isolating Hawaiian prospects and limiting their ability to travel to the mainland. Prior to the recruiting shutdown, Ho'ohuli had been establishing himself as one of the best players in the state dating back to his sophomore season. He was arguably the top performer at the Level Up Elites Showcase held in Honolulu back in March of 2019. He was also a standout at the Nike Opening Regional in Oakland in May of 2019. Ho'ohuli then kicked off 2020 with a bang. Last January, he dominated at the inaugural Iron Sharpens Iron training and showcase event that preceded last years Polynesian Bowl – a game he would be selected to play in this year, before it was canceled due to the pandemic.
Even without senior film to showcase, Ho'ohuli is considered a four-star prospect by all three major recruiting services and ranked as the No. 159 (ESPN), No. 183 (247Sports) and No. 183 (ESPN) overall player in the country. He's also ranked the No. 3 inside linebacker by ESPN, while 247Sports ranks him No. 9 in that category. A versatile player, Rivals has him ranked the No. 13 outside linebacker in the country.
The Huskers are looking to change up the body profile at inside linebacker. They are starting to recruit longer, bigger guys who are still athletic enough to spill from sideline to sideline. Ho'ohuli fits this profile. A lot is asked of middle linebackers in Chinander's defense. Ho'ohuli will be asked to cover backs and tight ends, go forward against the run and blitz. Again, all things Ho'ohuli does well on film. Mililani head coach Rod York gushes about Ho'ohuli's football IQ and his film speaks to that. He's an extremely instinctual linebacker who anticipates where the ball is going and displays aggressiveness and tremendous closing speed. Ho'ohuli, who played both inside and outside linebacker as well as safety as a junior in 2019, shows surprising fluidity in coverage for a linebacker that is so physical near the line of scrimmage. He reacts quickly to underneath throws when he is in zone coverage responsibilities.
Ho'ohuli has great burst and change of direction, and he uses those attributes to chase down ball carriers and make plays all over the field. He's a very effective blitzer coming off the edge or up the gut. Ho'ohuli violently attacks gaps and arrives with bad intentions. Has the build, athleticism, skill set and mental acumen to be a dominant downhill, in-the-box middle linebacker.
2021 analyses
Prior to contributing to HuskerMax, Jeremy Pernell co-founded the all-football website N2FL.com. From 2002-2014, he served as the editor in chief of the college football portion of the website which focused heavily on talent evaluation, which included NCAA recruiting and the NFL Draft. He has analyzed and covered the NCAA and NFL for 25 years. You can email him at jgpernell@comcast.net.
---
---
---
---