Pernell: 2021 Class QB Heinrich Haarberg
Heinrich Haarberg wasn't atop the Husker QB board for most of the 2021 cycle. That honor fell on a pair of four-stars, Dematrius Davis and Peter Costelli. Nebraska had their class of 2020 quarterback, Logan Smothers, committed back in July of 2018, giving Verduzco plenty of time to identify targets for 2021. Davis and Costelli were the proverbial cream that rose to the top. A native of Houston, Davis committed to Virginia Tech in November of 2019 before ultimately flipping to – and signing with – Auburn. It wasn't until Mission Viejo (CA) High School standout Costelli committed to Utah this past April, that Verduzco pivoted aggressively towards the Kearney Catholic signal caller.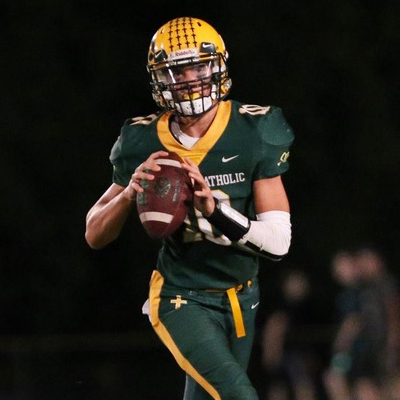 Haarberg, whose father Rod walked on as a fullback at Nebraska in 1992, first visited campus before the dead period began in December of 2019 when he met with Frost and Verduzco individually, putting himself on their radar and earning an invitation to a Junior Day in late January. A month later, on February 29, he had a good showing at an Elite 11 Regional held in Atlanta. As spring unfolded, Haarberg saw his profile rise and along with the Huskers, began hearing regularly from coaches at Clemson, Auburn, Oregon, Iowa, Northwestern, Boston College, Duke, Kansas State, NC State, Utah and Vanderbilt. In fact, Kearney Catholic head coach Rashawn Harvey revealed that roughly 15 colleges had plans to stop by the school before the NCAA instituted a recruiting dead period in response to the coronavirus pandemic.
The cancellation of the spring evaluation period probably cost Haarberg a number of Power Five offers. By the first week of April, he had offers from Wyoming, Buffalo, Central Michigan, Northern Illinois and a few other FCS and Ivy League schools. Had he gotten the opportunity to throw in front of coaches while showing off his size and athleticism, it's not hard to imagine he would have become quite popular. Despite the circumstances, Haarberg received his first major offer from Boston College on April 8. Three days later, Costelli disappointed Husker coaches and chose Utah.
Frost and Verduzco had long expressed their preference to see Haarberg throw at one of their Friday Night Lights camps planned for June. In mid-April, however, it was unknown whether camps would be allowed since the NCAA was incrementally extending the dead period. Nebraska was in a bind. On one hand, they clearly liked what they saw of Haarberg on film. But they have a process they trust and were hesitant to deviate from that. With their board shrinking, Frost and Verduzco came to realize seeing him throw was unlikely. They also knew Haarberg was continuing to gain notoriety nationally. Roughly three weeks later, on May 4, they decided to extend an offer. The same day, Haarberg received offers from NC State and Vanderbilt.
Heinrich didn't take long to accept the offer, committing to the Huskers on May 9 over fellow finalist Boston College. In doing so, Haarberg became the first in-state player to sign with Nebraska as a quarterback since Mike McLaughlin of Millard North in 2001. Before Haarberg, the last in-state signal-caller Nebraska had offered as a quarterback was Papillion-La Vista's Allan Evridge, who committed to NU but later flipped to Kansas State after the dismissal of Frank Solich in 2003.
It can be argued Haarberg has the highest ceiling of all the quarterbacks Scott Frost and Mario Verduzco have brought to Lincoln. He's also very raw and will need plenty of refinement over the next couple years. Heinrich knows this full well and during the offseason would travel out to the Denver area to work with former NFL quarterback Tim Jenkins, who now runs Jenkins Elite, a training operation. Haarberg welcomes the chance to sit behind Adrian Martinez and absorb the teachings of Verduzco.
Nebraska tends to recruit quarterbacks who, first and foremost, fit athletic requirements. If you aren't a threat with your legs, you can't play for the Huskers. It doesn't get much better than Haarberg from a measurables standpoint. Listed at 6-foot-5 and 190-pounds, Haarberg might not be done growing either, considering he wears size 17 shoes and has 11-inch hands. He ran a 4.68 40-yard dash and jumped 38-inches at a camp back in the summer of 2019. Also a track and field standout, Haarberg high jumped 6-foot-7 as a sophomore and was expecting to break 10.8 seconds in the 100 meters this past spring before the track season was canceled. It's also been reported that Haarberg has thrown a football 82-yards.
On tape, he shows the qualities you're looking for. He uses his height to scan the field and pushes the ball downfield nicely. You see a lot of vertical throws, which you'd expect with his arm strength, but he also displays a nice touch on his passes. He throws efficiently from the pocket and on the move as well, qualities Verduzco values. Despite being so tall and long-legged, his track background has helped him to be a fluid runner. He has the capability to outrun defenders for big chunks of yardage in the open field. He completed just 58% and 55% of his passes as a junior and senior, respectively. That's a concern. He needs to clean up his release and improve his throwing mechanics when he gets to Lincoln. His footwork is also inconsistent, which limits his tremendous arm potential.
A three-year starter, Haarberg was an honorable-mention all-state selection by both the Omaha World-Herald and the Lincoln Journal Star as a junior, when he threw for 1,869 yards and 23 touchdowns while adding 426 yards and four scores on the ground. He followed that up with 1,857 yards and 19 touchdowns, along with 556 rushing yards and 10 scores as a senior. Haarberg was ranked among the nation's top 20 dual-threat quarterbacks by both ESPN and 247Sports. He enrolled a few weeks ago and will participate in spring ball.
2021 analyses
Prior to contributing to HuskerMax, Jeremy Pernell co-founded the all-football website N2FL.com. From 2002-2014, he served as the editor in chief of the college football portion of the website which focused heavily on talent evaluation, which included NCAA recruiting and the NFL Draft. He has analyzed and covered the NCAA and NFL for 25 years. You can email him at jgpernell@comcast.net.
---
---
---
---