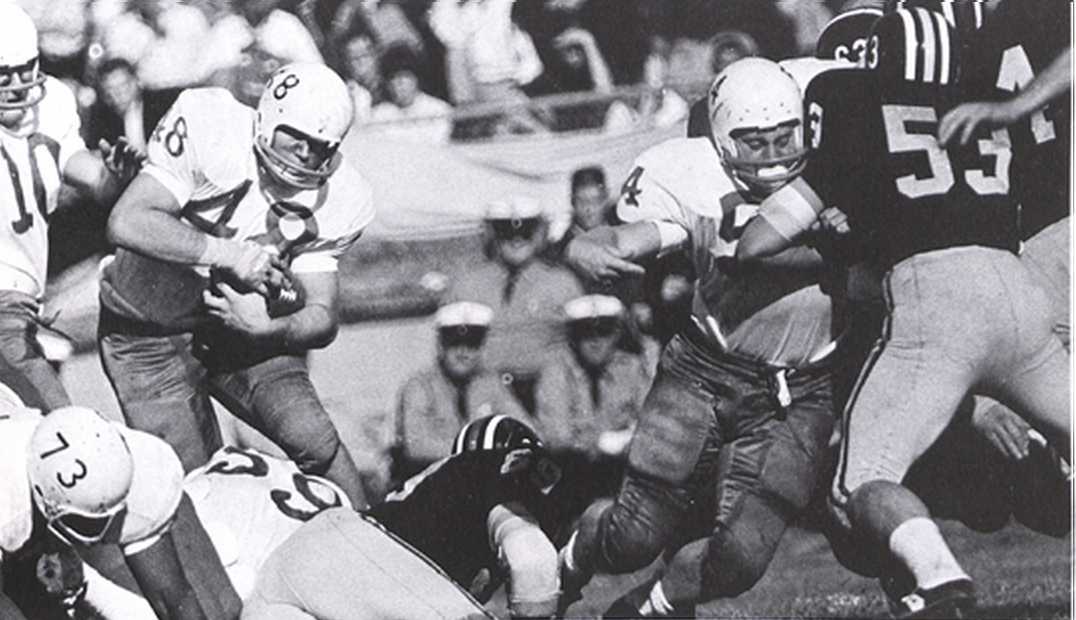 Pete Tatman bulls over for a second-quarter touchdown as Kelly Petersen (54) helps clear the way.
Nebraska 16
Missouri 14
Oct. 30,
1965
Columbia, MO
Nebraska         0  13   0   3  -  16
Missouri        14   0   0   0  -  14

First quarter
MU: Gary Lane 22 run (Bill Bates kick) 9:29
MU: Carl Reese 1 run (Bates kick) 4:45
Second quarter
NU: Pete Tatman 1 run (Larry Wachholtz kick) 9:32
NU: Tatman 1 run (kick failed) 1:35
Fourth quarter
NU: Wachholtz 26 field goal, 5:56

                        NU       MU
First downs ..........  17       11
Rushing net .......... 266      152
Passing net ..........  52       91
  Comp-Att-Int .... 5-20-2   6-14-2
Total offense ........ 318      243
Punts-Average ..... 6-38.3   6-40.0
Fumbles lost ........... 0        0
Yards penalized ....... 41       58

More stats here

Leading NU rushers: Fred Duda 76, Harry Wilson 74.
Leading NU passer: Fred Duda, 5 for 18 - 52 yards.

Attendance: 57,206


#TBT This game was intense right from the coin toss. 1965 Nebraska-Missouri 45-Frank Solich pic.twitter.com/pHsbTaLeGC

— Paul Jake Jacobsen (@HuskerTapes) March 5, 2015
Official recap
Missouri was supposed to be Nebraska's biggest test and probable Big 8 stumbling block, and the Tigers proved the experts right on one count and almost right on the other, before the Cornhuskers pulled out a 16-14 win.
With Gary Lane running wild, the Tigers had 57,206 Homecoming fans screaming in delight by tearing to a 14-0 first quarter lead before the Huskers knew what hit them.
But when they awoke, the Cornhuskers proved their championship caliber by staging one of the great NU comebacks - recalling memories of North Carolina State in 1962, Oklahoma in 1960, Minnesota in 1964 and Iowa State in 1940.
It took a 37-yard run by Lighthorse Harry Wilson to shock the Huskers into action. Pete Tatman bulled over from the one and NU was back in the game, 14-7, with 5:28 gone in the second quarter.
Next Fred Duda took the Huskers on an 89-yard scoring drive, and fooled the Tigers to a man on a fourth down play at the MU 39. Duda sent Solich into the middle where Tigers assembled en masse. But Duda had kept the ball, circled his left end and raced to the one, from where Tatman again plowed over. That made it 14-13, but kicking ace Larry Wachholtz missed the point, and Nebraska still had to pull it out.
While Nebraska's ground attack generated huge chunks of yardage in the second half, the Huskers couldn't score. But the Big Red defense was superb - holding the Tigers to only 45 yards rushing and 16 yards passing and enabling NU to stay within range.
Midway in the final quarter, Duda started the Huskers on a drive that carried to the Tiger 17, aided by a penalty, and with a fourth down at the 9, Wachholtz kicked a field goal with only 5:56 left.
The Huskers fought off a desperate rally and sacked up win No. 7.
H'MAX NOTES: After Wachholtz's field goal, Missouri returned the Huskers' kickoff to its own 43 yard line. The Tigers drove into Nebraska territory but were stopped on Kaye Carstens' fourth-down tackle of Earl Denny at the Nebraska 39 yard line with about 2:30 remaining. Missouri got the ball back again with less than a minute remaining, but Marv Mueller intercepted a Tiger pass at the two-yard line on the game's final play. ... NU and Mizzou entered the game as the nation's No. 1 and 2 teams, respectively, in rushing offense.
LINCOLN JOURNAL & STAR:
1, 2, 3, 4, 5
OMAHA WORLD-HERALD
SPORTS ILLUSTRATED
AP | UPI
 
SERIES HISTORY
SEASON STATS
NU ROSTER