Colorado 27
Nebraska 21
Nov. 4,
1989
Boulder, CO

Nebraska     7   7   7   0  -  21 
Colorado    14   3   7   3  -  27

First Quarter
NU: Bryan Carpenter 51 pass from Gerry Gdowski (Gregg Barrios kick) 13:30 
CU: J.J. Flannigan 70 run (Ken Culbertson kick) 8:22 
CU: Darian Hagan 1 run (Culbertson kick) 5:04
Second Quarter
NU: Morgan Gregory 12 pass from Gdowski (Barrios kick) 11:33
CU: FG Culbertson 49, 0:12
Third Quarter
CU: Flannigan 2 run (Culbertson kick) 8:00
NU: Chris Garrett 26 pass from Gdowski (Barrios kick) 1:04
Fourth Quarter
CU: FG Culbertson 28, 8:47

A-52,877.
                         NU        CU
First downs              19        13
Rushes-yards         43-186    47-205
Passing yards           211        22
Returns-yards          3-23     3-108
Passes              11-27-0    2-10-1
Sacks by               3-20       1-4
Punts-avg.             6-38      5-51
Fumbles-lost            1-0       2-0
Penalities-yards       6-47      4-20
Time of possession    31:12     28:48

INDIVIDUAL LEADERS
Rushing:
 NU: Ken Clark 21-95, Gdowski 11-69.
 CU: Flannigan 18-96, Hagan 25-86.

Passing:
 NU: Gdowski 11-27-0-211.
 CU: Hagan 2-10-1-22.

Receiving:
 NU: Gregory 5-77, Carpenter 2-66, Richard Bell 2-33.
 CU: John Perak 1-13.

Missed field goals: none.

Interceptions:
 NU: Tyrone Byrd 1-0.
 CU: none.

Tackles (UT-AT-TT):
 NU: Byrd 5-3-8, Jeff Mills 4-4-8, Mike Murray 5-27, Pat Tyrance 3-4-7.
 CU: Michael Jones 5-6-11, Tim James 6-4-10, Joel Steed 4-4-8.

Sacks:
 NU: Kenny Walker 1-9, Kent Wells 1-7, Mike Croel 1-4.
 CU: Kanavis McGhee 1-4.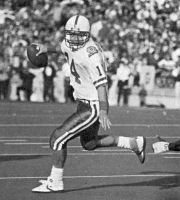 Recap
Gerry Gdowski's pass intended for Jon Bostick in the end zone on the last play of the game was deflected by Colorado's Dave McCloughan, preserving the second-ranked Buffaloes' 27-21 win over third-ranked Nebraska and leaving CU all alone at the top of the Big Eight standings.
Gdowski, who threw three touchdown passes and racked up 280 total-offense yards, had driven the Huskers from the NU 12 to the CU 42 in the last 1:40 before the last-ditch pass fell incomplete.
Nebraska opened the scoring with a 51-yard touchdown on a screen pass from Gdowski to fullback Bryan Carpenter. Colorado tied it up five minutes later when halfback J.J. Flannigan scored on a 70-yard run.
A key moment came in the third quarter when a red-zone interception by Nebraska was ruled interference and a subsequent Colorado touchdown gave the Buffaloes a 10-point lead. Late in the quarter, the Huskers pulled within three with a pass from Gdowski to Chris Garrett, but Colorado kept NU off the board in the final period and added a field goal for the final six-point margin.
OMAHA WORLD-HERALD
CHICAGO TRIBUNE
NEW YORK TIMES
KNIGHT-RIDDER
SPORTS ILLUSTRATED
SUN SENTINEL
DENVER POST (2010)
ASSOCIATED PRESS
LINCOLN JOURNAL STAR (2012)
HAIL VARSITY
 
PREGAME
N.Y. TIMES
ASSOCIATED PRESS
 
SERIES HISTORY
SEASON STATS
NU ROSTER