NU overcomes
torrid start
by Wildcats
Upstart Kansas State, which hadn't scored a point and was supposed to be a pushover, scared the daylights out of Nebraska by scoring the first time the Wildcats got the ball – an 86-yard Larry Corrigan to Ralph McFillen pass play. The play followed McFillen's interception of a Dennis Claridge pass.

KSU then drove from their own 28 to the Nebraska 6 in six plays, the big gainer coming on a 37-yard pass from Corrigan to halfback Joel Searles. But the drive was halted when fullback Willis Crenshaw fumbled and NU's Dave Thiesen recovered on the 6.

From there, the Huskers' depth finally overcame the battling Wildcats and NU wrapped up its fifth straight victory, 26-6. The Huskers ran 76 plays to the Wildcats' 48.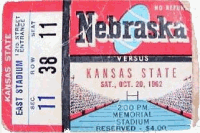 This was the last time
home tickets went unsold.
H'MAX NOTES: The Huskers' first-half scoring drives covered 80 yards in six plays and 60 yards in 14 plays. They iced the game in the first nine minutes of the third quarter with drives of 50 yards in nine plays and 18 yards in three plays, the latter coming after Larry Donovan's recovery of a Corrigan fumble. ... Bob Devaney emptied the bench in the second half, sticking with the reserves even when K-State threatened to score in the closing minutes. ... The Huskers were 5-0 for the first time since 1933 and rose to 11th in the UPI poll.
Summary
Kansas State     6   0   0  0  -   6
Nebraska         0  14  12  0  -  26

First quarter
KSU - Ralph McFillen 86 pass from Larry 
      Corrigan (kick blocked) 10:50
Second quarter
NEB - Dick Callahan 37 pass from Dennis
      Claridge (John Faiman kick) 13:44
NEB - Rudy Johnson 6 run (Faiman kick) 4:23
Third quarter
NEB - Claridge 4 run (kick blocked) 8:10
NEB - Noel Martin 3 run (pass failed) 6:51

                       KSU      NEB
First downs ............ 7       20
Rushing yards ...... 26-38   61-317
Passing yards ........ 156       87
  Comp-Att-Int .... 7-22-0   6-15-3
Total offense ..... 48-194   76-404
Punts ............... 9-38     5-39
Fumbles lost ........... 3        2
Yards penalized ........ 5       45

RUSHING
KSU: Crenshaw 9-34; Dusenbury 6-9; 
     Cochrun 1-4; Puls 1-2; Searles 1-2;
     Perry 2-1; Corrigan 6-minus-14.
NEB: Young 11-61; Claridge 12-58; Ross 
     8-57; Martin 7-54; McCloughan 4-32;
     Powers 7-30; Johnson 5-27; Tucker
     2-7; Stuewe 1-5; Paschall 1-4; 
     McNulty 1-3; Smith 1-0; Bonistall
     1-minus-1.

PASSING
KSU: Corigan 4-9-0 140;
     Dusenbury 3-13-0 16.
NEB: Claridge 3-10-2 74; Faiman 1-2-1 8; 
     Bonistall 1-1-0 5; Tucker 1-2-0 0. 

RECEIVING
KSU: McFillen 1-86; Searles 1-37; 
     G.Condit 3-16; Kina 1-7.
NEB: Callahan 1-37; Theisen 1-21; 
     Comstock 1-16; Eger 1-8; Sebastian
     1-5; Hohn 1-0

PUNT RETURNS
KSU: Sjogren 1-31; Blackwell 1-22; Boyd 
     1-10; Puls 1-0. 
NEB: Theisen 2-23; Johnson 1-9; 
     McCloughan 1-8; Tucker 1-6; 
     Paschall 1-0.

Attendance: 30,701