Nebraska 71
Colo. State 14
Sept. 14,
1991
Lincoln, NE

Colorado St.    0    0   14    0  - 14
Nebraska       17   26   14   14  - 71

First Quarter
NEB: Johnny Mitchell 25 pass from Keithen McCant (Byron Bennett kick) 13:39
NEB: FG Bennett 36, 9:02
NEB: Omar Soto 34 run (Bennett kick) 6:36
Second Quarter
NEB: Derek Brown 36 run (kick failed) 11:32
NEB: Calvin Jones 19 run (pass failed) 5:36
NEB: McCant 5 run (Bennett kick) 3:04
NEB: Soto 6 run (Bennett kick) 0:30
Third Quarter
CSU: Greg Primus 18 pass from Kevin Verdugo (Mike Brown kick) 11:26
NEB: Brown 1 run (Bennett kick) 8:18
NEB: Steve Carmer 34 interception return (Tom Sieler kick) 6:54
CSU: Primus 15 pass from Verdugo (Brown kick) 0:35
Fourth Quarter
NEB: Jones 2 run (Sieler kick) 11:54
NEB: Tom Haase 1 run (Sieler kick) 7:56

                      CSU          NU
First downs            17          29
Rushes-yards       52-154      55-529
Passing yards         142         167
Returns-yards         1-0       5-115
Passes            10-20-2     12-21-1
Sacks by             2-12        4-45
Punts-average        4-41           0
Fumbles-lost          6-5         2-1
Penalties-yards      4-44       9-104
Possession time     31:33       28:27

INDIVIDUAL LEADERS
Rushing:
Colorado State, Brian Copeland 14-57, John Ivlow 8-44.
Nebraska, Brown 15-121, Jones 9-86, Soto 5-78, McCant 8-68, George Achola 1-52.

Passing:
Colorado State, Verdugo 8-15-1-111.
Nebraska, McCant 8-13-1-99, Mickey Joseph 3-6-0-55.

Receiving:
Colorado State, Primus 7-104, Holmes 2-29.
Nebraska, Mitchell 4-58, Jon Bostick 4-51.

Missed field goals: none.

Interceptions:
Colorado State, Sylvester Mabry 1-0.
Nebraska, Kenny Wilhite 1-22, Carmer 1-34, Jamie Weyers 1-50.

Tackles (UT-AT-TT):
Colorado State, Harlan Carroll 5-4-9, Selwyn Jones 7-1-8, Otis Hamilton 2-6-8.
Nebraska, Carmer 2-4-6, Mike Petko 1-5-6, Trev Alberts 4-1-5, Ernie Beler 2-3-5, Mike Anderson 1-4-5, Ed Stewart 0-5-5.

Sacks:
Colorado State, Sean Moran 1, Kenya Ragsdale 1.
Nebraska, Carmer 1, David Noonan 1, Pat Engelbert 1, Donta Jones 1.

Attendance: 76,379
Weather: overcast, 77 degrees, wind S 14 mph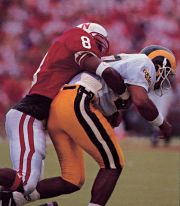 Official recap
The 13th-ranked (AP) Huskers scored on seven of their first nine possessions to jump to a 43-0 halftime lead over the defending Freedom Bowl champions. NU went on to roll up 696 yards in total offense, their seventh-highest count ever, and did not punt for the fourth time in history and the second game in a row.
Only one of the Huskers' first-half touchdowns came on a drive longer than six plays, but NU still had 429 yards' total-offense at halftime.
Senior quarterback Keithen McCant, who starred off the bench the previous week against Utah State, got the first start of his career and passed the test. He completed eight of his 13 passes for 99 yards and a 25-yard touchdown to tight end Johnny Mitchell, while rushing eight times for 68 yards and a 5-yard TD. In two games, he had guided the Huskers to scores on 11 of 14 possessions (nine touchdowns, two field goals).
The Rams, outweighed 58 pounds a man on the defensive line, tried to bother Nebraska by switching their defense from their normal 4-2-5 alignment to a 5-3 stack. "We had to audible some," Husker Coach Tom Osborne said. "I thought Keithen checked off intelligently and did a good job."


Colorado State, meanwhile, self-destructed on offense and defense. The 1-2 Rams' eight turnovers equaled the record against Nebraska (last done by Kansas State in 1979); they did not make a first down until their fourth possessions; they gave up 30 gains of 10 yards or more; and they saw seven of their players helped off the field with injuries.

The Husker defense, criticized the previous week for giving up 421 yards and 28 points to Utah State, held the Rams to 296 total yards, and CSU's two TDs both came against defenses featuring several second-teamers. The Blackshirts also got on the board themselves when strong safety Steve Carmer intercepted a Kevin Verdugo pass and returned it 34 yards for a TD that gave the Huskers a 57-7 lead with 6:54 left in the third quarter.

"I'm really proud of the defense," Osborne said. "The first time we really let up was the start of the second half when we started substituting."
Notes
: The crowd of 76,379 marked the Huskers' 177th consecutive home sellout since 1962 … 98 Huskers played … the win was NU's 20th-straight at home vs. nonconference opponents … Nebraska started 2-0 for the sixth straight year.
Quote of the game
: "I looked at (offensive tackle Brian) Boerboom toward the end of the third quarter and I told him, 'We're not going to be sitting here (on the bench) at this time next week.' He just kind of nodded and smiled." - Husker offensive tackle Erik Wiegert.
OMAHA WORLD-HERALD
ASSOCIATED PRESS
 
SERIES HISTORY
SEASON STATS
NU ROSTER