1970 Day by Day: Nov. 10

Nov. 10: Honor for Tagge; bulletin-board talk
.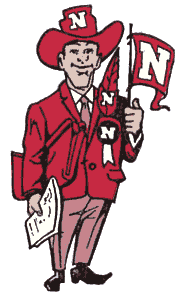 Quarterback Jerry Tagge was named Big Eight back of the week Tuesday for his performance in the romp at Iowa State, his first start for the Huskers in four weeks.
Van Brownson's ailing elbow was said to be improving, though he once again did no throwing during Tuesday's practice.
Looking ahead to Saturday's fray with Kansas State, coach Bob Devaney said the Huskers would need a good pass rush against star KSU quarterback Lynn Dickey. The Wildcats' savviness with their passing game would make that easier said than done, Devaney said.
In Manhattan, reporters asked Dickey if he was motivated by Nebraska linebacker Jerry Murtaugh's unflattering comments about him in late August:
"We read about Dickey, all those things in the paper. White shoes and all that stuff. You like to knock guys down like that. We put a good pass rush on Dickey last year and he got a little shook. Hey, they say Dickey is Mr. Cool. He got shook. He was scrambling. He didn't have to do that much last year, but he was off against us."
"I don't know if that will give me any more incentive," Dickey said Tuesday. "I think the most incentive is to go up there and whip 'em in their own place for all of 'em to see."
Kansas State had just one starter whose status for Saturday was doubtful, linebacker Oscar Gibson.
Nebraska remained No. 4 in the polls, while Notre Dame rose to No. 1 — into a first-place tie with Texas in the UPI rankings and all alone at the top of the AP tally.
---
SAVED SEARCHES
https://www.newspapers.com/search/#query=devaney&ymd=1970-11-11&p_place=NE
https://www.genealogybank.com/explore/newspapers/all/usa/nebraska?fname=devaney&lname=&fullname=&rgfromDate=&rgtoDate=&formDate=11%2F11%2F1970&formDateFlex=exact&dateType=date&kwinc=&kwexc=
CAN DROP INVISIBLE TEXT HERE
---
---
---