1970 Day by Day: Sept. 7

Sept. 7: Quarterbacks still on the mend
.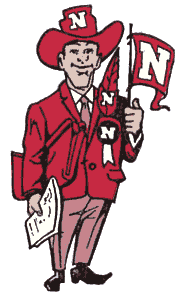 With Nebraska's top two quarterbacks dinged up, sophomore Bob Jones was running the No. 1 offense during Monday's practice.
Coach Bob Devaney held out hope that Van Brownson and Jerry Tagge would be ready to play in Saturday's opener against Wake Forest.
Brownson was nursing a sore elbow, as he had been for nearly a week now, and Tagge was hobbled by a thigh bruise suffered in Saturday's scrimmage. Either or both of the veteran juniors will play if 90 percent healthy by the end of the week, Devaney said.

Tagge
Jones

Brownson
Devaney insisted he was comfortable with Jones behind center. "He's been making good progress," the coach said, "and should be OK by Saturday after a week with the No. 1 unit."
Two junior college transfers, fullback-turned-linebacker Bob Terrio and offensive guard Keith Wortman, moved up to No. 1 at their positions.
---
SAVED SEARCHES
https://www.newspapers.com/search/#query=devaney&ymd=1970-09-08&p_place=NE
https://www.genealogybank.com/explore/newspapers/all/usa/nebraska?fname=devaney&lname=&fullname=&rgfromDate=&rgtoDate=&formDate=09%2F08%2F1970&formDateFlex=exact&dateType=date&kwinc=&kwexc=
CAN DROP INVISIBLE TEXT HERE
---
---
---