1970 Day by Day: Oct. 8

Oct. 8: New rug may give Huskers an edge
.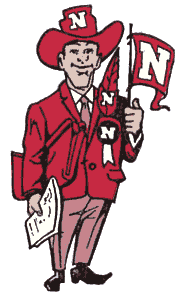 On a wet and chilly Thursday afternoon, the Cornhuskers did most of their work inside the Field House in preparation for Saturday's clash in Lincoln with Missouri.
"I have an idea that they'll be ready to play," coach Bob Devaney said afterward. The Tigers, he noted, had "beaten us enough lately."
Despite the conditions, backs and receivers were able to conduct outdoor passing drills Thursday, thanks to the stadium's new AstroTurf. Missouri also was experiencing boggy weather but didn't have that option, and the Lincoln Star's Hal Brown saw that as a Husker advantage.
Senior linebacker and co-captain Jerry Murtaugh was one of 11 players from a seven-state district to be nominated Thursday for All-America honors. Also in the district were Oklahoma, Kansas, Missouri, Iowa and the Dakotas. A media panel made the selections.
---
SAVED SEARCHES
https://www.newspapers.com/search/#query=devaney&ymd=1970-10-09&p_place=NE
https://www.genealogybank.com/explore/newspapers/all/usa/nebraska?fname=devaney&lname=&fullname=&rgfromDate=&rgtoDate=&formDate=10%2F09%2F1970&formDateFlex=exact&dateType=date&kwinc=&kwexc=
CAN DROP INVISIBLE TEXT HERE
---
---
---