1970 Day by Day: Oct. 15

Oct. 15: Quarterback choice could be a coin flip
.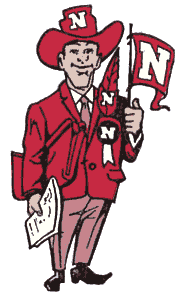 Bob Devaney said Thursday that he remained undecided about who would start at quarterback Saturday against Kansas.
"One minute I think I'll start one guy, and the next minute I think differently," he said of the decision between Jerry Tagge and Van Brownson. "Let's just say we'll be starting a righthander."
Brownson had yet to start a 1970 game, but he replaced Tagge in the second half against Missouri.
A back injury knocked backup linebacker Bruce Hauge from the travel roster for the Kansas game, and Jim Branch was taking his place. Offensive guard Keith Wortman's status was iffy because of an illness; if he couldn't go, Mike Beran would.
Meanwhile, flanker Johnny Rodgers and defensive tackles Larry Jacobson and Dave Walline were named All-America candidates. They joined Jerry Murtaugh, nominated earlier in the season.
---
SAVED SEARCHES
https://www.newspapers.com/search/#query=devaney&ymd=1970-10-16&p_place=NE
https://www.genealogybank.com/explore/newspapers/all/usa/nebraska?fname=devaney&lname=&fullname=&rgfromDate=&rgtoDate=&formDate=10%2F16%2F1970&formDateFlex=exact&dateType=date&kwinc=&kwexc=
CAN DROP INVISIBLE TEXT HERE
---
---
---