1970 Day by Day: Dec. 16

Dec. 16: Two senior starters miss practice
.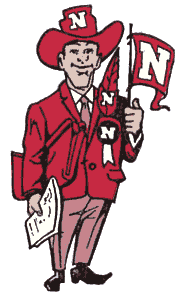 All-America offensive tackle Bob Newton missed Wednesday's practice with the flu, and a pulled leg muscle kept split end Guy Ingles on the sideline.
Coach Bob Devaney said he wasn't concerned that his Huskers would peak too early in their preparations for the Orange Bowl game against LSU. "At the rate we're progressing," he said, "we're not going to be ready any too early. I hope we'll be ready right on Jan. 1 — at night."
Devaney shared several observations about the Bayou Bengals from his study of LSU game film. Among them: The Tigers have a passing game that's "better than we first thought," and they'll sometimes surprise you with a pass on third-and-short.
A Daily Nebraskan columnist, meanwhile, picked Nebraska to win by 24-7. While he also predicted an upset of No. 2 Ohio State in the Rose Bowl, he said a victory by No. 1 Texas in the Cotton Bowl would dash the Huskers' hopes for a national championship.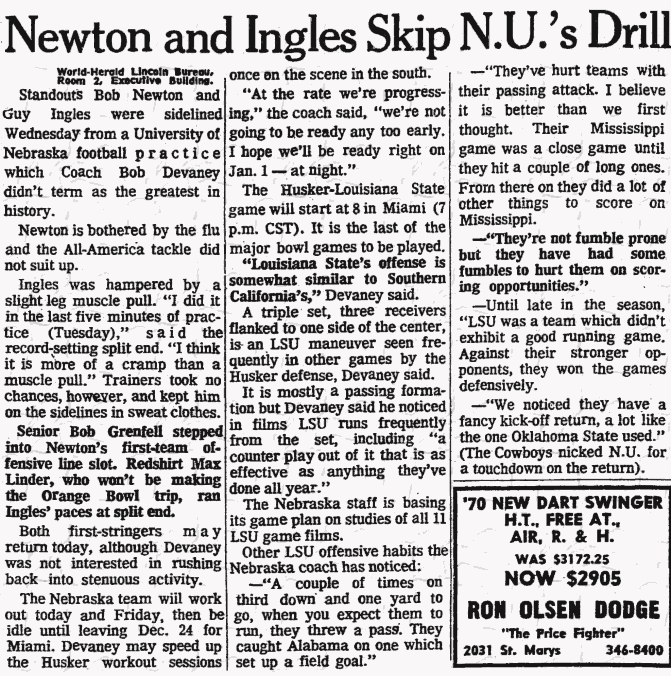 Omaha World-Herald
---
SAVED SEARCHES
https://www.newspapers.com/search/#query=devaney&ymd=1970-12-17&p_place=NE
https://www.genealogybank.com/explore/newspapers/all/usa/nebraska?fname=devaney&lname=&fullname=&rgfromDate=&rgtoDate=&formDate=12%2F17%2F1970&formDateFlex=exact&dateType=date&kwinc=&kwexc=
CAN DROP INVISIBLE TEXT HERE