1970 Day by Day: Aug. 29

Aug. 29: Offense steps up in scrimmage
.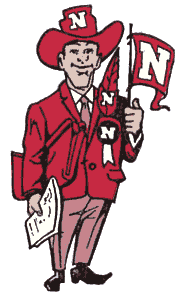 Six touchdowns were rung up as the offense ruled the first major scrimmage of fall camp, but coach Bob Devaney wasn't hitting the panic button with his inexperienced defense.
The two juniors vying for the top quarterback job put up similarly solid numbers. Jerry Tagge, playing mainly with the first team, completed 11 of 16 passes for 196 yards. Van Brownson connected on 12 of 16 for 124 yards while operating mostly with the second unit. Thirteen players caught passes.
Junior I-back Jeff Kinney's day was cut short after he broke loose for 54 yards on his second carry and strained a hamstring in the process. The worst injury, however, was junior Bill Janssen's fractured arm. That narrowed the competition at center to a pair of sophomores, Doug Jamail and Doug Dumler.
Another soph, flanker Johnny Rodgers, flashed his elusiveness with a 92-yard kickoff return. Later, he made a diving catch of a Tagge pass for a 53-yard gain.
Senior I-back Joe Orduna joined Kinney and Rodgers in the long-play club with a 51-yard run. Orduna racked up 100 yards on nine carries.
Yards and points eventually got harder to come by. The defense "got better as the afternoon wore on, and they'll be stronger yet," Devaney said. He mentioned the need for a more effective pass rush.
Saturday's 2½-hour fray came on the sixth day of practice. Just two weeks remained before the season opener Sept. 12 against Wake Forest.
---