1970 Day by Day: Aug. 27

Aug. 27: Pads go on, and the hitting begins
.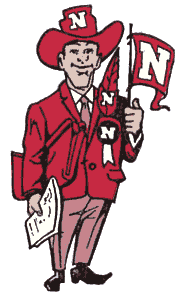 The Huskers strapped on full gear Thursday for the first time of fall camp, and coach Bob Devaney was pleased to say afterward that "those defensive guys haven't forgotten how to hit."
The No. 1 defense, returning just three starters from 1969, stymied the No. 1 offense for the first several plays, but some chirping from the Blackshirts seemed to ignite junior quarterback Jerry Tagge and company. A 10-yard reception by junior flanker Jeff Hughes and a 27-yard run by senior I-back Joe Orduna got the offense a little more in sync.
Highlights for the No. 2 offense, going against the No. 2 defense, included a twisting run by sophomore flanker Johnny Rodgers and a touchdown pass from junior quarterback Van Brownson to senior I-back Frank Vactor.
Rodgers returned to action after missing Wednesday afternoon's practice because of a health issue. Senior right guard Donnie McGhee, sidelined by an unspecified illness, was present for the first time since Monday but wore only sweat clothes.
As for the Blackshirts, senior middle guard Ed Periard — all 5-feet-9 of him — was a menace. "Periard, linebackers Jerry Murtaugh and Pat Morell and tackles Dave Walline and Rich Glover kept the middle clogged on defense," the Omaha World-Herald observed. "Ends John Hyland and Willie Harper were not outflanked. The No. 1 secondary consisting of Dave Morock, John Decker, Jim Anderson and Gary Hollstein held up well."
---
---
---
---