COVERAGE
Stats & recap
Huskers Take Down No. 6 Spartans:
In a season of unbelievable endings, the Nebraska football team finally had one go its way, pulling a 39-38 upset of previously unbeaten Michigan State.
Nebraska's two touchdowns in the 1:47 rallied the Huskers from a 38-26 deficit to match the largest fourth-quarter comeback in school history.
  The game-winner was a 30-yard pass with 17 seconds left from Armstrong to Brandon Reilly, who made a terrific adjustment on the ball after being forced out of bounds by a Spartan defender.
Full Huskers.com recap here
Omaha World-Herald*
Lincoln Journal Star*
More Neb. sources
Grand Island Independent
Hail Varsity
Huskers Illustrated
Huskers.com
HuskerOnline
Opponent sources
MLive.com
Lansing State Journal
Detroit News
State News
Nat'l & opponent sources
Detroit Free Press
MSU Athletics
Associated Press
ESPN.com
NFL.com
Photos/Audio/Video
Photos
Audio
Video
Pregame links & info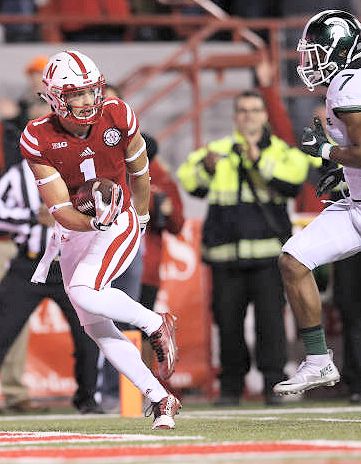 Courtesy of Huskers.com
Jordan Westerkamp scores on a first-quarter reception.
COMMENTARY
Sipple
"

The night showed us once again Nebraska is a special place and the football program will be forever special, if cared for correctly."

Steven M. Sipple*
Lincoln Journal Star
Hamar
"

Finally after nine agonizing games, football was fun again."

Bob Hamar*
Grand Island Independent
Barfknecht
"

This will go down as a coaching loss because Dantonio's conservative nature again prevented his team from standing on an opponent's throat."

Lee Barfknecht*
Omaha World-Herald
Shatel
"

This was a stadium, a state, in sync. And that was the best thing about what happened here, the game and the play and the scene that nobody will forget."

Tom Shatel*
Omaha World-Herald
Couch
"

The program of 'Chase it' and 'Reach higher' played not to lose and lost so much."

Graham Couch
Lansing State Journal
Callahan
"

I think it's safe to say moving Zach Sterup tonight to guard was the move this offensive line needed quite some time ago."

Sean Callahan
HuskerOnline
Vogel
"

It wouldn't be Nebraska football without fretting about the future, but for one night it can go away."

Brandon Vogel
Hail Varsity
Niyo
"

Michigan State's Year of Living Dangerously continued. But a night of playing aggressively didn't."

John Niyo
Detroit Free Press
Windsor
"

Michigan State couldn't stop Nebraska. Couldn't sack Tommy Armstrong. Couldn't cover the Cornhuskers' receivers."

Shawn Windsor
Detroit Free Press
Stryker
"

It was a vintage Armstrong performance, ad-libbing big plays, making questionable decisions, then bailing himself out with more big plays."

Tad Stryker
HuskerMax
Griffith
"

It came down to the final minute for the same reason as the others before it – because the Spartans choose to win games with their defense, and not their offense."

Mike Griffith
Grand Rapids Press
York
"

Tommy Armstrong Jr. ... continues to show incredible nerve and a winner's mindset."

Randy York
Huskers.com


---
* Article may require subscription
---