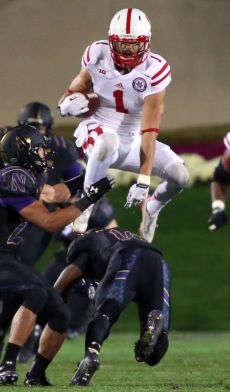 Caylor Arnold-USA TODAY Sports
Jordan Westerkamp hurdles safety Godwin Igwebuike in the first half.
COVERAGE
Stats & recap
Huskers Crush Cats in Second Half:
Nebraska needed no Hail Mary this time. Instead, the Huskers got a dominant second-half defensive effort and a career-high four touchdowns from Ameer Abdullah in a 38-17 win at Ryan Field.
After being outyarded 262-227 in the first half, the Huskers dominated the second half 244-28. Abdullah exploded for 107 yards and three scores on 14 totes after halftime.
The Big Red closed the night with 234 rushing yards, including 55 by quarterback Tommy Armstrong Jr., who also passed for 221 yards and caught a 16-yard TD pass.
Full Huskers.com recap here
Omaha World-Herald*
Lincoln Journal Star*
More Neb. sources
Grand Island Independent
Hail Varsity
Huskers Illustrated
HuskerOnline
Opponent sources
Chicago Tribune
Chicago Sun-Times
Lake the Posts
Wildcat Digest
Wildcat Report
Inside NU
Opponent and other sources
Daily Northwestern
Northwestern Athletics
BTN.com
Associated Press
Photos/Audio/Video
Photos
Audio
Video
Pregame links & info
COMMENTARY
Sipple
"

The Huskers played the second half at a level befitting a top-15 squad."

Steve Sipple*
Lincoln Journal Star
Chatelain
"

Pierson-El, all 5-foot-9, 175 pounds, gives the Huskers something to build around."

Dirk Chatelain*
Omaha World-Herald
Johnson
"

Pierson-El is increasing his contributions, even when he isn't touching the ball."

Derek Johnson
HuskerMax
Shatel
"

The Huskers have championship talent in several places, but you wonder if the rest of the team will ever catch up."

Tom Shatel*
Omaha World-Herald
Stryker
"

Garrison is developing some depth on the o-line after all. It will be needed as the season grinds into November."

Tad Stryker
HuskerMax
Callahan
"

This was arguably the best we've seen NU's offense and defense look collectively in a half all season."

Sean Callahan
HuskerOnline
Harvey
"

Credit Nebraska's defense for the second straight year stepping up and stopping North­west­ern's offense in the second half. "

Josh Harvey
Big Red Report
Vogel
"

The Huskers' defense appears to be learning how to harness what was always some pretty appealing talent."

Brandon Vogel
Hail Varsity


---
* Article may require subscription
---