1970 Day by Day: Sept. 17

Sept. 17: Thursday night lights and QB questions
.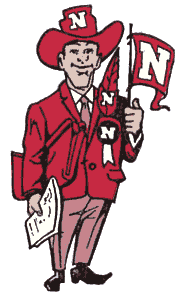 Quarterback Jerry Tagge missed a second consecutive practice as the Huskers went through their plays under the lights Thursday night on the grass turf of Seacrest Field.
Van Brownson, recovering from a prolonged stretch of elbow soreness, was said to be on target with his throws during the closed session in east Lincoln. He appeared fit to play, coach Bob Devaney said, "but we just don't know how much."
Tagge suffered a burst blood vessel in his leg earlier in the week, but it was still hoped the setback wouldn't keep him from being the starter Saturday night against Southern California.
Joining Tagge and Brownson on the 54-man travel roster released Thursday were quarterbacks Bob Jones and Steve Runty. Jones was on the list despite ending up in court after crashing his car overnight while being chased by police. I-back Jeff Kinney continued to get repetitions at quarterback, his position in high school.
United Press International's game preview, distributed nationally, mentioned linebacker Jerry Murtaugh's prediction from late August that the Huskers would "beat the hell" out of USC. Oddsmakers, however, had the Trojans favored by 11 points. The Lincoln Star's Hal Brown and Will Grimsley of the Associated Press each predicted a USC win by about a touchdown.
The flight to the West Coast was set to leave Lincoln at 4:45 p.m. Friday.
---
SAVED SEARCHES
https://www.newspapers.com/search/#query=devaney&ymd=1970-09-18&p_place=NE
https://www.genealogybank.com/explore/newspapers/all/usa/nebraska?fname=devaney&lname=&fullname=&rgfromDate=&rgtoDate=&formDate=09%2F18%2F1970&formDateFlex=exact&dateType=date&kwinc=&kwexc=
CAN DROP INVISIBLE TEXT HERE