1970 Day by Day: Sept. 15

Sept. 15: Roster moves made on defense
.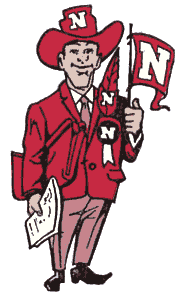 Three previously unsettled positions on defense firmed up Tuesday, with two sophomores and a junior tagged as probable starters for Saturday night's game at Southern Cal.
Coach Bob Devaney announced the first-team assignments for sophomore right end Willie Harper, junior tackle Larry Jacobson and sophomore cornerback Joe Blahak. Left defensive end John Adkins also worked with the Blackshirts during Tuesday's practice but remained in a battle with John Hyland and Doug Johnson.
At quarterback, Jerry Tagge was returning to full speed as his bruised leg improved. Van Brownson didn't practice, and he wasn't scheduled to test his sore passing arm until Thursday. "If he can't play," Devaney said, "we won't take him to California."
Tuesday's drills took place on Memorial Stadium's artificial turf instead of the still-soggy practice fields. Practices on grass were on tap for the rest of the week, weather permitting, including an under-the-lights session Thursday night at Seacrest Field in east Lincoln.
In the AP poll released Tuesday, the Trojans remained No. 3 and the Huskers held steady at No. 9. The Don Carr rating system listed Nebraska as a 10-point underdog.
"How in the world did this happen?" See this 2014 interview in which Willie Harper recalls his rise to starter status.
NEWSPAPERS.COM ITEM GOES HERE
---
SAVED SEARCHES
https://www.newspapers.com/search/#query=devaney&ymd=1970-09-16&p_place=NE
https://www.genealogybank.com/explore/newspapers/all/usa/nebraska?fname=devaney&lname=&fullname=&rgfromDate=&rgtoDate=&formDate=09%2F16%2F1970&formDateFlex=exact&dateType=date&kwinc=&kwexc=
CAN DROP INVISIBLE TEXT HERE