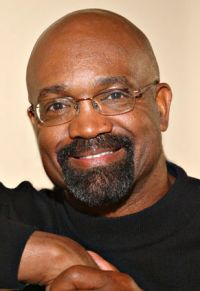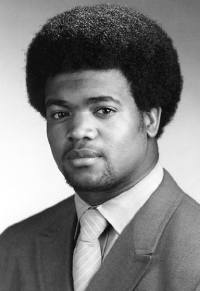 Photo courtesy of Huskers.com
Willie Harper
Willie Harper was a starting defensive end on the 1970 and 1971 National Championship teams and went on to play 11 years in the NFL and two years in the USFL. This interview was done by David Max on August 27th, 2014.
Willie will be in attendance at the HuskerMax Fresno State tailgate on September 13th, 2014 along with Vince Ferragamo. Tickets are still available at this link.
DM: Where are you from originally?
WH: I'm from Toledo, Ohio. That's where Bill "Thunder" Thornton went to high school. He's from my home town and he was my high school coach my senior year. He came to Nebraska and I came along with him.
DM: I had the opportunity to interview Bill several years ago about two years before he passed away. He was just a wonderful guy to talk to.
WH: I kind of lost track of him and didn't know where he was. I found him one time while I was playing in Alta Dena, CA and hadn't seen him anymore.
DM: He ended up in St. Louis. He was an interesting guy. One of the trivia questions was that one of his roommates at Nebraska was Senator Ben Nelson.
DM: Who recruited you to Nebraska?
WH: Bill "Thunder" Thornton. He brought me along with him when he left my high school to coach at Nebraska.
DM: What were some of the other schools besides Nebraska that recruited you.
WH: Kent State, I had decided to go to Kent State. The University of Toledo. I was a Johnny come lately and there wasn't a lot of interest for me and I can understand why because of the type of program I was in in high school. I wasn't really highly recruited out of high school.
DM: So you didn't make any other recruiting trips?
WH: I took three recruiting trips and one was right there in my home town of Toledo.
DM: Tell us about your recruiting trip to Nebraska.
WH: Yes sir, I did. When I came for my recruiting visit to the University of Nebraska, Johnny Pitts and James Branch were the two guys that took me around and they treated me very well. Matter of fact that was part of the influence of me coming back knowing that there was that caliber of guys. I had really never been out of Toledo anywhere so that was a first time for me. First time I had ever been on an airplane. I looked forward to coming to Nebraska because that was another world for me. When I got there the Kappa's had a party and I had a ball. I had a ball so much so I couldn't wait to come back and become a Kappa. That was one of the most interesting weekends I had experienced because I didn't do too much in high school. I didn't do a whole lot of partying.
DM: Who was your position coach at Nebraska and what was he like?
WH: My coach when I got there was Jim Ross and my position coach was Jim Walden.
DM: Jim Walden went on to Washington State.
WH: Did he become the head coach there?
DM: Yes he did. He actually came back and beat Nebraska (as an assistant to Warren Powers).
WH: Is that right? He was a great guy. Great guy.
DM: Do you have a particular regular-season game that sticks out in your memory?
WH: Rich Glover and I talk all the time and Rich remembers so many things and I would say "Rich, was I there? Was I there?" Everything is such a blur. Everything went so fast. One thing I will never forget. When I got there I was playing running back and middle guard and in practice one day I was playing running back and something hit me and I woke up in student health. What it was that hit me was Rich Glover's forearm. (Laughs) I ran into his forearm and I didn't play running back too much more after that!
Of course I remember the Oklahoma game, the Game of the Century. I remember the LSU game quite vivid in my mind my sophomore year in the Orange Bowl and the Notre Dame game. The Alabama game where we just annihilated Alabama. It's a blur. All I can remember is Johnny Musso not being able to run the ball. (Ha, ha.) John Adkins had him on one side. I had him on my side. Rich had him in the middle. Of course our linebackers, Murtaugh, Johnny Pitts and James Branch, gave us a tremendous corps of linebackers. I remember that very well.
DM: In that Oklahoma game, if I remember right, your job was to contain Greg Pruitt.
WH: The whole game.
DM: I don't remember what his rushing yards were for the game was but it wasn't one of his best games.
WH: No, it wasn't one of his best games. I don't think he got 100 yards. We didn't allow guys to come in that were good running backs to do well. I don't remember anyone gaining over 100 yards on us. Remember when Bobby Moore (Ahmad Rashad) came in with Oregon averaging over 100 yards a game? I don't think he got 50 yards that game. We shut out Dan Fouts. Greg Pruitt that day, I got frustrated with him on one play. I went to contain Jack Mildren and Pruitt skirted around my end for about 15-20 yards and I was so mad at him. I think I even helped pick him up off the ground and I told him "That's your last run!!!" (Laughs) "You won't see this anymore!!"
DM: Do you have any "in the huddle" stories? Who was kind of the team leader in the huddle?
Willie Harper in the 1971 Orange Bowl vs. LSU
WH: My sophomore year, of course Murtaugh was in the huddle. After that it was James Branch. We didn't have a lot of talking in the huddle. The tackles and I, Jacobson on one side and then of course Bill Janssen was right there. We would talk about how we were going to approach the play and what to expect. We always discussed what took place and we could better man our area. We were very much in sync because we didn't have to try to outdo anyone. We just were very businesslike. We had a lot of confidence in the guys that were playing next to us would hold down his area. I mean, God almighty, Rich Glover in the middle, Larry Jacobson, Bill Janssen, John Dutton. It doesn't get any better than that. Those guys held down their area within an arm's reach and if you could imagine the span of a Jacobson and big John Dutton. It made it easy for us. Jacobson is 6'8" and Dutton was about 6'7" or 6'8" and Adkins and myself on the outside. All we had to worry about was not letting guys get outside and get off the ball. We thought it was quite easy for us at the time. (Laughs)
DM: Do you have a favorite Bob Devaney story?
WH: You know what. I'm from the old school. Keep your mouth shut. Do what you are told to do. That's how I came up as a Little Leaguer, Pop Warner ball, and high school. I always wanted to make sure that I did what the coach said. I didn't like to make mistakes. I was the same way in college. Monte Kiffin, Monte was such a great coach. He was so thorough in explaining things to us. Giving us the different pictures and the things that could and would happen. We were prepared.
Coach Devaney and I were having a conversation which was kind of different for me having a conversation with the head coach. We were walking out and he was looking up at me and I was looking down at him as we were coming out to one of the practices and he asked me "Well, son, how are you doing?" I responded "Well, Coach, I'm hanging in there. I'm doing pretty good. It's pretty hot out here." He said "Well, you're doing a pretty good job." I said "Thanks, Coach. Thanks." He said "If you keep playing the way you've been playing, I don't know how we are going to keep you out of the lineup." I thought "Wow, Coach told me I was doing a good job." I went about finding a way to make my way into the lineup because at that time I think I was about the fourth guy down. I started at seven and I got so excited about the opportunity and when the season started I was number three. After that first game that we played I ended up being number one and I said to myself "How in the world did this happen?" Once I got my opportunity to be the number one when the game ended I didn't think I would come back the next week being at the head of the group. A couple of things happened to a couple of guys. Johnny Pitts got hurt and John Hyland, I think got a stinger or something, and I got in and had a pretty good game and a strong finish and I came back on Monday and they called my name out. I was out there for the rest of my college career.
DM: Did they have Blackshirts?
WH: Oh absolutely!!! We had Blackshirts.
DM: Were they issued at the beginning of the season?
WH: My understanding was that the Blackshirts were the No. 1 defense. We were trying to make it to be one of the Blackshirts. Once you became a starter you were on the Blackshirt team.
DM: Do you have any favorite Tom Osborne stories?
WH: No I really don't. Tom was always the politician. He was always a great guy. If there were any issues, any problems, he was the offensive coordinator while I was there, in all the years that I was there there was no issues with the staff. Being from out of town, out of state, guys always have opinions and perspectives of things that may be opposed to the way they really are and talking about coaches and this and that. In all my years there I didn't get none of that among the black players. I was quite really surprised after it was all said and done and I look back over my years and the interactions between players and coaches and you hear about this player or that player saying they didn't get a chance or have a problem with a coach, I didn't experience any of that. It was just a great coaching staff. All of the coaches and I heard the stories about Coach Corgan, about how he was tough but as far as I was concerned all of the conversations I had with Coach Corgan, he was a very jovial man, and he knew how to get the best out of you. I guess I don't have a Tom Osborne story but it was just a panorama from the time I came to the time I left of a tremendous experience that I will cherish for a long time.
DM: What was it like coming out on game days to that sea of red?
WH: Oh, it was unnn-believable!!! I mean how much better could it get after your first experience? You knew what to expect every week. But when you came out there each week, man, it was just so phenomenal. Such a rush. WOW! After you experience it a few times how much better can it get? But each time we came out I tell you what, man, it was an awesome experience! Each and every time. How much better could it get? But it got better every time.
DM: Do you still stay in touch with teammates that you played with?
WH: Oh, absolutely. Absolutely. I just finished talking to Tough Tony (Davis) over Facebook. I talked to David Humm not too long ago. We talked about a few things. You know, Dave has that condition (MS) and we communicate every now and then. He has that position with the Raiders and my daughter works for the Raiders and he knows my daughter. I haven't talked to Murtaugh for quite some time. I talk to James Branch every now and then. And then of course, Rich Glover, Rich and I talk all the time. John Adkins and I talk every now and then. Tom Robison, Tom and I talked for about an hour and a half last night.
DM: What was it like transitioning from playing at Nebraska to playing in the pros?
WH: I got to tell you, Monte did such a tremendous job getting us ready. Going from the college to the pros for me really wasn't that great of a transition. The greatest thing that stood out in my mind at that level there were more players more consistently better more frequently. You know what I mean. You had to be on top of your game every moment. In college I played against great talent, don't get me wrong, but in the pros it's great talent EVERY day. Not just every week but EVERY day. There was a mindset that Monte instilled in us as Blackshirts at Nebraska so that was an easy transition for me. Monte taught us how to read the triangle when we were preparing for teams that ran the option and when I went to the pros that triangle was quite easy for me. I didn't have to try and figure out what was going to happen. I understood what was going to take place and I was reacting to that. When I got there it wasn't something I had to learn how to do. I already knew how to do it.
DM: How many years did you play in the pros?
WH: Thirteen years. Eleven with San Francisco and two in the USFL.
DM: Former Huskers Jamie Williams and Roger Craig also played with San Francisco. Did you paths ever cross paths with them?
WH: My last season in 1983 Roger Craig was a rookie that year. I think Jamie Williams came in '84.
DM: What are you doing now?
WH: I've been in full-time ministry for over 25 years now. I'm in northern California, what I might call central California. I'm in the Bay area. I'm out in the San Joaquin Valley in Tracy, CA between Modesto and Stockton.
DM: Tell us about your family. I know you have a son, Josh, who is a senior at Fresno State and played against Nebraska in 2011 and caught a touchdown pass against us. How did that feel?
WH: It felt great. His first two games that year he played in Candlestick Park in San Francisco and his second game in Memorial Stadium in Lincoln. His first game was where his Dad played professionally and his second game he played in Lincoln where I played collegiate ball and it was such a great feeling that my son would get a chance to play in his first two games collegiately in the two places where my career started.
DM: That's amazing.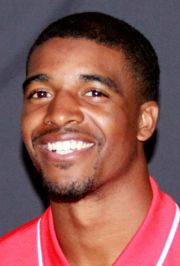 Josh Harper
WH: It is amazing. We are looking forward to this upcoming game (NU-Fresno State 9/13/14) because you know, I really wanted my son to go to the University of Nebraska but Nebraska didn't have any interest in my boy of course. Before going to Fresno he had given a verbal to Cal because Cal recruited Joshua. Joshua had a lot of offers. He could have gone to Oregon, he could have gone to Cal, Georgia, he had some pretty good interest out there. He could have gone almost anywhere he wanted to go. Most of the Pac 12 wanted Joshua but SC. I had talked to Pete Carroll and I took Joshua down to his camp and he told me "Mr. Harper, I just wanted to tell you I like your son. He's a very talented athlete but I just don't have a scholarship for him. If I had one I would gladly give him the opportunity but I just don't have anything for him at this moment." I appreciated that.
DM: He's had a really good career at Fresno.
WH: Yes, he has. He ended up going to Fresno after we sit down and talked to Cal and he made the decision to go to Fresno. I told him we stand behind your decision and there was something about Fresno I just really liked with Coach Sweeney - "We will play anybody, anywhere, anytime!" He came to my home and expressed an interest in Joshua. I felt that they were pretty up front and he gave us kind of a synopsis of where he thought Joshua could fit into their system. He liked the skill set and the position coach worked with Joshua and improved what he already had. You couldn't ask for anything more than that. Joshua liked what he heard and said "Dad, I want to take a shot at it." I said "OK, we're with you." So he ended up at Fresno State and things worked out for him.
DM: You have other children as well. If I remember right you have several.
WH: I have several. (Laughs) I have nine children. Joshua is the baby. My son Willie is still in Nebraska. I have three other boys that went to San Jose State. My son Matthew is coaching with the Philadelphia Eagles. He was at Oregon and went with Skip Kelly when he went to Philadelphia. My baby boy, Joshua, is the last one to play football. Then of course, I have 13 grandchildren and two great grand boys.
DM: So there's going to be some Harpers playing ball for a long time to come.
WH: Grandchildren - 8 boys and 7 girls.
DM: That's great! Willie, thank you for sharing your Husker, San Francisco and Fresno memories with us. We will see you soon when Nebraska comes to Fresno on September 13th. I'm sure you will be rooting for both teams and rooting for your son for sure.
WH: Oh absolutely! Absolutely! I'm looking forward to it.
External links: Huskers.com - Wikipedia - 2011 Josh Harper article - 49ers.com article - JCFans.org - Pro Football Reference
Willie will be in attendance at the HuskerMax Fresno State tailgate on September 13th, 2014, along with Vince Ferragamo. Tickets are still available at this link.