COVERAGE
Stats & recap
Abdullah carries Big Red past 'Canes:
Ameer Abdullah carried No. 24 Nebraska to victory over an old nemesis with the biggest all-purpose yardage total of his career as the Big Red battled to a 41-31 win over Miami.
Abdullah made play after play with hard runs and spectacular cuts. As a team, the Big Red rolled up 343 rushing yards to maintain possession for 33:20 and wear down the Hurricane defense.
Leading 24-21, Nebraska seized control late in the third quarter when linebacker Trevor Roach forced a fumble and cornerback Josh Mitchell returned it 57 yards for a tourhdown.
Full Huskers.com recap here
Omaha World-Herald*
Lincoln Journal Star*
More Neb. sources
Grand Island Independent
Daily Nebraskan
Hail Varsity
KETV
HuskerOnline
Huskers Illustrated
Nat'l & opponent sources
Miami Herald
Orlando Sentinel
Palm Beach Post
State of the U
Miami Athletics
Associated Press
Photos/Audio/Video
Photos
Audio
Video
Pregame links & info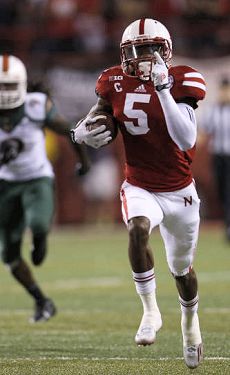 Photo courtesy of Huskers.com
Josh Mitchell races with fumble recovery for touchdown
COMMENTARY
Chatelain
"

This was Pelini's vision in full bloom. Of 24 second-quarter snaps, 20 were rushes, including 10 straight. "

Dirk Chatelain*
Omaha World-Herald
Hamar
"

Just think. The question coming into this game was this: Can the Huskers put together a sustained drive?"

Bob Hamar
Grand Island Independent
Barfknecht
"

Nebraska has to look at Saturday as a good win, but not a lot more."

Lee Barfknecht*
Omaha World-Herald
Callahan
"

This was one of the best atmospheres I've seen in Memorial Stadium in a long time."

Sean Callahan
HuskerOnline
Sipple
"

Abdullah kept charging. Kept breaking tackles. Kept lunging forward for yards that ordinary backs would've left behind."

Steve Sipple*
Lincoln Journal Star
Muessel
"

That was a shameless, guilty pleasure game on a gladiatorial scale."

Grant Muessel
Hail Varsity
Stryker
"

Nebraska fans needed reassurance that the coaching staff is still capable of committing to the running game."

Tad Stryker
HuskerMax
Shatel
"

The Hurricanes brought out the beast in both the Nebraska team and its fans."

Tom Shatel*
Omaha World-Herald


---
* Article may require subscription
---