Texas 13




Nebraska 12


Dec. 5, 2009 — 7:13 p.m. CST, ABC national
Big 12 Championship Game
Arlington, TX | Order the game on DVD

---
                    1   2   3   4   - Final 
Texas               0   7   3   3   -  13
Nebraska            6   0   0   6   -  12



1st quarter
NU - Alex Henery 45 field goal, 11:04
NU - Alex Henery 52 field goal, 6:32
2nd quarter
UT - Colt McCoy 2 run (Hunter Lawrence kick), 2:19
3rd quarter
UT - Hunter Lawrence 39 field goal, 1:40
4th quarter
NU - Alex Henery 28 field goal, 11:34
NU - Alex Henery 42 field goal, 1:44
UT - Hunter Lawrence 46 field goal, 0:00

                                     UT       NU
First Downs...................       17        5
Rushes-Yards (Net)............    38-18    35-67
Passing Yards (Net)...........      184       39
  Passes Att-Comp-Int.........  36-20-3   20-6-3
Total Offense Plays-Yards.....   74-202   55-106
Fumble Returns-Yards..........      0-0      0-0
Punt Returns-Yards............      1-5     3-49
Kickoff Returns-Yards.........     2-22     3-79
Interception Returns-Yards....      3-4      3-0
Punts-Average.................   9-39.4   8-37.1
Fumbles-Lost..................      0-0      0-0
Penalties-Yards...............     7-45     7-64
Possession Time...............    32:00    28:00
Third-Down Conversions........  6 of 19  2 of 16
Fourth-Down Conversions.......   0 of 0   1 of 1
Red-Zone Scores-Chances.......      1-1      1-1
Sacks By-Yards................      1-8     9-52

RUSHING
UT: Tré Newton 19-36; Cody Johnson 1-2;
    Fowshitt Whittaker 1-0; Colt McCoy 17-minus 20. 
NU: Roy Helu Jr. 10-28; Rex Burkhead 17-22;
    Zac Lee 6-12; Cody Green 2-5.

PASSING
UT: Colt McCoy 20-36-3-184.
NU: Zac Lee 6-19-3-39; Cody Green 0-1-0-0.

RECEIVING
UT: Jordan Shipley 7-71; Tré Newton 5-43;
    Malcolm Williams 3-52; Dan Buckner 3-14;
    Marquise Goodwin 2-4.
NU: Brandon Kinnie 2-30; Rex Burkhead 2-1;
    Dontrayevous Robinson 1-4; Niles Paul 1-4.

INTERCEPTIONS
UT: Roddrick Muckelroy 1-4; Aaron Williams 1-0;
    Blake Gideon 1-0.
NU: Dejon Gomes 1-0; Prince Amukamara 1-0; Eric Hagg 1-0.


Attendance: 76,211



Coverage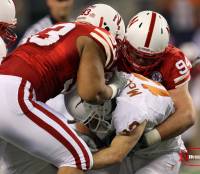 Photo courtesy of Huskers.com


Commentary
•

McKewon

: "

It was a ridiculous [offensive] plan relying on an otherworldly performance from the defense.

"

•

McKewon

: "

The Heisman is made for nights like this. The award means its most when it stands for true, prolific greatness. That's Suh.

"

•

Sipple

: "

Yes, McCoy produced his eighth career fourth-quarter rally to victory. But he looked very ordinary much of the night.

"

•

LeBreton

: "

Upon further review, there is a football god. Clearly, he wears burnt orange.

"

•

Harvey

: "

If it were possible for the Heisman to go to a defensive player on a four-loss team, Suh would be the recipient.

"

•

Sherrington

: "

In a throwback kind of game, Ndamukong Suh made an old-fashioned case for a Heisman.

"