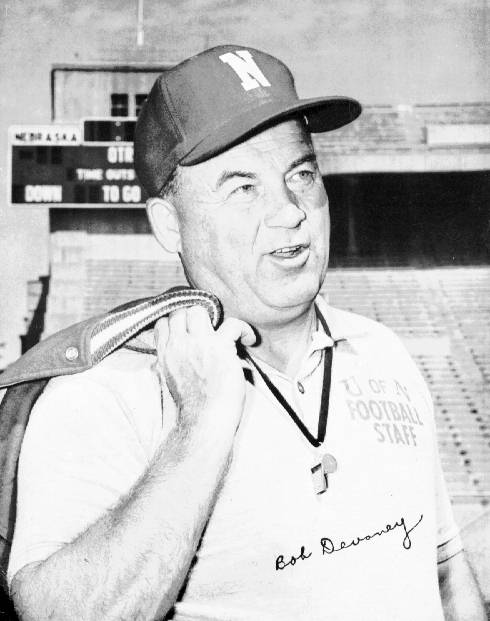 How bad was it at Nebraska when Bob Devaney took over in 1962? During the previous 21 seasons, only one college team in America racked up more losses than the Cornhuskers. Nebraska's last winning season had come in 1954. In the five most recent years, a fourth of NU's games had been shutout losses and only four times had Nebraska scored more than 17 points.
But, oh, what a turnaround! Instantly, point production nearly tripled. Devaney's first team went 9-2, and Memorial Stadium became the place to be on autumn Saturdays. Soon, the Cornhuskers would contend for – and win – national championships.
This remarkable reversal was no mere flash in the pan. In the 50 seasons since Devaney's arrival, no team has won more games than the Huskers – and it's not even close.
&nbsp
The house that Bob built
What he
inherited ...

1941-1961:
Most

losses


L
1
Kansas St
152
2
Nebraska
125
3
Idaho
117
4
Columbia
116
4
Montana
116
6
N. Carolina St
115
7
Richmond
114
8
New Mexico St
113
9
Indiana
111
9
Brigham Young
111
What he
established ...

1962-2011:
Most

wins


W
1
Nebraska
480
2
Oklahoma
440
3
Penn State
437
4
Texas
427
5
Ohio State
425
6
Alabama
422
6
Michigan
422
8
Southern Cal
413
9
Florida
408
10
Georgia
400
10
Tennessee
400
HuskerMax celebrates the golden anniversary of coach Robert S. Devaney's arrival at Nebraska with a tip of the fedora to "The Bobfather" and a sprucing-up of the 1962 game pages, accessible at upper right.
We invite you to revisit that groundbreaking season and to raise a toast to the wry and fiery gent who came to Lincoln half a century ago – and changed everything.