Defensive battle
brings season's
first defeat
With 36,000 Homecoming fans on hand, Nebraska made its bid for the Big 8 leader­ship against the rugged Missouri Tigers. But the Cornhuskers didn't have enough magic to master the potent Bengals, dropping their first decision of the year, 16-7.

There was consolation in scoring against Mizzou for the first time in four years — Noel Martin's 88-yard pass interception return — and holding the Tigers to 38 yards rushing in the second half. But Missouri had a Gibraltar defense of its own, and the Tigers adeptly capitalized on Husker miscues — three lost fumbles and three inter­cepted passes.

A Dennis Claridge fumble set up MU's opening TD, a 46-yard Johnny Roland run. Martin's inter­ception return tied the game in the second quarter. After Mizzou went ahead on a third-quarter field goal, the Tigers' vic­tory was sealed when Dave Theisen fumbled a punt and Mizzou recovered at the NU 26, setting up MU quarterback Jim Johnson's 10-yard TD run early in the fourth period.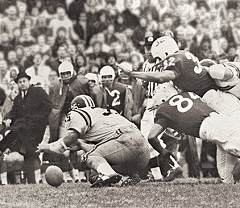 Mizzou's Paul Underhill
falls on a fumble.

H'MAX NOTES: The pass intercepted by Martin was first tipped by linebacker John Kirby. ... Every score in the game followed a turnover. ... There were more interceptions than pass completions. ... Game footage indicates Johnny Roland fumbled before crossing the goal line on his TD run.

This was the first game of the
home sellout streak
that continues today. See a ticket stub, program cover and program roster from every game of the streak
here
.
Image used by permission of UNL Libraries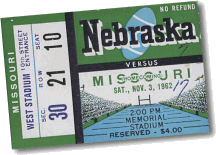 Summary
Missouri

      7  0  3  6   —  16


Nebraska

      0  7  0  0   —   7



First quarter


MU — Johnny Roland 46 run (Bill Leistritz kick), 1:06


Second quarter


NU — Noel Martin 88 pass interception
    (John Faiman kick), 5:00 


Third quarter


MU — Leistritz 45 field goal, 8:12


Fourth quarter


MU — Jim Johnson 1 run (kick blocked), 14:26 

                        

MU        NU


First downs ........... 10         8
Rushing yards ..... 57-199    34-141
Passing yards ......... 33         7
  Comp-Att-Int ..... 1-5-1    2-14-3
Total offense ..... 62-232    48-148
Punts ............... 7-31      7-39
Fumbles lost ........... 0         3
Yards penalized ....... 15        15



RUSHING


MU: Roland 14-95; Underhill 11-52; Hinkley 11-19;
    Otto 4-9; Johnson 9-7; Weber 1-6; Turner 2-5;
    Russsell 2-4; Tobin 3-2.
NU: Thornton 7-46; Claridge 12-41; Ross 5-31;
    Powers 1-11; Young 1-5; Johnson 2-5; Stuewe 3-4;
    Martin 1-2; McCloughan 1-minus-1;  Theisen 1-minus-3.



PASSING


MU: Weber 1-3-0 33; Johnson 0-1-0 0; Roland 0-1-1 0.
NU: Claridge 2-13-3 7; Theisen 0-1-0 0.



RECEIVING


MU: Roland 1-33.
NU: McCloughan 2-7.



PUNT RETURNS


MU: Krugman 1-5; Roland 2-3; Johnson 1-4.
NU: Theisen 3-11; McCloughan 1-0.



PASS INTERCEPTIONS


MU: Russell 2-5; Hitchier 1-0.
NU: Martin 1-88.
 
Attendance: 36,501