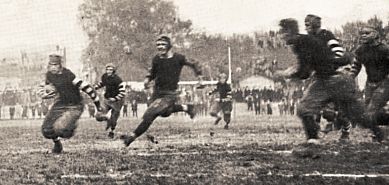 The game's only touchdown.
Nebraska
0

7
Minnesota

0

0

Oct. 18, 1913
A 12-yard pass from quarterback Max Towle to end Gordon Beck late in the third quarter provided the only touchdown (shown in photo) as Nebraska upset Minnesota 7-0 in Lincoln. A fourth-quarter thrust by the Gophers reached the Nebraska 10 but ended with a fumble. Nebraska also turned back repeated Minne­sota threats in the first quarter before a 60-yard punt by the Cornhuskers' Warren Howard erased the Gophers' field-position advantage. More game details appear below, on a separate
Lincoln Star page
and in the
1914 Cornhusker Yearbook
. Also, here's a
1935 retrospective
on the game.
BISMARCK DAILY TRIBUNE, OCT. 19, 1913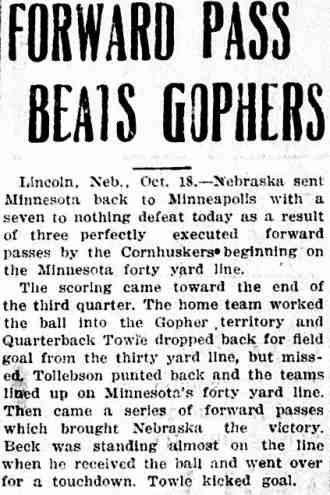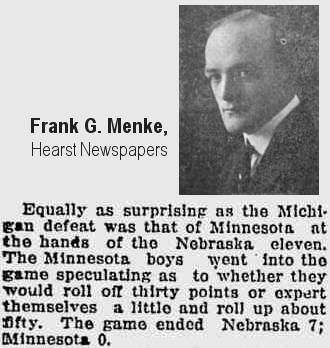 OMAHA BEE | SUNDAY, OCT. 19, 1913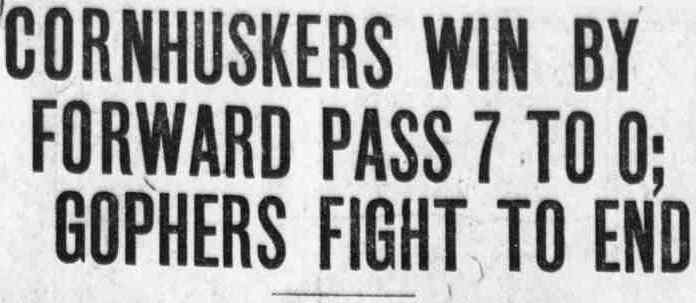 THE STORIES CONTINUE HERE
CORNHUSKERS WIN BY SPORTS SECTION of The Omaha Sunday Bee FORWARD PASS 7 TO 0; GOPHERS FIGHT TO END STIEHM'S MACHINE GOES HEAD COACH NEBRASKA BALL TEAM. FOT WELL ALL THROUGH GAME Mighty Minnesota Team Helpless Against the Nebraska Boys, Who Fairly Outplay Rivals. HALLIQAN AND BECK HEROES Vio Breaks Up Famous Shift Play and" Beck Down Catcher. WILLIAMS' TRICKS WORTHLESS Old Doo Unable to Oct His Stuff '. Across Nebraska's Goal Line. SPEED SHOWS ON BOTH SIDES Game Fast froin Start, Full of Tricks and Splendid Foot Ball. 'FORWARD PASS BRINGS VICTORY Playyin Thir dPeriod, Gets. Touch down, and Goal Follows. 'DESPERATE RALLY BY GOPHERS 'Lust Three Mlnaten of Vlny Marked by Omivecp of Minnesota War riors, Broken Up Juat at Goal by HalllKnn. Nebraska, 7. Minnesota, 0. The- Xdneupl ' , Nebraska, Position. Minnosot. Back- ........ L.B. I..XI Soton HalUgua L.T. x,.t. r Sawyer Koss x,,a. J..O: ..... Ostruiu IThompaoa O. O Robertson Abbott K.O. S..O. . . . .Xoscfethal Cameron .... B.T. S.T , Barron Mastta B.O.. Alaswertfc, O. Towla Q3. Q.B TolleftfOtt uthrfora . ..L.H. X..K. , . .3H.oA.lmon Pordr, 0.)...RJSU B.K. BUrman Howard . ....r.B . rja, .Sh.uxanets7 xiat oi q Befereet SZaa quarters , fifteen minutes, :Byrb..AH.ad! elnb. Umpire I Bthb. linesman t Verartebe,' Karrard. 11 y P11E1J S. I117NTEII. LINCOLN. Neb.. Oct. 18. Bpe'claf Tei$ i gram.)-Early. this morning tho lastUoll- tar' cloud disappeared and a, Cleat sky crone over rieoroaKa field to bring a day of. Ideal tootba.il weather toy th staging or the first Minnesota: gridiron battle In Lincoln In thirteen years. Both Minnesota and Nebraska were In . fine shape for the big contest with no crlpp'.ei on either team. , AH of Minnesota's twenty-five war rlors were ready to enter thecruclal con. test, but Cameron and Shields, two of tho Cornhuskers' beefy linemen, have only been In foot ball togs three days slnco their recent Injuries. The co.iches of both teama held short conferences with their men and, offered plently of counsel nnd some scolding-. A small army of as sistant graduate coaches were on hand to assist Stiehm In whipping the powerful Cornhusker machine In shape. Each Individual player has his own eoach to show the boys how to beat the hated Gophers. Among the old graduate coaches who returned to assist Stiehm were Harvey, Westover. Temple and Hornberger, In addition to Dudley, the regular assistant coach. Game Starts at 3i4K. At the last minute It was -decided to Ktnrt thA Hlrr lia1n -, I .1 " 0 tfclock. Coach Williams desired to start at 2:30 o'clock In order to allow sufficient time for his team to catch the 6 o'clock train, bvt Stiehm refused to call the same before 2:t5 o'clock because the big Omaha delegation was not scheduled to arrive before 2:10 o'clock. The min'Jte fc-1 the gates were opened at 1::15 o'clock the i fmmenso crowds that had been waiting ' kill a ... . j'aneruiy HTvarmea into tno stands and u.v i o'clock It appeared as If every available : seat was taken, but several hundred more squeezed Into standing room before the game started. Over 11.500 people crowded the huge stands to see the big. Best game of (he year. Enthusiasm ran j nigh .among the rooters. Billy Kavan. an Omaha boy. led the Nebraska section. while Ralph Johnson, all decked out In white pants and a red and gold blazer, supervised the efforts of the 2 faithful Gopher supporters. The big university fcand of seventy pieces furnished brass" Ijnrmony for the occasion, while the South Omaha band instilled enthusiasm into the Omaha bunch. Promptly at 2::30 o'clock the Nebraska team entered the field and was followed a second later by the Minnesota delega tion. The teamB rah through their sig nals for several minutes and then con f reeated li to bunches to listen In lh last few words of advice from the men- j Inr I Gnpbera Win Tosa. Minnesota won the toss at 2:U and chose to receive the ball at the east side In order to overcome tlje disadvantage of the sun. which blinds the players when It sets later In the afternoon in the west The game started fast and snappy, with both teams fighting hard and consist ently. Minnesota worked the shift and tine bucks almost exclusively In the first quarter and marched the ball down the field to the three-yard line, but Nebraska held and Howard kicked fifty yards Into safe territory. Nebraska did little beyond k:ck to safety In the first quarter, and ;t pea red as though Minnesota Jiad aP speediest offensive team. Rutherford (Continued on Page Three.)   GOPHERS KETURNED LOSERS Victory of 1802 is Duplicated by the Cornhusker. Squad. WARRIORS NOW OWN THE TOWN Dr. Wllllntna Said, He. Hail Not El pected, Defeat ptlehm la Too Hnppr to Tnlk Forward, Paaa I'.ffccttvc. D- JAMES 10. LA WHENCE. LINCOLN; Oct, 18.-(8peclal Telegram.) Nebraska' triumphed over the mighty Gophers here this atterncon by a single touchdown and goaT,.? to "(C duplicating , tWtnbra-l. vlti&rof li The Corn- "uoiqu uuiauuqa,. ouigamea ana oui pliiyed Dr, Williams' pupils, except for a few minutes at the opening1 of the game, when the .OopJiers ,bV V series of line plunges, carried the ball to Nebraska's three-yard.-llne, Then the,Cornhuskers defense stiffened superbly and three, tlpies the Go-?hor backs were hurled bock nnd Nebraska se cured the ball. With Howard standing buck' of his own goal, gosts, he, punted out of danger to tho center of the field and Beck1 nailed the runner In his tracks. With the scoro standing f to 0 ugalnst them, tho - stahvurt Gophers made one final bid to score. Securing the ball in the center of the field, Shaugnessy line, The, Minnesota offense crumbled, the ball was fumbled and Halllgan, who aved the day on three occ'aslohs by his recovery on punts, dropped on the ball. Howard went back, to his goa' to punt. Tho pass was low cn the ground and How ard could do nothing more than to boot It on the ground. Halllgan again flashed by and recovered the faulty punt on Ne braska's fifteen-yard line. -i.no reicree s nnal wnistle saved the rooters further aguny. Plrat Half Even. For the first half of the game tins teams battle on even terms. Recovering from their, f!rt few minutes of nervousness. the Ncbrarka linesmen fought like demons and spilled Williams' pet formations be fore they had time to form in deadly execution. The strength of the Nebraska defense took Minnesota by surprise and 'PH,eu ,ne wa' 101 a number of costly . . . '8 iea f Cornhusker vie , Tr a I hlrvl mln k4 1k-mii.a . I " y uiuubuv u un e. i chJnB of unt the bail was finally put Into play in. Minnesota' territory. Nebraska's line withstood the onslaughts of the Gopher baoks twice, then a for ward pass was spolUd by Ilutherford. On tho fourth down Minnesota attempted to punt, but the ball Bal ed h'gh above Tollef- son's head and Halllgan had recovered It (Continued on Page Two.)