Anatomy of an Era: Matt Turman Part 2
Excerpted from Chapter 2, No Place Like Nebraska: Anatomy of an Era, Vol. 1
Matt Turman Part 2
Walk-on, Quarterback, Wahoo, Neb. (Neumann)
Q: Matt, is there anything you look back on today that makes you chuckle about that era?
Matt Turman: Well, there was, I don't know if you were familiar with the big meeting room in the auditorium where we would meet together as a group? It was pretty funny. There was time they were re-doing some of the chairs in the meeting room, and they were kind of like the seats in an old theatre where you could lean back on some of the chairs and recline back a little bit. Well, Coach Osborne sat in the same spot every day…and they removed the back off of his chair!
So we're sitting in a meeting and he's standing up and talking to everybody, and then he turns the lights off and goes to take seat so we could watch special teams film as a group -offense and defense together- and he goes and sits in his chair and leans back and falls with his head straight over his ass, straight back onto his back and his feet are in the air! (laughs) You know, a lot of people probably would have cussed, "Oh, shit!" or something, and he just was like, "Whaoooaaaa"…and somebody flicks on the lights, and his feet were sticking up right to the ceiling. It was one of the funniest things. I wouldn't believe it if I hadn't seen it for myself.
Q: Gives you a real idea of his character and self-discipline in a moment of surprise, eh? Any idea of who removed the chairback?
MT: You know, I think it was just the people working on the chairs. I don't know. It wasn't like they did it to him on purpose. A lot of the chairs were missing backs, and he was surely not paying any attention to the chair he was going to sit in. He just turned off the lights and, you know, he's probably so focused and can't see….he probably didn't even know the chair back wasn't on there. The same chair he's been sitting in for 23 years is missing a back. (laughs)
Q: Any other insights into the organization? What made it so successful?
MT: There is a lot we could talk about. One of the things to me that really stuck out -and talking to other people and other teams with other kids that walked on down there- one of the things that was real neat was the walk-on program under Osborne was really amazing.
Besides some getting a scholarship check, you couldn't have told the difference between the walk-on and the scholarship player. You couldn't have told the difference between Tommie Frazier and myself those first two years by the way we were treated. From the academic support we got to the way the strength staff treated us, there was no difference! So that endeared a lot of people, and it really caused the walk-ons to work hard because they knew they were gonna be treated right, that if they rose up the depth chart they were gonna be given a chance. I've talked to people now, and they say the walk-ons during the Callahan era didn't get all the gear that they gave the scholarship kids, and just the attitude in the strength training staff, they didn't get the attention that they normally would.
Speaking of, I wasn't real happy with the Callahan regime. For example, he sent me a form letter when we won the state championship, and Osborne -who was gone- sends a handwritten letter and also calls. Callahan sends me a form letter, and it isn't even signed… it's stamped. And on the top of the letter it says, "Dear Fred." Interestingly enough, it was the first name of the coach in a different class who won a championship. They couldn't even change the name on the form letters. It was just wrong.
And when I went down there for one of the football clinics I was introduced to Bill Callahan by Dave Cassidy, Head of Football Operations, who was a nice guy. His kid was a high school kid and I'm a high school coach, so he knows my dad and he introduces me to Callahan and he says, "This guy here was a former quarterback here at Nebraska who started during the national championship years." So Callahan kind of looks me up and down, gives me kind of a squint with his eyes and says, (incredulous)"You really started?" I just wanted to say, 'Well, yeah, I started! And I've got more rings than you've got.' And that's just how he was. But I'm a high school coach in the state and a former player, and he won't let me come watch practice. Stupid stuff. I'm glad it's not that way anymore.
So anyway, the walk-on thing was a huge deal, the way you were treated. And then the second thing that was really unique -and you don't know it's unique while you're playing there- but when you're in the coaching ranks? Well, I've seen a bunch of schools, colleges who were successful programs, and I went out and watched Virginia's practices, Missouri and more, but the way Nebraska ran practice was so much more efficient than any other school I've ever seen. And what I mean by that is most teams would divide up offense and defense, okay? And half the field would be offense and half would be defense. And basically you'd have scout team offense against first team defense, and scout team defense versus first team offense on different sides of the field. So those guys would get 70% of the snaps and the two's, the second teamers, would get 30 percent of the snaps, okay?
Well, at Nebraska it was different. They ran 4 stations. So you had a first team offense run and a pass station and the first team defense run and a pass station. Now, those stations were done at the 50 yard line going in toward the endzone, and the pass station we ran from the goal line out to about the 40. So instead of having just your first team and second team get 70% and 30 % of the reps, the first team would get about 70% of the run station, the second team would get 70% of the pass station, and they'd have 3rd and 4th stringers getting 30-40% of the reps!
So you had -for me when I was 3rd string quarterback in 1994- if that would have been now, I wouldn't have taken a snap until the week of my first game when I was moved up to second string when Tommie got hurt. But I had been taking reps running Nebraska plays from the first week of practice. Granted, I wasn't getting as many reps as Tommie was or as Brook was, I shouldn't be. I shouldn't have been maybe only a third of the time, but I was still getting reps of what we were doing.
And so, people always said that Nebraska always ran up the score, but I don't think we did. They were good athletes, first of all, then they had been practicing this stuff. It wasn't like it was brand new and a scout team kid hadn't run 19 Sprint Option since spring ball of last. They got the reps and they knew what they were doing and the mental part of it was all there. And I think that's another reason they were so successful: so many kids were getting prepared. When you do that you feel like you're engaged. You don't have third team kids saying, "This sucks, I'm not even getting to practice." You feel involved! And it keeps morale up.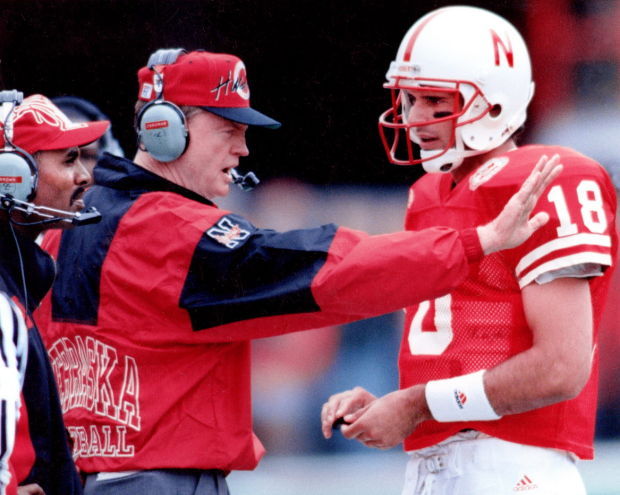 Osborne & Berringer prior to The Turmanator's heroics (Unknown/Uncredited)
Q: Speaking of team morale -where you couldn't slide or run out of bounds…?
MT: He actually lifted that rule for me. (laughs) Because Tommie was hurt, Brook was hurt, and we didn't have anybody else after me. Here we had Clester Johnson, a wingback taking reps in practice at quarterback because we didn't have enough guys at quarterback. Coach Osborne told me, "If you need to get out of bounds, I'm giving you permission." (laughs)
Another funny rule he had? It didn't matter how cold it was -like just the other day it was minus 15 here in Omaha- even days like that, if you had any chance of carrying the football such as quarterback, running back, receiver, you could not wear anything on your arms, you could not wear any long sleeves. He said that that caused fumbles. You know how people liked to wear that Under Armor-type stuff back then? He said that wouldn't give you the same tactile grip or feeling like football on bare skin. So if you go back and look, none of us guys had anything on our arms no matter how cold it was.
Q: The opponents thought you were just trying to look like tough guys, huh?
MT: Yeah, but it wasn't. It was his deal and I kind of agree with it, I actually do. I told him a couple of times, 'Coach, I'm the 3rd string quarterback, if I get in I'm probably gonna be okay. Can I just wear some long sleeve stuff while I'm standing on the sideline?' And he's, "Nope."
Q: With the no-sliding, no running out of bounds rule, I theorize that one of the reasons there was such team unity was because the quarterback wasn't some elevated prima donna -like some precious, gentle egg- that he was a tough guy taking shots just like everyone else. Would you buy into that line of thought?
MT: I would definitely agree with that. If you're a quarterback you'll obviously be called a pretty boy, that just goes along with being a quarterback. But I agree, and that's part of the reason where I told you everybody was treated the same. In that sense, he didn't want his running backs running out of bounds and he didn't want his quarterbacks running out of bounds, either. It was the same expectation for everybody. And as you know, it changed. And they changed it for me, basically, because he understood we were kind of in dire straits, we didn't have a whole lot of other options at quarterback.
Q: So if you would have gone down it would have been Clester Johnson?
MT: Yes. And you wanna hear a funny story? There was a student manager who played on the team -who had played quarterback in high school- and they actually asked him to walk-on in the middle of the season. Adam Kucera, from Seward, maybe. I mean, he never got to play but he was practicing and taking some reps. And I don't even know if it was so much that he would even get to play.
And then Clester, our starting wingback, he wasn't getting any reps because he was running practice reps at quarterback. We didn't even have anybody to hand the ball off in practice! It was kind of crazy that you had a Division 1 school and so many players on the team and we didn't have any quarterbacks left, with all the injuries and transfers.
Q: What would you say about the Huskers' bonding? The closeness of those days?
MT: You know, it would be the family atmosphere. People tell me this all the time, how strange it is, because it's a whole remarkable family thing. Even my wife commented on it. We were back in Nebraska here and she's working for an orthopedic group and we're at a Halloween party, and there's this kid name Chad Sievers, he's from Valley, Nebraska. Didn't play when I played. I knew he played, he knows I played, he's selling medical orthopedic stuff. Maybe I've seen him once or twice. Anyway, we see each other at this party and the first thing we do is come up and give each other a hug. And you're like, 'It's just weird, I don't really know him but I know he played football and he knows I played football, and you're just automatically welcomed.' It's like that with players.
Dave Rimington, he's around here some times, first thing you do is shake hands and give 'em that one-arm guy-hug and 'How you doing?' It's just like you're automatically in this big, huge, extended family. Guys you don't know or haven't played with or seen in years, it's just like you fall back into step and those 4 or 5 years had initiated you into 'The Club.' It's really kind of cool.
Q: A fraternity without the hazing?
MT: Exactly. And other people make comments, "You don't even know him." And I'm like, 'Yeah, I do know the guy.' You know, he went through the same stuff I did. You don't 'know him' know him, but you've warmed-up on the same grass outside old Buck Beltzer field on the practice grass, walked along the same pathway to the training room and lifted the same weights.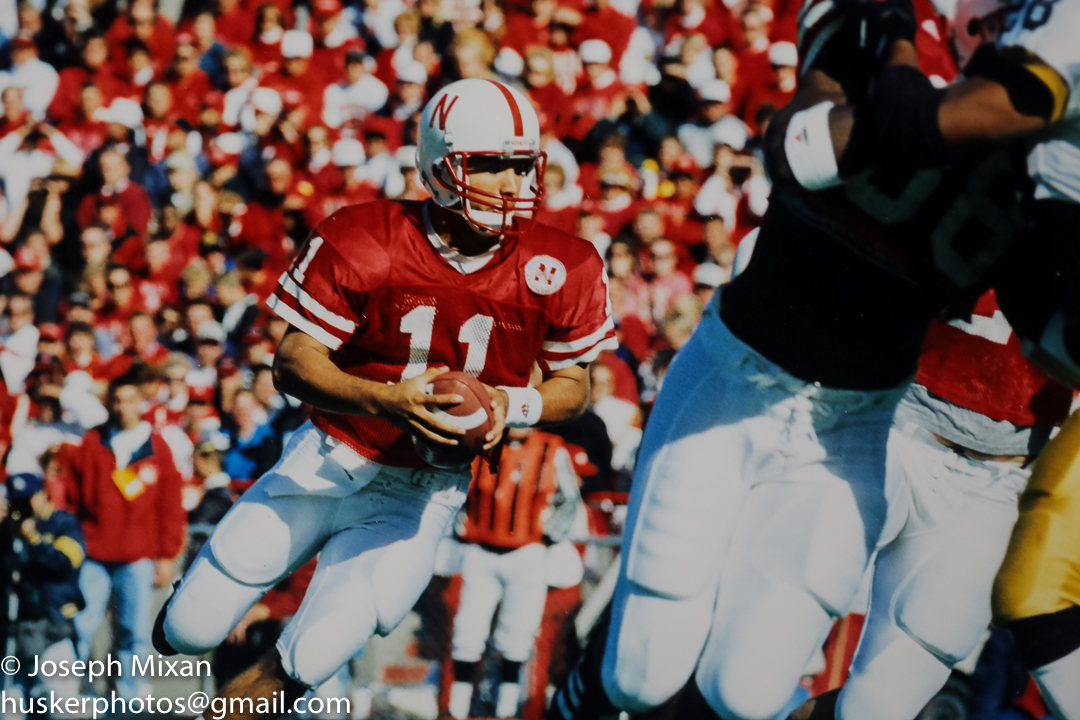 Matt Turman: Follow that Pipeline…  (Joe Mixan photo)
Q: Anybody behind the scenes who was a real important cog in the whole family or someone special to you who stands out? Anybody who had a major impact behind the scenes?
MT: I didn't have him as a coach, but the reverence you always hear the guys talk about for Coach Osborne? Well, the defensive guys, they had the same type of respect and admiration for Coach Charlie McBride. And again, I don't know him as well because I was never in meetings with him except for the team meeting as a group, but I would say he'd be up there at the top.
Other guys? Well, two guys in the training room I could not have lived without…Trainer Jerry Weber was awesome. And Doak Ostergard. Those two would be probably stick out a little bit. For me, particularly, it's Jerry, 'cause I kind of endeared people to me because of my underdog role and worked hard. Jerry kind of took a personal interest in me. After I was hurt or dinged-up he was always there to assist me. It was kind of like he was my personal trainer.
You know how they made every kid tape up to prevent ankle injuries and sprains, how they made every single kid tape up for every game and every practice? Well, I absolutely despised it. I can't stand 'tight' anything. Even now. I wore my helmet loose, I wore my shoulder pads loose, I hated it. But whenever you didn't have your ankles taped they'd send you running up the stadium stairs. So I talked to Jerry and said, 'Jerry, I've never sprained an ankle in my life.' So Jerry would just basically put on enough tape so it looked like my ankles were taped, but they weren't taped at all; it wasn't like they were supporting anything. And he'd do that for me every day. I wouldn't let anyone else do it. He taped my ankles every day for 4 years!
Q: Cosmetic tape job, eh? And the Kansas State game you started, you still didn't get your ankles taped, just to be safe?
MT: Nope.(laughs) I just couldn't. It bugged me.
Copyright @ 2013 Thermopylae Press. All Rights Reserved.
Photo Credits : Unknown Original Sources/Updates Welcomed
Paul Koch
---
---
---