Anatomy of an Era: Matt Turman Part 1
Excerpted from Chapter 2, No Place Like Nebraska: Anatomy of an Era, Vol. 1
"We were that close to going out forever. But there was one man who taught us to fight, to storm the wire of the camps, to smash those metal mother%*ers into junk. He turned it around. He brought us back from the brink."
– The Terminator, James Cameron, Gale Anne Hurd, Harlan Ellison, William Wisher,Jr.
Two of the more famous individuals borne out of little Wahoo, Nebraska were "Wahoo Sam" Crawford (1880-1968), all-time triples leader (312) and Baseball Hall of Famer, and Darryl F. Zanuck (1902-1979), co-founder of the 20th Century-Fox movie studio and producer of the first ever talking film, "The Jazz Singer." A third person -tying them together with both a movie and a sports connection- would have to be Matt 'The Turmanator' Turman, bursting onto the scene in 1994 as the national media all but wrote off the Cornhuskers chances at holding their number one ranking due to the failing health of its number one and two quarterbacks.
Mr. Zanuck's biographer stated that he was "undoubtedly one of the most remarkable men ever to become a Hollywood mogul. He rose through the ranks of the studio hierarchy on sheer will, overcoming every obstacle that confronted him." (IMDB.com) (emphasis mine) Matt Turman wasn't far removed from this description, possessing a drive and a Coach's son's acumen for the game, using every and all options available to make something of himself and the sparse opportunities provided. It ain't everyday a person gets to talk one-on-one with the Turmanator.
Notable quote #1:
"…the way Nebraska ran practice was so much more efficient than any other school I've ever seen."
Matt Turman Part 1
Walk-on, Quarterback, Wahoo, Neb. (Neumann)
Where are they now? Omaha, Neb., High School Coach
Question: Hey Matt, what are you doing these days?
Matt Turman: I'm a teacher and the Head Football Coach at Skutt Catholic High School in Omaha. I started there in 2002. We've been pretty successful, 3 years ago winning the state championship and been in the semifinals two years since then.(This is a 2009 conversation. Matt has since reached greater heights)
Q: Do you recall your first day on campus?
MT: My first year was '92. I graduated in May of '92 and grew up in a town 30 miles from Lincoln, in Wahoo. I didn't live in Lincoln that summer, I just lived at home. So they asked me to drive in and work out with the team. I was just walking on, so I would do that.
I didn't know anybody. Walking on from a small town in Nebraska, the only person I knew was the coaches and players I'd seen on TV. A little intimidating. I guess one of the first things I realized -'cause most of the players, even the walk-ons, they were used to being the big fish in a small pond- we ended up being the minnow in the ocean.
But one of the things I remember, about two weeks into the deal -you know how we had lifting and the conditioning stuff out on the field during the summers along with the passing league? Well, a bunch of the guys decided they were going to the Student Rec Center and play some pickup basketball, and I was a defensive back there at first, they recruited me as a defensive back. Anyway, I started to play a little defensive back and few of the guys said, "Hey, we need a couple guys to play," and I didn't even know 'em, but ended up going with them.
So we're playing and -do you remember offensive lineman Will Shields, "Big Will"? So we're playing a game and Will's coming down the court (and I was an All-State basketball kid), but Will's coming down and he gets the ball on a fast break and I run down there and maybe try to get in front of him. Now, Will's like what, 6'1" 300 lbs? And so I'm running down there and I'm thinking, 'Do I get in front of him?' And I do it…
And all of a sudden he just elevates… and dunks it! And I thought to myself, 'I'm in a different league here. What am I getting myself into here? Six foot, 300 lb. guys who are two-hand dunking it?!' I'm like, 'I'm a little out of my league here.'
Q: (snickering) Do you recall any of the other guys you played with that day?
MT: Yeah, John Reece, a few other guys. Barron Miles, he was a good basketball player, but Will really stands out from that day. It wasn't even like they asked me to play, they just asked me to play because they needed more people, to fill the quota.
Later on I got to know Barron really well over on the defensive side of the ball, he was just really one of the great defensive guys. He kind of took me under his wing. And then they moved me to receiver after summer. All summer I do stuff at defensive back, then they move me to receiver. Then we had all those quarterbacks get hurt, so they moved me to quarterback. By the time the bowl game was over that first season I was a quarterback.
Q: Were you willing to take that on?
MT: When they recruited me I told them I wanted to play quarterback. They told me they didn't need any more, they were loaded. Tony Veland was there, Mike Grant. There was a senior -I don't remember his name, I'd have to look at a roster- but he was 4th string, though he knew everything. In my freshman class was Tommie Frazier and Ben Rutz, who came in with me. There were so many. Tony Veland tore his patellar tendon, Tommie was starting about 4 games in as a true freshman, Ben Rutz thought he was never going to get a chance so he transferred to Kansas, and then we lost Mike Grant. We were real short on quarterbacks, so they asked me before Spring Ball if I would move to quarterback and I jumped at it.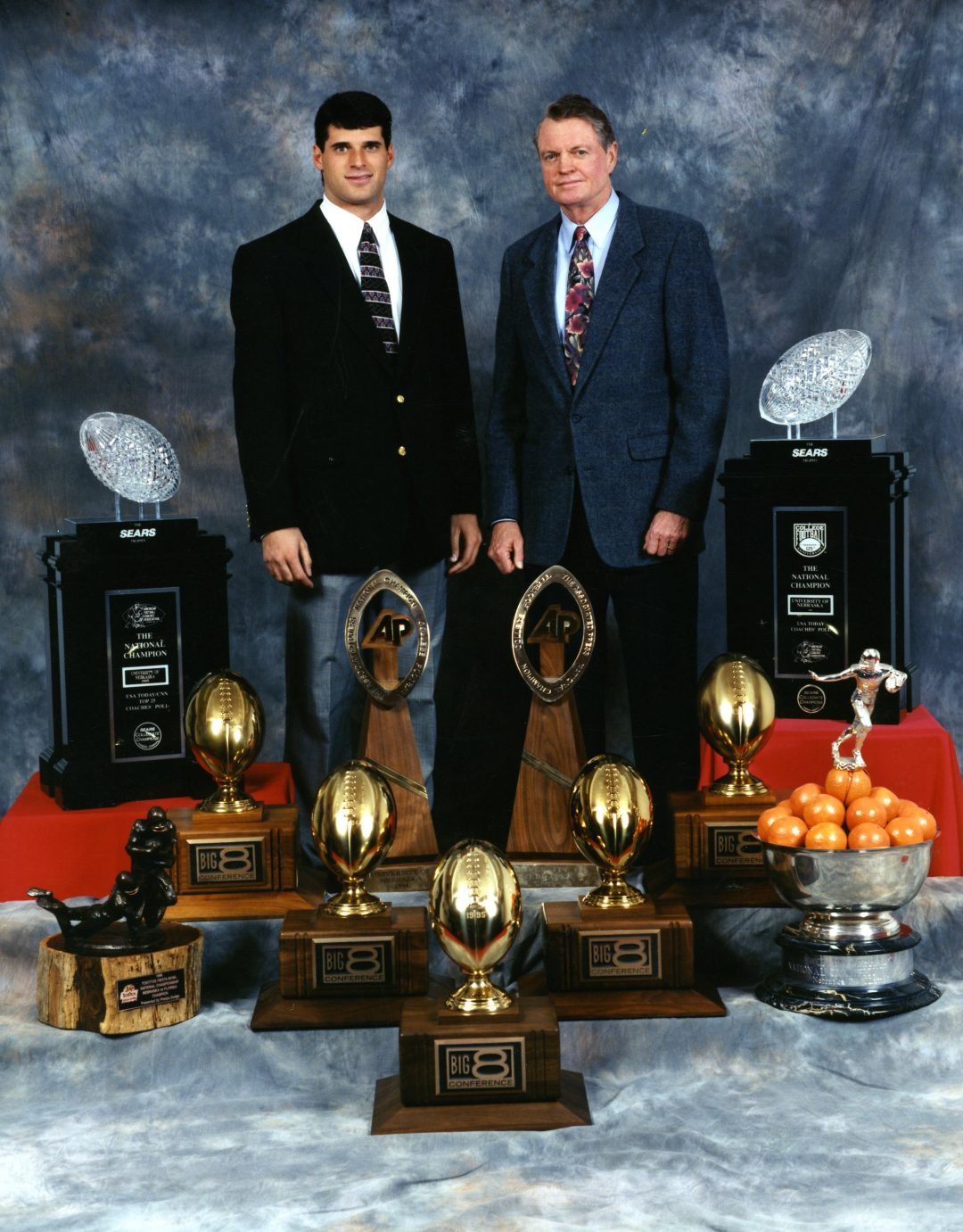 Coach Osborne and Brook Berringer (Nebraska Sports Information photo)
Q: Your dad was a coach, too?
MT: Yeah, he was a high school coach. He was an offensive guy. All-American quarterback at Chadron State. He got a bunch of pro letters to go free agent, but just got married and decided not to go. That's one of the reasons I ended up going to Nebraska and walking-on, because he always told me that he always wondered if he could have played at Nebraska. That's basically what my dad said and it really influenced my taking a shot.
Q: Did you think you had a legitimate shot?
MT: You know, I was coming out of high school at 165 lbs. Now, granted, I was -my junior and senior year- I was one of the fastest guys on team. I could always run, but I knew size was always going to be a hurdle to overcome. But you know, I just figured I've always had to work real hard for everything I'd gotten, and that's what I did. And the hard work ended up paying off when I got the opportunities.
And I tell my kids that all the time, 'You don't know when the opportunity is going to come, but you have to take advantage of it when you get it.' That was always my motivator. 'If you get a chance, take advantage of it.' Growing up in a small town, you always wanted to play at Nebraska. Having a jersey and helmet was already big, but you always wanted to play and start. When I got the opportunities, that was what I was most proud of, looking back on things.
Q: When you were thrust into the starting role, when was that?
MT: My redshirt sophomore year. And that was interesting, when I moved to quarterback after one season as a receiver. And here's kind of a funny story about Nebraska and me playing: at my high school we ran the triple option and we would read the defensive end…and at that point and time Iowa State was doing the same thing, so when we got to that game –again, I was a summer DB, fall receiver, and when we got to ISU week the coaches knew I had run that type of option- so they moved me to quarterback for that week.
It was an absolute nightmare. You know that option stuff, when they do it like Georgia Tech does now and people don't know their assignments and are just kind of running free? So at practice we have all these defensive people screwing up. And the coaches? Charlie McBride is just yelling at them, (Linebackers Coach)Steele just ripping on them. So they're getting mad and they just pound on us. The coaches get mad and say, "Do it again!" (laughs) "Do it again."
I tell you, those three words were just the bane of your existence. 'Cause you just got pounded on. The defensive guys now know what's coming, too. "Do it again!"
Q: So you were pretty motivated to pitch that ball instead of keep it and turn up field?
MT: They'd just tee off on you. But, oh well…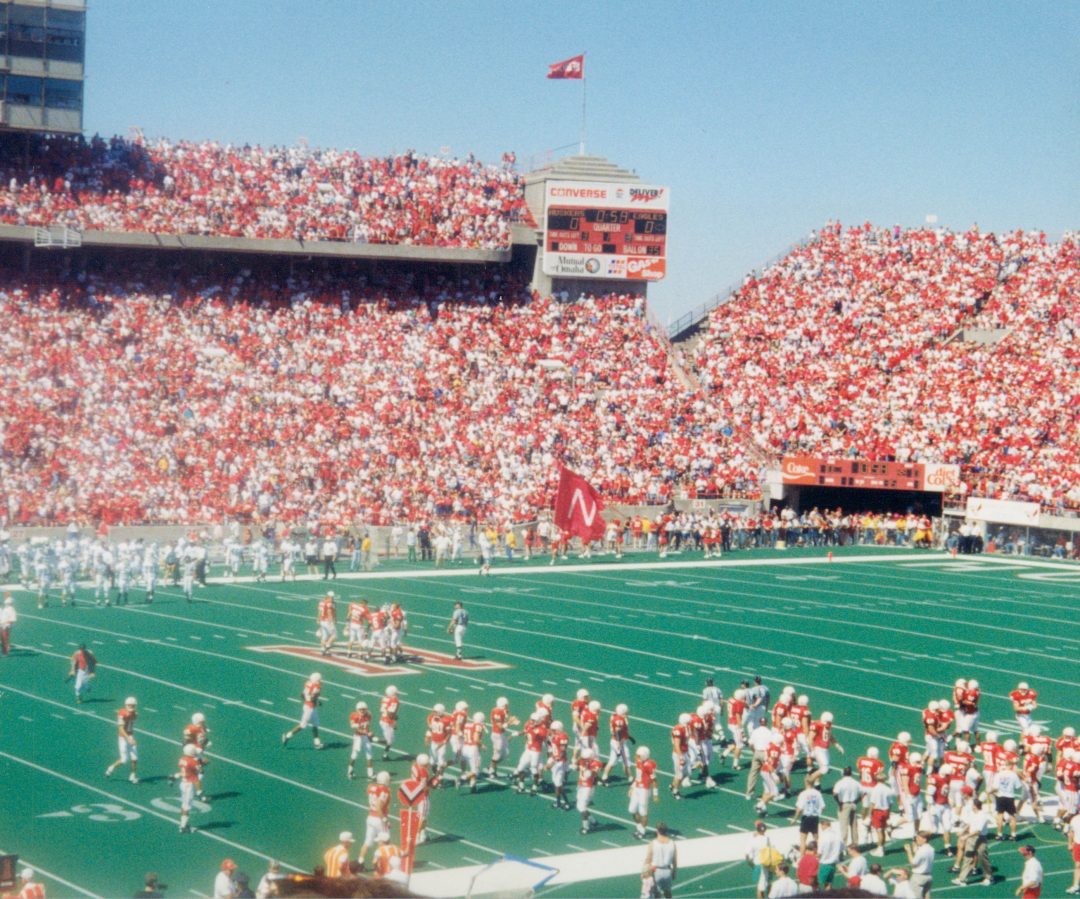 In The Deed The Glory (Unknown/Uncredited)
Q: When you joined the quarterbacks you spent more time with Turner Gill and T.O.?
MT: Every meeting. It was kind of intimidating. Coach Osborne kind of grills you. When you watch film he's not just gonna sit back. He's pointing things out and he's grilling you with questions and "what coverage is this" and "where are we long," and "who's the hot read" and "what front is that", and "do we audible?" It's just over and over again.
There was no real time to rest. Practice was physically demanding, but the film room was mentally demanding. It wasn't like you just go in there and relax.
Q: Would everyone get grilled in equal measure?
MT: Not as much, but everyone got grilled some.
That was the interesting thing. And I'm fourth string just like that, because there wasn't anybody else. And we're getting ready to go out to UCLA and the Rose Bowl and they can expand the traveling roster, the non-conference roster. So they said, "We're taking four quarterbacks." So I was traveling to the Rose Bowl to play UCLA in the middle of all the game prep and everything, that was kind of cool. That was the first trip I was really eligible to go to, not being a redshirt.
Q: Was that UCLA game Lawrence Phillips' coming out party?
MT: Yes, it was.
Q: Did you get to know him very well?
MT: I knew Lawrence. He wasn't, I guess, a guy that I was hanging out with on the weekends, but I knew him pretty well. To me, the whole situation was kind of unfortunate. I'll say this -and I know a lot of my teammates I've played with would say the same- but he was the best football player I ever saw put on pads.
Q: More so than Tommie Frazier?
MT: Yeah, not even close. I don't know of hardly anybody that would say otherwise, except Tommie. (laughs) You know the year he got in trouble, the two games before that he had rushed for something like 600 yards. And you know, he worked as hard or harder than… he was one of the top 5 guys at putting in work on the team. He was a great teammate.
Q: So what was it like? Were you very nervous during the week leading up to the infamous Kansas State game where you started?
MT: I really wasn't all that nervous because first of all Coach Osborne and Coach (Turner) Gill just do a great job of getting you ready. I wasn't as nervous as I thought I was, because I knew what was going to happen. And the week before I played most of the game against Oklahoma State, and the week before that I played most of the Wyoming game. Brook (Berringer) played until halftime and I played most of the second half; about a minute into the second quarter of the Oklahoma State game I was put in. So the time I'd put in previous to then wasn't just mop-up duty, I'd put some time in. It wasn't like it was the first time stepping on the field, you know?
But it was a little bit different because Oklahoma State and Wyoming weren't as good as K-State then.
But looking back on it I was surprisingly calm. We were playing down at K-State and I think that actually made it easier. It was a rainy, cold day. I think I only threw like 8 passes. 5 for 8 for not very many yards, although Eric Alford dropped like a 30 yard pass that should have scored. (laughs) That was like the only pass we threw down the field. All the other passes were short ones: swing passes, short, little curl patterns, just enough to keep them honest.
Coach Osborne told us before that we were, "Just gonna go in and we're gonna use our linemen…" like Brenden Stai, Zach Weigert, Aaron Graham, Rob Zatechka, Joel Wilks. 4 of those 5 guys were pro lineman, and then Cory Schlesinger, a 12-13 year veteran in the pros at fullback, and Lawrence, a top 5 pick in the NFL draft, "…we're gonna use those guys and we're just gonna pound on them." We knew going in that that was going to be the game plan.
Q: Did Kansas State know it, also?
MT: They had to. You've got a 3rd string walk-on who doesn't have a whole lot of experience starting. I think what they were saying was, "When they run the option, let him run." (laughs) I mean, do you want Schlesinger or do you want Phillips running around on the corner, or do you want Turman cutting up the middle into your linebackers? That would be my thought. And we never really threw the ball a whole lot, so they didn't have to change that. It wasn't like when Tommie was playing we were throwing 50 times a game or anything.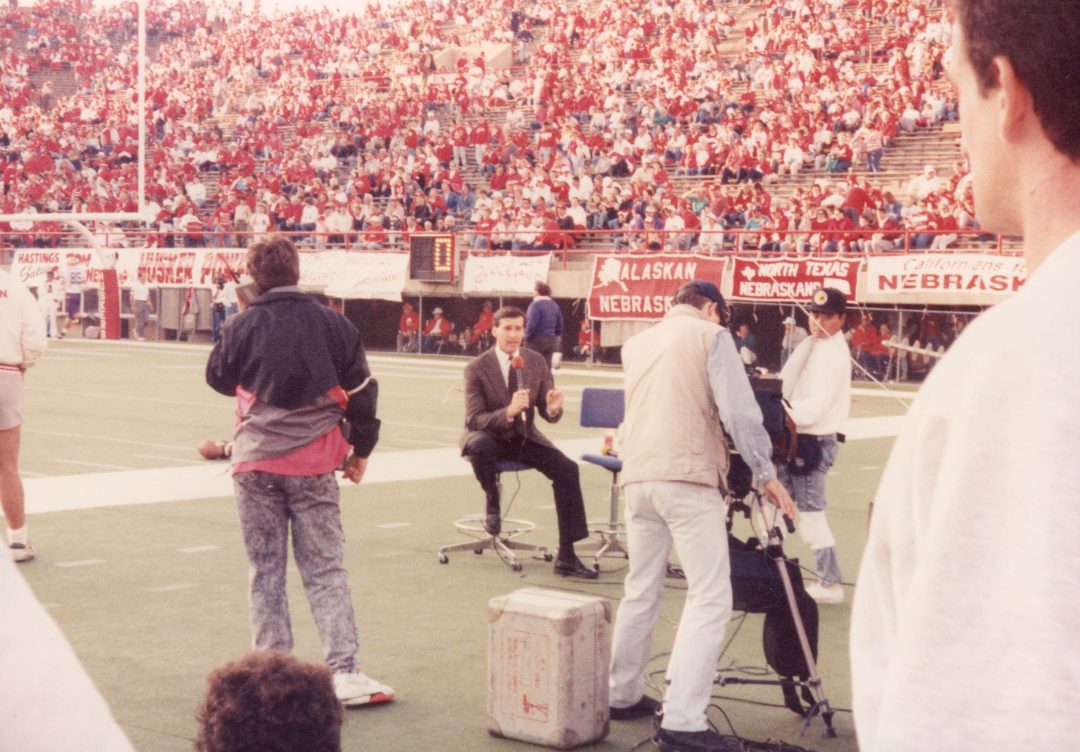 Must See TV (Unknown/Uncredited)
Q: Did Coach Osborne or Gill teach an attitude or mindset as far as the quarterback position?
MT: There were a few different things that would be interesting for you. For instance, Osborne was really big on, "We couldn't run out of bounds and we couldn't slide," so we were always supposed to lower our shoulder and get extra yards.
But if we did just run out of bounds he wasn't a yeller or screamer. He did things differently, like you let him down. You knew his expectations -what he expected of you- and when you didn't meet them he didn't really have to say much. He'd just say, "Matt, why did you run out of bounds?" And you just go, 'Coach, I'm really, really, really sorry.' It was just the way about him, his demeanor, his stature, his reputation, his aura.
Q: What do you think created that aura?
MT: Well, it's hard to pinpoint and articulate. But to me, he's such a genuine person. His answers are genuine, he doesn't beat around the bush, right? There's no gray, it's just black & white. And you can tell by the way he does things that he cares about you.
The best way I can put that is this little story: Okay, we've won a state championship and he's in the middle of some political race running for, I think, Governor, and extremely busy, right? And he takes the time out -first of all he knows I'm the coach there, he knows that we won a state championship- and he sends me a handwritten letter saying congratulations. And he calls me on the phone and it says on the caller ID, "Osborne for Governor," and I'm thinking, 'Hey, they're calling me to vote for him. Well, that's already a done deal, you don't need to try to convince me to do that.' So I'm not gonna answer the phone. But then I pick it up… and it's him!
And that's the kind of person he was; he cared about you so much, and you knew that. And because of that, this 'aura' around him was -when he expected you to do something or asked you to do something and you didn't get it done- it made you feel worse. It made you try harder. It made you give everything you could because he cared so much about you that you wanted to return to him the trust and caring he put into you. You cared about doing things the way he wanted and needed it to be and took care of him.
Q: Sounds like he appealed to your conscience?
MT: That would be a good way to put it.
Q: Do you find yourself modeling much of your coaching after any of the coaches at Nebraska?
MT: Interestingly, my dad and him, they were very similar. I'm not a yeller and screamer, I don't get mad very much. Basically it's about telling them what my expectations are. And if they don't meet them I'm not gonna yell at 'em and scream at 'em and call them names, but I'm gonna say, 'Hey, you're better than that, our program has become better than that. And if that's what I'm gonna get, I'm gonna find somebody else to represent our school and our program in a better light.' And that's what's expected.
Q: What year did you graduate?
MT: '96. And after the '94 season was over, in January of '95 they did give me a scholarship.
Q: I thought you'd ended up earning one. So, do you ever wear your championship rings?
MT: Never.
Q: What's the rationale behind that?
MT: I'm not much of one to brag about past accomplishments. I don't know. I heard an interesting thing on the radio today. They were talking about the Pittsburgh Steelers and how they won the Super Bowl, and they were talking to Hines Ward and they asked him about his Super Bowl ring, asking if he wanted to get another one. And he said, "Of course I want to get another one." Then they said, "So you can wear them both at the same time?" And he said, "Well, I never wear the ring." And they asked why? And he said, "As soon as you wear that first one it becomes about what you've done in the past and not about what you want to accomplish in the future."
And I'm not playing football anymore, but that's the interesting thing: people ask me about the National Championships -and I'm very proud of them- but the state championship we've won at the high school is a close second. It's a state championship compared to a national championship, but as you go on and you continue on with what you love to do, you're always hungry for the next challenge, and when you get to that next challenge and you're successful, you're proud of it. But I don't know …. I probably should wear 'em. (laughs)
Q: Turner Gill: what did you pick up from Turner? Anything different from Coach Osborne?
MT: Their demeanors were very similar. And Gill, just because he played for Coach Osborne and coached with him, the thing that struck me about him was his professionalism and, again, he was the same way: he treated his players in a way you knew he cared about you.
Even though I was a former defensive back and receiver, within two weeks of moving to quarterback he knew who my parents were, and my brother and my sister. They just find things about you and they were concerned more about you than just what's on the football field. Sometimes they'd just say, "How's your dad doing? Is his team gonna be any good?" They just talked to you. "I see you have a little brother playing, I see him on film a little bit…so do you have any other brothers?" And I'd say, "No, I have 4 sisters," and they just remember that. 'Cause even Coach Osborne, when he called about the state championship he asked how my two boys were doing. And I'm like, "How does he even remember that I have kids?" He just keeps up with all that stuff, you know. And I have a girl on the way now.
Q: Matt, what are you most proud of as a player?
MT: It's hard for me to have anything besides the game I got to start versus Kansas State. That was a lifelong dream. If you're not talking about that type of stuff, it was just growing up in Nebraska, just winning the national title was something that was extremely satisfying. Just knowing that you were a part of that and how important it was to not just the football program, but to the state as a whole. That's probably what I would say just really sticks out the most. Just the fact that year '94 we were undefeated and the win versus KSU, and then we were able to go forward and win the national title. It was the whole thing.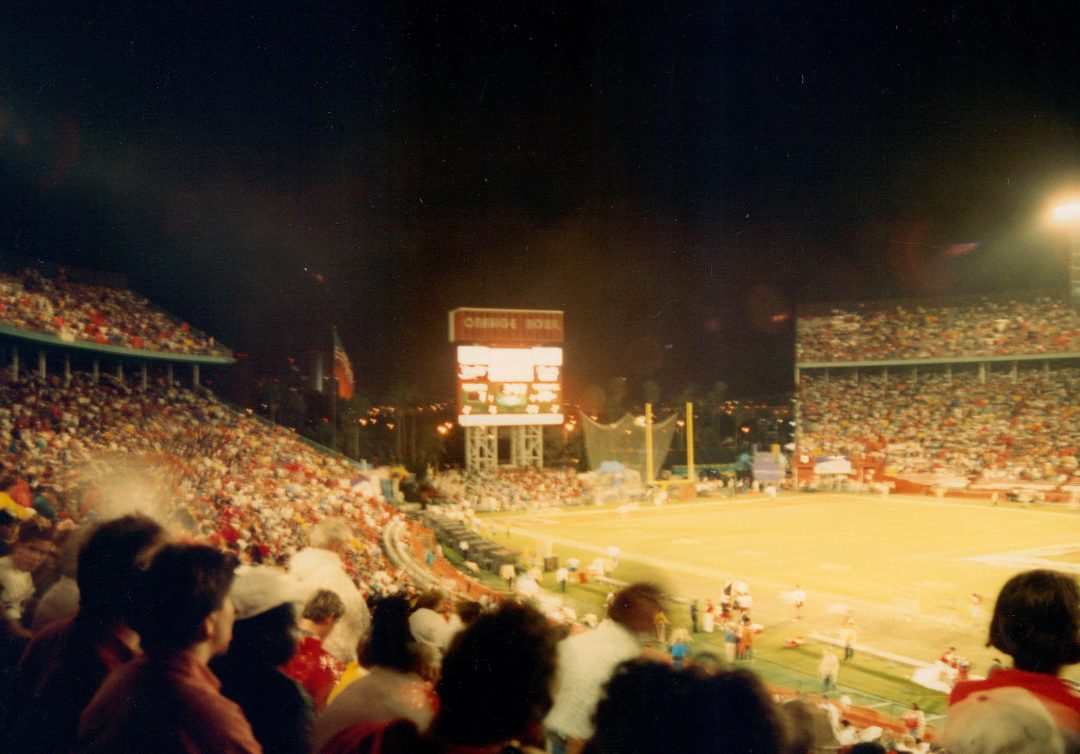 Ghosts of the old Orange Bowl venue (Unknown/Uncredited)
Q: Any instance you are least proud of or wish you could do over again?
MT: That's hard for me. Everything for me down there, it seemed it was just kind of sugar-coated. The first game I ever suit up for I'm headed to the Rose Bowl, the first game I play in was against Pacific and I scored a touchdown and threw for a touchdown! Now, Pacific wasn't very good, but we were beating them pretty bad and they put me in the game, and we run an option and I run in for touchdown. And then we call a short pass play and we convert it to a fade because they were up in press coverage, so I threw a touchdown.
So, Paul, I don't know. I guess if I had to do it all over again, I would have liked another opportunity to start. My senior year Tommie and Brook were both graduated… and that was something: Brook Berringer was my roommate on away trips, from the UCLA game -which was my first to go on- we roomed for every game we had together. Even home games. I guess if there were anything I would do over, it would be to tell him not to get on that airplane.
Copyright @ 2013 Thermopylae Press. All Rights Reserved.
Photo Credits : Unknown Original Sources/Updates Welcomed
Paul Koch
---
---
---