Anatomy of an Era: Final Chapter/GEORGE SULLIVAN & JERRY WEBER
Excerpted from Chapter 104, No Place Like Nebraska: Anatomy of an Era, Vol. 2 by Paul Koch
Anatomy of an Era: Final Chapter/GEORGE SULLIVAN & JERRY WEBER
Along with Doak Ostergard were the other, key athletic trainers who played a large part and had a daily hand in the student-athletes' lives. Here we read about the special affinities for both Head Athletic Trainer Jerry Weber & Athletic Trainer Emeritus George Sullivan:
Head Athletic Trainer/Physical Therapist, Jerry Weber (Sidney, Nebraska's favorite son):
I was a big fan of Jerry. Of course, I spent a lot of time in the training room -more than I would have liked- but I always appreciated Jerry Weber. He would kind of make things light-hearted, but he would give you respect and always give you the best treatment he knew of. I just really appreciated him and his demeanor and everything.      – David Alderman
Jerry kind of took a personal interest in me… – Matt Turman
Basically, the training staff that we had, Doak and Jerry and George, they did a great job of getting kids up and ready to play, physically, and got them through some injuries that normally you could be out two weeks and they'd be getting them back in two or three days. They did a great job at their end of things…
– Dan Young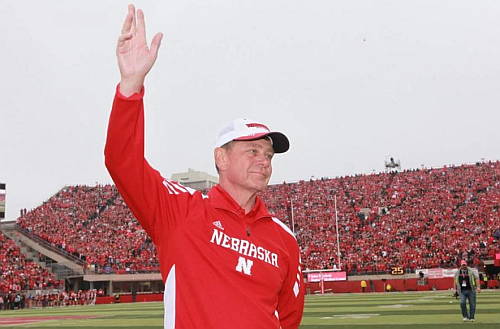 A salute to Jerry Weber

Head Athletic Trainer Emeritus, George Sullivan (Rockville, Nebraska's pride & joy):
Sully was incredible, too. He was 'old school.' You could be bleeding and he'd be like, 'Ahh, just put some ice on it."   – Toby Wright
George Sullivan, he was such a hard-nosed guy, but he was a loving guy, too. George would ask you a question, "Are you hurt or are you injured?" If you were injured then you sit out, and if you're hurt then don't go back in there. – Vershan Jackson
…guys like George Sullivan and Kenny Rose were pioneers in athletic training… George was one of the first athletic trainers and did a lot for the athletic training profession… pretty outstanding people, not just good in their profession, but getting to know them and the great people they were. Strong personalities, and the kind of people Tom knew could do a good job, just keeping people in the position if they were pretty good at it.   – Jack Nickolite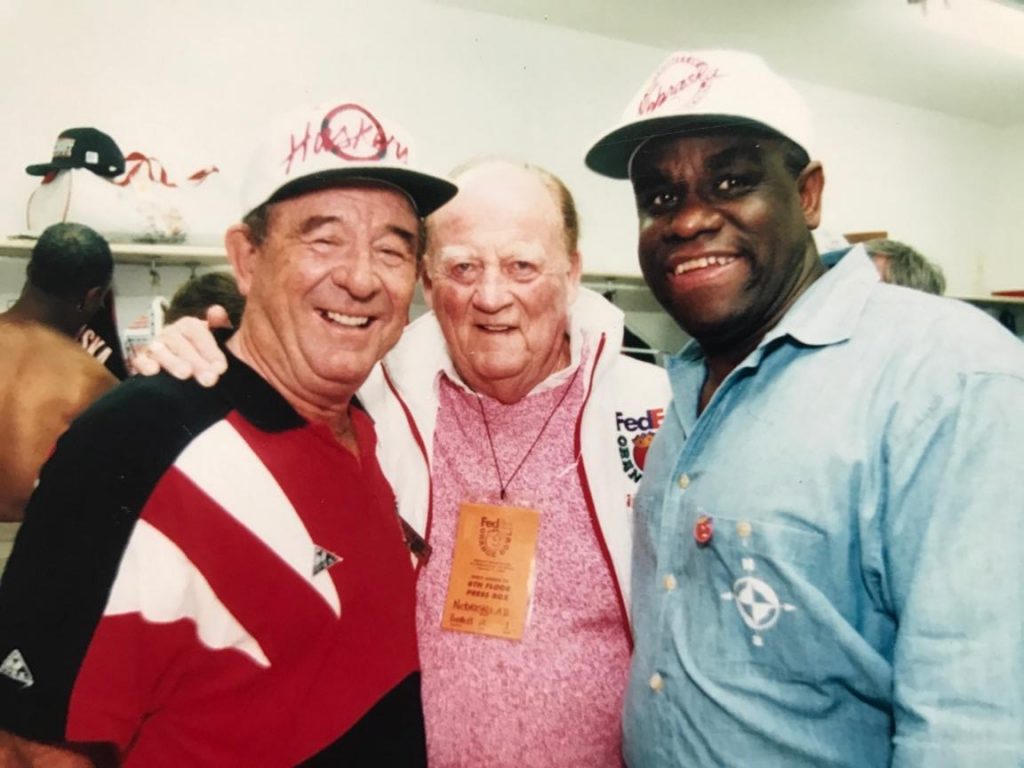 George Sullivan, Bob Devaney & Gene Huey
The most elder staff member had his share of devotees…
It was great to have Sully. I'll never forget, it was probably my freshman or sophomore year and I dove for a ball, and one of the guy's cleats rolled up on my hand and ripped off three layers of skin and I'm over there bleeding and everything. Sully taped it up and, "Aw, hell, get back in there!" He didn't blink an eye, just taped it down, taped it up and said, "Come in after practice." That was all it took. – Ryan Held
George was everybody's father, you know? He was everybody's Daddy. Old George, he kept the rules straight, "No hats in the house"…grabbing them off guy's heads at the training table, slapping them in the back of the head. He was the trainer, but you didn't show up in there being soft in the training room, "If you're hurt, you're hurt. Let's get that thing fixed." A "We're not here to pamper you"-kind of guy. – Tony Samuel
…those guys did an amazing job keeping us on the field… It was just the jolly demeanor. Like I said, Sully was the guy that you couldn't bullshit him. He'd heard it all and you couldn't fool him. He could tell by the way you were looking at him if you had anything wrong or if you were trying to pull something on him… that stereotypical gruff, old, grumpy, 'you-can-play, rub-some-dirt-on-it' kind of guy…- Chris Norris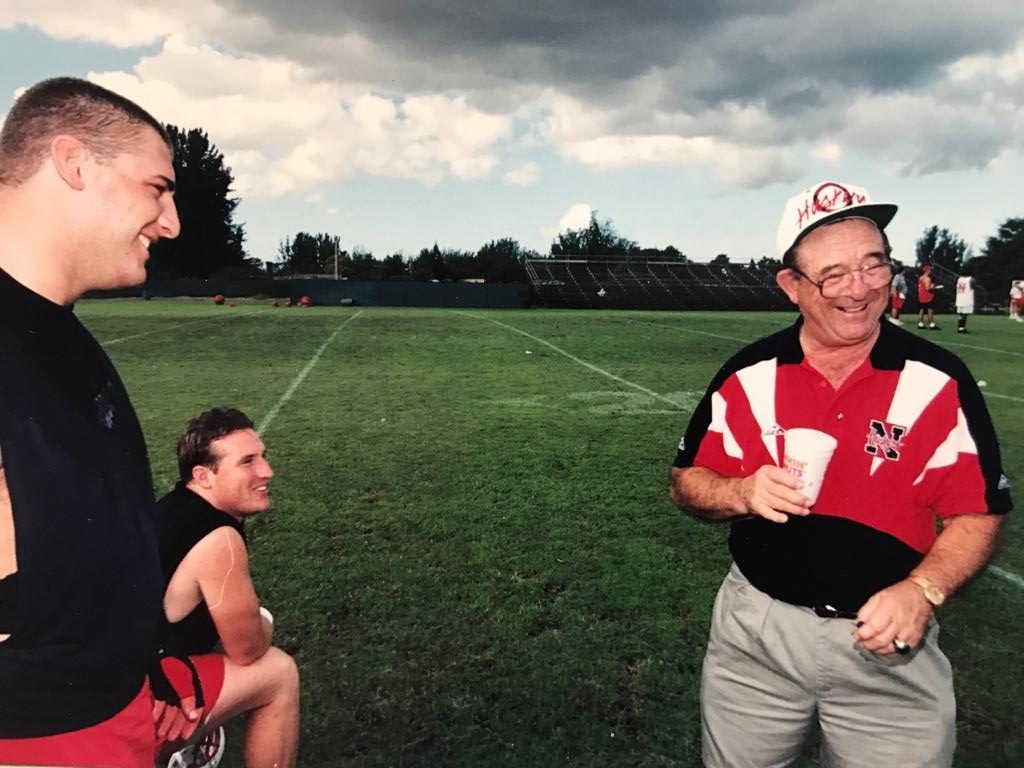 Christian Peter, Jason Pesterfield & George Sullivan share a chuckle
Copyright @ 2013 Thermopylae Press. All Rights Reserved.
Photo Credits : Unknown Original Sources/Updates Welcomed
Author assumes no responsibility for interviewee errors or misstatements of fact.
Summary Chapter to be continued…..