Anatomy of an Era: Final Chapter/KEITH ZIMMER & DENNIS LEBLANC
Excerpted from Chapter 104, No Place Like Nebraska: Anatomy of an Era, Vol. 2 by Paul Koch
Anatomy of an Era: Final Chapter/KEITH ZIMMER & DENNIS LEBLANC
Reversing course in the bowels of Memorial Stadium, we head back to the West Stadium's Hewit Center and Boekel Academic Center to find the Number 3 Eminence Inlier in Academic Counseling/Life Skills Coordinator, Keith Zimmer, (Wayne, Nebraska's gift to the university):
…the academic support staff. And Keith Zimmer, in particular. They become your confidant, they become your shoulder to cry on, they become your mom, your dad, they have as much contact with you as the coaches do and in some cases more. So they have a lot to say and a lot to do with the way guys turn out, because what people forget is that the players are living a life outside of football.   – Troy Branch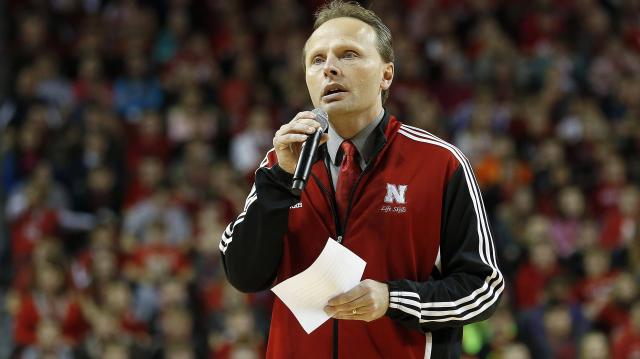 He just never gave up on anybody. Keith Zimmer -and I really loved Dennis Leblanc, too- but Keith would just work his ass off. He used to go to class, and sometimes go down to the professors -and it wasn't a pity party- but he'd say, "Hey, these guys are juggling a lot of things. They're going to class and on top of that they're playing games and in practices all the time. It's hard for him to try to fit all that in. If you could just give them a little bit of flex or let them do this paper over? They're still on the same timeline as the other students, we just need a little flexibility here, that's all. We have an away game. We're going to have to leave class behind." And there were professors who could not stand athletes, and Keith would go to bat. That was a great man.                     – Jacques Allen
I saw him do an awful lot of good for those guys… –Jack Stark
Keith Zimmer, I can see how he was instrumental in a ton of things, too, with a lot of guys… I really liked Keith and Dennis (Leblanc)…   – Matt Shaw
Who brought the big picture home for the kids…
When you walk through the front doors of Memorial Stadium every day, that's just something you hope people don't take for granted. They should feel very honored and have a lot of pride to not only help the students there, but really, you're kind of an extension of the entire state. And just a feeling that a lot of people would like to have, just to be able to walk through Memorial Stadium for not just 6 or 7 days throughout the year, but something you do every day, and not just supporting the team, but you're developing men and women every day. And that's the biggest part of what we do here at Nebraska. – Keith Zimmer
He made a really big impression on all of us. Really cares about the athletes there and does a great job… He's just a real good personality, and great sense of humor. We could go joke around with him. And he'd always help you out. He cared about you, not just in football, but with academics, trying to decide my major and what career to choose. He was always there for you, always had an open door, always had time for you, was never too busy. So, he was just a great guy… If you had a question about a career he would get ahold of a former player or somebody in the community, he would get ahold of them and you could to talk to them and ask questions. You could always count on him with little questions or help, but it was nothing like papers or anything like that… he'd help you find a tutor. – Joel Wilks
The little things mean a lot, and someone who sticks out to me is Keith Zimmer. Zim always helped me with my studies. He was a big part of the reason why I was ESPN's Academic All-American two years in a row.   – Jason Scott Jenkins
He, too, was a great sounding board for the times when the load seemed a little to weighty to bear…
Keith Zimmer, another guy who really helped me out off the field as far as real life, school-type things, always being there for me and somebody to talk to. I really liked Keith Zimmer.   – Mark Gilman
He was just kind of an ear, too. If you had a tough day, you could just sit in his office and talk to him a lot.   – Joel Wilks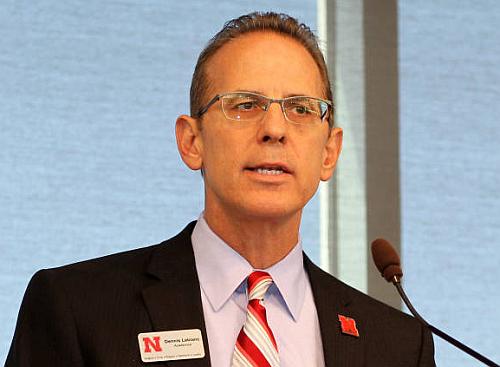 Dennis Leblanc
It's difficult to separate one from the other on the Academic Counseling side of things, as 'Zim' was quite often mentioned along with tag-team Academics partner Dennis Leblanc, Assistant Athletic Director of Academic & Student Services:
Dennis Leblanc and Keith Zimmer. Those guys were really good to me. I didn't send any announcements or anything and I didn't have anybody come to my graduation, so I didn't get any cards or anything. But I remember Keith and Dennis gave me a card. That meant a lot to me, that those guys gave me a card. They just wrote how proud they were of me that I graduated and what not, and wished me the best of luck in whatever I do. I just remember Dennis and Keith- all the time- if I ever had a question or needed help they would always be there… They put up with a lot of crap. Guys were expecting them to get their schedules for them and babysit them. They worked really hard and were super-nice guys. Good, good guys. I'm excited to see Coach Osborne when I go back there, but I really look forward to seeing those guys. Coach Osborne was there for practice, but I spent so much more time with those guys, you know? – Tom Seiler
The academic guys, Dennis and Keith, they worked so hard in getting these kids to make the best grades and make sure they were at study table and really kept on top of all the players. I can't even remember kids not playing football games because of academics. They stayed up-to-date on tutors and meeting all of the different qualifications the players needed to meet academically…  – Dan Young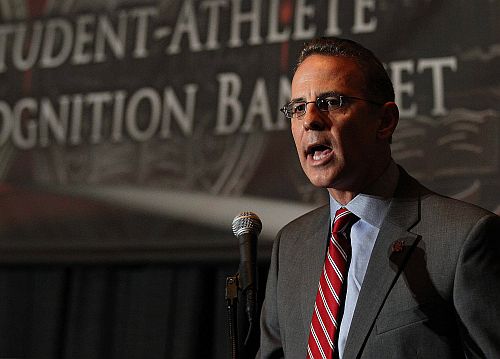 Dennis Leblanc
There was no avoiding the books with these two riding you non-stop…
…the academic staff was pretty impressive, how they were really dedicated to helping us finish school early, pushing us with more than football. Because we didn't go there just to play football, it was about school, too. – Trumane Bell
…what I learned from Dennis and Keith -who worked mainly with football- they were on those guys and they rode them. And sometimes (the players) didn't appreciate it. They were checking their classes and making sure they were there. Basically those two were breathing down their necks. And I know at the time those players didn't appreciate it, but the things they were doing helped them to have a high success rate with graduation because they were on them. And if there was a problem with a class or something they basically knew about it right away. And (even) if the professor didn't tell us, we knew that a kid who was skipping a class wasn't doing well. – Sonya Varnell
Dennis and Keith. Yep, because they were the ones who had the responsibility to keep all our grades up, to make sure we were doing what we were supposed to be doing to keep our grades up. And those two got harassed more than anybody else, because they didn't have the respect of a coach. Obviously, we respected them because they were our counselors and things like that… and those two had to, for lack of a better word, put up with so much shit- and still did such a great job of keeping us all on the beaten path. And for myself to go from failing in high school to the Dean's List by the time I get out of college, it's those two. The two of them, there's not an award they can give them that would show the amount of gratitude that they should be getting from all of us… They were both very, very good to all of us. I don't care what they got paid, their salaries never did reflect what they should have been paid. Ever.  – Jared Tomich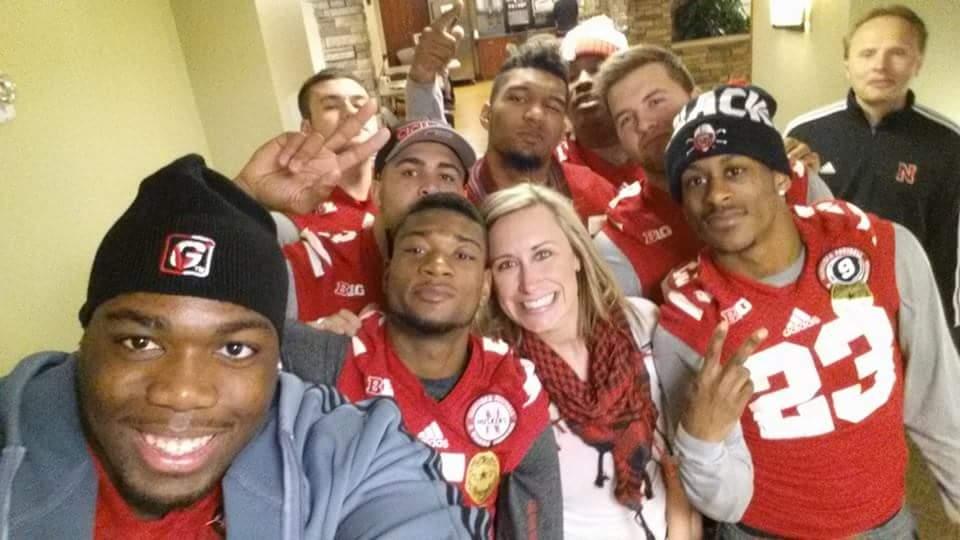 Men on a mission, fulfilling promises and building futures…
Dennis and Keith in the Academic Center worked their knuckles to the bone helping guys out and making sure they were doing what Coach Osborne told their parents they would be doing.   – Adam Treu
…I think about Dennis Leblanc. Him keeping us eligible, him keeping us graduating. There's a reason Nebraska leads all its member schools in graduation rates among its athletes. You've got to take your hat off to Dennis Leblanc because that guy kept us eligible, he kept us going, let us know when we were messing up in school. He kept tutors on us. He just kept an eye on us when you talk about school work. That so important, because we weren't just athletes, we were student-athletes. He sees the educational pieces and how important that is. – Vershan Jackson
…then there was Dennis Leblanc, my man. He saw a kid that, again, who was arrogant and didn't care about anything. I just said, 'Hey Dennis, I'm here. I just want to get by.' And he made it a point of his (and I think this was just his nature, this is what he did with every single guy), he'd match us up with tutoring and made sure we were there and check in on us. This was the other part Nebraska offered: when we'd go to class there were people there to ensure we were there. It was like, "You go to class. Here's your classroom, here's your books, here's your schedule. If you don't go, you don't play." But Dennis had a tremendous impact on my academics, keeping me in line. I'll never forget that guy…    – John Livingston
It was a difficult task selecting the three Eminence Inliers from among the superb support staff of the day, but the names Bailey, Ostergard & Zimmer were much too prevalent in their mention to be a coincidence. That's not to say others –even those not named here– were any less effectual, not by any far stretch of the imagination. It's just that among those pulling for the whole Nebraska Football organization in that era, these three somehow became closer confidants to the large mix of Husker Football players than most. All in their thirties, it appears they served as surrogate uncles of a sort, a guy who could have been your father's youngest brother, a fellow who might have an understanding of your unique situation in life and bridged the player/coach generation gap. They were the guy a player would instantly buy a beer for in the local watering hole rather than hastily sneaking out the joint's back door for fear of being spotted -even if you got into the place with a fake I.D. or a former teammate happened to be the bouncer. (Wink, wink) Far from pushovers and taking it easy on the student-athletes, they were often the point of the spear in goading, prodding, persuading, and providing their mature insight & instruction as it related to living life to their fullest physical and scholastic potential.
Copyright @ 2013 Thermopylae Press. All Rights Reserved.
Photo Credits : Unknown Original Sources/Updates Welcomed
Author assumes no responsibility for interviewee errors or misstatements of fact.
Summary Chapter to be continued…..