Stryker: Tom Novak stood tall amid Nebraska football depression
It's not often that a football team returns to the field early and watches the marching band wrap up its halftime show. They've usually got more urgent things on their mind. But even with a rare victory in sight, at the end of the worst decade in Nebraska football history, coach Bill Glassford and most of his team were fixated on something more important than the scoreboard.
Sometime after 3 p.m. on Saturday, Nov. 19, 1949, as the afternoon shadows crept across the chewed-up grass field in Memorial Stadium, nobody was thinking about the second-half kickoff — not when the crowd started singing.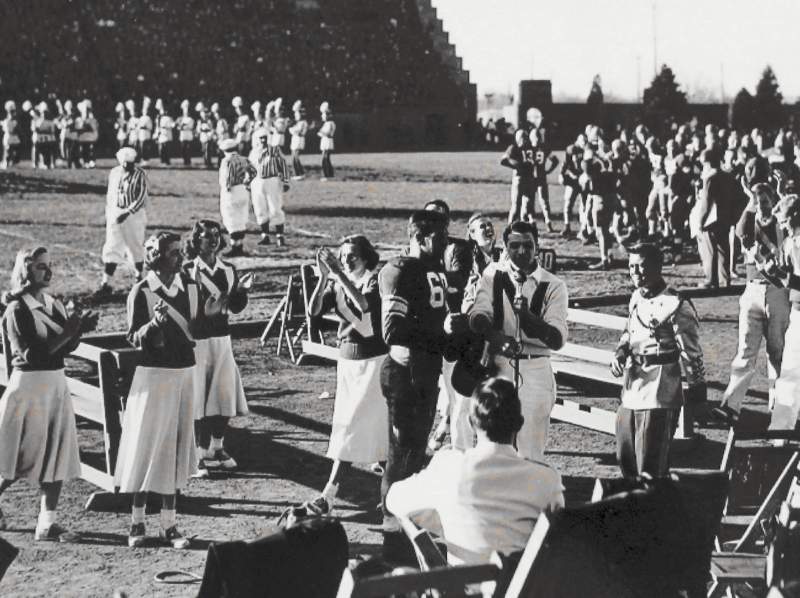 Surrounded by Husker cheerleaders, Tom "Train Wreck" Novak says a few words after being serenaded by the crowd and the University of Nebraska marching band at halftime of his final football game. This Nov. 19, 1949, photo is from the collection of Chuck Edholm and Richard Blomgren, who captured much of Lincoln's history during the mid- to late 20th century. Blomgren did a lot of football photography and likely took this photo.
In a Greek tragedy, the chorus is a literary device used to comment on the plot. In the late 1940s, Tom Novak was undoubtedly the Cornhuskers' main story line, and about 30,000 members of his chorus poured out their appreciation.
It was a bleak time for Nebraska football, which was less than halfway through its personal version of the Dark Ages.
The decade had started with a bang. The Huskers went 8-2 in 1940, a season which climaxed in a Rose Bowl bid. About a year later, coach Lawrence "Biff" Jones, a West Point graduate, was recalled to the U.S. Army for World War II. The Husker program collapsed as their best athletes followed him to become soldiers, sailors, marines and airmen. When the war ended, they continued to flounder.
Notwithstanding football, it was not the best of times in Nebraska. Although the nation's economy was well on its way to a postwar recovery and the establishment of Offutt Air Force Base helped invigorate eastern Nebraska, it was slower to take hold in western and central portions of the state. Devastating polio outbreaks spread fear. Electricity was not yet available in some rural areas.
The Husker football program stumbled to a 34-57 record during the dismal '40s and had a six different head coaches that decade alone. The Huskers could not find a way to fix their culture, floundering despite fan support steady enough to ensure crowds of 20,000 to 35,000 for every home game. The arrival of Bob Devaney was still more than a decade away. The only good news for Nebraska fans was wrapped up in a handsome, humble 5-foot-10, 205-pound graduate of Omaha South, who played fullback, center and linebacker. He also played baseball, helping the Huskers win a pair of Big Seven Conference titles in that sport. But more than his versatility, it was his fearless, relentless passion which endeared this blue-collar hero to his fans.
Novak never wavered in his approach despite playing for three different head coaches (Bernie Masterson, George "Potsy" Clark and Glassford). Aside from the inspired gameday descriptions of KFAB play-by-play announcer Lyell Bremser, Novak was the only source of positive consistency in the program. To this day, he is the only Nebraska player to be voted first-team all-conference four years in a row.
Novak refused to accept defeat. He had to live with it, but he never accepted it. You could tell by the way he played the game, and the way he carried himself in the midst of some of the worst football endured by the loyal fans of a proud program.
In 1922 and 1923, Nebraska scored upset victories over Notre Dame, giving Knute Rockne's "Four Horsemen" backfield the only two losses of their college careers. A generation later, in 1947, Nebraska had faded badly and stood no chance against the Fighting Irish on their home field, but Novak, then a sophomore, rose up and made a statement. He seemingly was everywhere on defense, making tackle after tackle. His efforts only slowed the Irish a little as the soon-to-be national champs with two future Heisman winners on their roster crushed the Huskers, 31-0. But people noticed nationwide when coach Frank Leahy told the Omaha World-Herald, "I doubt we run into any linebacker as good as Novak the rest of the season."
That's the day Novak earned his nickname, "Train Wreck." He loved that nickname, according to his daughter, Laurie Novak.
Tom Novak was more than a bone-crushing blocker and tackler. He had 11 career interceptions. He never touched the "off" switch. You've never seen a Husker player wear No. 60. That's in honor of Novak, who for more than half a century was the only Nebraska football player to have his number permanently retired.
So it's not surprising that people found out the 1949 Colorado game – Novak's final appearance in a Husker football uniform — would be played on his 23rd birthday. Everyone was ready. It's not clear whether it was kept secret, but when the Huskers came out of their locker room at the north end of the field and ran into the slanting sunlight, the marching band formed "TOM" on the field and played "Happy Birthday." It was a simple, unpretentious celebration for a true Husker hero. A story in the next day's Nebraska State Journal said the crowd gave Novak a tremendous standing ovation. The Beatrice Sun called it a "touching moment."
"The student body and the thousands of other spectators boomed out the greeting with full hearts," said the Sun. "It was for Tom Novak, who was playing the final minutes of a great collegiate career. Through all the years of tribulation, Tom was the light, the hardy engine and the soul of Nebraska football. He was the refuge and an undefeated element. He will be a legend."
A little over a quarter-century after the Tom Novak Award — honoring the Nebraska football player who "best exemplifies courage and determination despite all odds" — was established, its namesake was paralyzed in 1976 after a fall. I remember seeing him in his wheelchair at numerous Husker basketball games when I was a student in the early 1980s. He spent the next two decades proving that a tragedy doesn't have to define a man. The man who longtime Sports Information director Don Bryant called "the toughest guy I ever knew," died in 1998.
The Huskers went on to beat Colorado 25-14 in their final game of that dismal decade, but that wasn't the day's biggest story. Life doesn't have to be defined by less-than-stellar circumstances. That in itself is worth celebrating.
A longtime Husker fan, sportswriter and history buff, Tad Stryker started writing for this website in 2008. You can email him at tad.stryker@gmail.com
---
---
---