Lyell Bremser transcript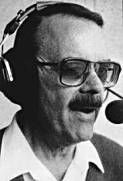 1981 vs. Florida State. This particular game had several big plays.
4th quarter. Florida State has just cut Nebraska's lead. It's 27-14. Roger Craig loses where he is on the field and steps out of bounds with the kick-off at the Cornhusker 6-yard line.
"...now, it's Nebraska 1st & ten at their own 6-yard line. And, Mark Mauer is in there at quarterback.
"Mark Mauer making his first appearance at quarterback, gives off to Craig!
(crowd begins to roar)
"CRAIG BREAKS IN THROUGH A HOLE! HE'S ALL THE WAY OUT TO THE 15! TO THE 30! HE'S TO THE 40! THE 45! HE'S ACROSS MIDFIELD!...THE 20!...HE'S ALL THE WAY HOOMMEE!!!!!
(CROWD ROARS FOR SEVERAL SECONDS)
"ROGER CRAIG JUST WENT 94 YARDS! AND, WHAT A GORGEOUS RUN, IT WAS!! With great blocks by Jeff Kwapick and Anthoney Steels! He BURST into the middle of the line, veered a little bit to the right, ran out of the arms of a couple of ball players, and HE STREAKED 94 YARDS FOR A TOUCHDOWN!! And, that may have broken some kind of a record from scrimmage! We can look that one up!
"ROGER CRAIG WENT 94 YARDS! The try for the point is good! And the crowd....what a ball game they've seen this afternoon! As their beloved Cornhuskers go on top, suddenly, 34-14! He just burst out of that hole! He comes through the middle of that line just like a catapult! I'll tell ya, he's like somethin' shot from a gun!"