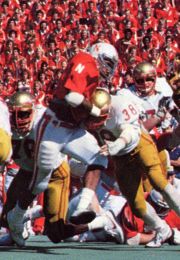 Official recap
Nebraska exploded for two touchdowns within six seconds midway in the third quarter to break up a close game, and the Huskers went on to crush Florida State, 34-14, in the home opener.
The Huskers were leading, 10-7, when Irving Fryar returned a punt 82 yards for a TD with 8:31 left, then, on the ensuing kickoff, Tony Felici picked a fumble out of mid-air and ran 13 yards to score at the 8:25 mark to give Nebraska an insurmountable 24-7 lead.
The Seminoles did pull back within 27-14 midway in the fourth quarter, but Roger Craig's 94-yard touchdown run put the game away—in addition to tying the Nebraska record for longest touchdown run and wrapping up a 234-yard day for Craig, which earned him national back-of-the-week honors.
Felici came off the bench to record 13 tackles, earn Big Eight defensive player-of-the-week honors and nail down a starting job at defensive right end.

Nebraska 34
Florida State 14
Sept. 19,
1981
Lincoln, NE
Florida State    0   7   0   7  -  14 
Nebraska        10   0  14  10  -  34

1st quarter
NEB - Nate Mason 8 run (Kevin Seibel kick)
NEB - FG Seibel 24
2nd quarter
FSU - Ricky Williams 1 run (Mike Rendina
      kick)
3rd quarter
NEB - Irving Fryar 82 punt return
     (Seibel kick)
NEB - Tony Felici 13 fumble return 
     (Seibel kick)
4th quarter
NEB - FG Eddie Neil 21
FSU - Dennis McKinnon 3 pass from Rick
      Stockstill (Rendina kick)
NEB - Roger Craig 94 run (Seibel kick)

                        FSU      NEB 
First downs              15       22 
Rushes-yards          41-54   63-472 
Passing yards           173       31 
Return yards              1      151 
Passes              16-26-1    3-8-1 
Punts                8-51.1   2-33.5 
Fumbles-lost            3-2      4-4 
Penalties-yards        3-43     9-71 
Time of possession    30:25    29:35

INDIVIDUAL LEADERS
Rushing
FSU: Williams 13-29, Billy Allen 5-16.
NEB: Craig 20-234, Mike Rozier 11-72, 
     Phil Bates 8-66, Mason 13-63.

Passing
FSU: Stockstill 16-25-1-173.
NEB: Mason 2-7-1-15,
     Turner Gill 1-1-0-16.

Receiving
FSU: Sam Childers 5-47, Williams 4-86,
     McKinnon 3-24.
NEB: Jamie Williams 3-32.

Attendance - 76,289