Lyell Bremser transcript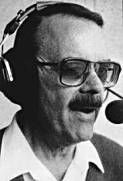 1981 Florida State. The ensuing kickoff after Fryar's return:
"...and the Husker's are now out on top, 17-7.
"And, now the kickoff. The ball to Allen. ALLEN COUGHED UP THE BALL! IT'S CAUGHT IN THE AIR!!! AND, IT'S GONNA BE RUN IN FOR A TOOUUCCHHDOWWN!!!!
(CROWD ROARS)
"TONY FELICI!!
OH, THIS CROWD IS IN A PANIC!!!
"On the kickoff, the ball went to Greg Allen about a yard deep in the end zone! He brought the ball out between the 10 and the 15! The ball went into the air! Mike Knox, the young freshman from Castle Rock, Colorado hit him, and KNOCKED HIM LOOSE from the ball! And, Tony Felici defensive end from Omaha, caught the ball before it hit the ground and ran it in for a TD!!!
"The extra point is good! (Lyell chuckles) And the score is now 24 to 7 Nebraska over Florida State! We have 8:25 to play in the 3rd quarter and IT'S GETTIN' A LITTLE DINGY AROUND HERE!!"