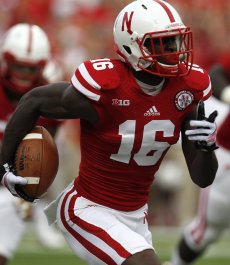 Bruce Thorson-USA TODAY Sports
COVERAGE
Stats & recap
Huskers soar past Golden Eagles:
Nebraska's Blackshirt defense hauled in four interceptions and returned two of them for touchdowns, while Taylor Martinez threw three touchdown passes to lead a balanced offense in a 56-13 win over Southern Miss.
Nebraska finished with 479 total yards, including 285 rushing and 194 passing. I-back Ameer Abdullah led NU's ground game with 17 carries for 114 yards.
USM had just four rushing yards until midway through the fourth quarter.
Full Huskers.com recap here
Omaha World-Herald
Lincoln Journal Star
More Neb. sources
Hail Varsity
HuskerOnline
Columbus Telegram
Grand Island Independent
Other sources
Associated Press
ESPN.com
Southern Miss Athletics
Hattiesburg American
Jackson Clarion-Ledger
Photos/Audio/Video
Pregame links & info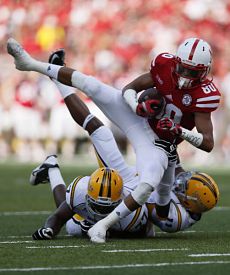 Courtesy of Huskers.com
COMMENTARY
Stryker
"

Pound for pound, Bell is the toughest Cornhusker, both physically and mentally."

Tad Stryker
HuskerMax
Callahan
"

Nebraska paid Southern Miss over $2 million to play in Memorial Stadium on Saturday, and it was worth every penny."

Sean Callahan, HuskerOnline
Sipple
"

Nebraska was dialed-in. The Huskers' body language was good from the start."

Steve Sipple*
Lincoln Journal Star
Chatelain
"

Gregory is ... the explosive edge rusher Nebraska desperately needs."

Dirk Chatelain*
Omaha World-Herald
Hamar
"

There is no relaxing – not for the coaches, players or fans. It's now UCLA week."

Bob Hamar
Grand Island Independent
Shatel
"

We'll know more a week from now. But we won't see the finished puzzle, not by a long shot."

Tom Shatel*
Omaha World-Herald
Vogel
"

It was less storm, more calm before the snap and it made a difference elsewhere."

Brandon Vogel
Hail Varsity
Husker Mike
"

Offensively, it was another slow start for Nebraska, and I'm growing increasingly concerned about the offensive line."
Whitney
"

I liked the pass rush, even though there weren't any sacks."

Chris Whitney
KLIN
York
"

Gregory is showing signs of being a rather menacing pass rusher on the edge."

Randy York
Huskers.com


---
* Article may require subscription
---

Nebraska 56
Southern Miss 13
---
                  1    2    3    4   -  Final 
Southern Miss     3    3    7    0   -   13
Nebraska         21   14   14    7   -   56

1st quarter
NEB - Stanley Jean-Baptiste 43 interception return 
     (Pat Smith kick) 13:47
USM - Corey Acosta 32 field goal, 5:42
NEB - Quincy Enunwa 16 pass from Taylor Martinez  
     (Mauro Bondi kick) 1:24
NEB - Ciante Evans 22 interception return (Smith kick) 1:17  
2nd quarter
NEB - Ameer Abdullah 3 run (Smith kick) 7:01  
USM - Corey Acosta 45 field goal, 3:11
NEB - Kenny Bell 21 pass from Martinez (Smith kick) 0:12  
3rd quarter
USM - Rickey Bradley 41 pass from Allan Bridgford
     (Acosta kick) 11:43
NEB - Abdullah 37 run (Smith kick) 11:25  
NEB - Sam Burtch 26 pass from Martinez (Smith kick) 10:32 
4th quarter
NEB - Imani Cross 1 run (Bondi kick) 14:38 
 
                                  USM        NEB
First downs ...................... 16         30
  Rushing ........................  4         16 
  Passing ........................ 10         13 
  Penalty ......................... 2          1
RUSHES-YARDS (NET) ............ 27-62     46-285
PASSING YDS (NET) ..............  222        194
  Att-Comp-Int .............. 37-21-4    28-19-0
TOTAL OFFENSE PLAYS-YARDS .... 64-284     74-479
Fumble Returns-Yards .............0-0        0-0
Punt Returns-Yards .............. 1-5        2-6
Kickoff Returns-Yards........... 2-22       2-89
Interception Returns-Yards ...... 0-0       4-86
Punts-Avg .................... 5-45.2     4-46.0
Fumbles-Lost ...................  2-0        1-1
Penalties-Yards ................ 7-55       6-75
Possession Time ............... 28:09      31:51
Third-Down Conversions ...... 4 of 13    7 of 12
Fourth-Down Conversions ...... 0 of 1     1 of 1
Red-Zone Scores-Chances ......... 1-2        3-3
  Touchdowns .................... 0-2        3-3
  Field goals ................... 1-2        0-3
Sacks By: Number-Yards .......... 0-0       1-10

RUSHING
USM: K.Hardy 10-35; J.Richard 4-24; T.Bracken 7-9;
     J.Hester 3-5; Team 1-minus-2; A.Bridgford 2-minus-9.
NEB: A.Abdullah 17-114;  T.Newby 8-60; T.Martinez 6-34;
     T.Armstrong 4-23; K.Frazier 4-21; I.Cross 4-14;
     G.Nabity 2-10; R.Kellogg III 1-9.

PASSING
USM: A.Bridgford 21-35-3 222; N.Mullens 0-2-1 0.
NEB: T.Martinez 15-23-0 170; R.Kellogg III 4-5-0 24.

RECEIVING
USM: T.Holmes 8-65; R.Bradley 3-57; T.Bracken 2-34;
     J.Richard 2-14; J.Revies 2-12; M.Triplett 1-15;
     J.Sims 1-13; J.Cox 1-7; D.Sullivan 1-5.
NEB: Q.Enunwa 5-58; A.Abdullah 4-16; K.Bell 3-45; 
     J.Westerkamp 2-15; S.Burtch 1-26; C.Carter 1-12;
     J.Turner 1-9; T.Newby 1-minus-5.

Attendance: 90,466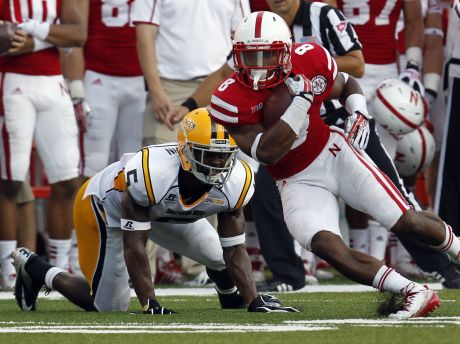 Bruce Thorson-USA TODAY Sports