Game recap: 1973 Orange Bowl, Nebraska vs. Notre Dame football
---
Rodgers caps Heisman year as Huskers bomb Irish
Miami, Fla. (Jan. 1, 1973) — Heisman Trophy winner Johnny Rodgers erased all possible doubts about his claim to national pre-eminence with a devastating one-man attack on the Fighting Irish of Notre Dame as the Nebraska Cornhuskers confiscated their third consecutive Orange Bowl Trophy with a 40-6 victory.
With his teammates also performing in magnificent fashion, Rodgers astounded 80,010 fans in familiar Orange Bowl Stadium as well as millions of bleary eyed TV fans on New Year's Night by scoring four touchdowns and passing for a fifth against the shell-shocked Irish.
No Heisman Trophy winner in history ever concluded his collegiate career in such sensational fashion. Plagued by a tarnished off-the-field reputation, Rodgers feverishly wanted to assure the nation that he really did merit the Heisman as the outstanding player in the United States. Few who watched the 1973 Orange Bowl game would dispute his claim.
In a master stroke of strategy, Coach Bob Devaney sprung a deadly surprise on Notre Dame — long a respected rival of Nebraska, dating back to the Huskers' supremacy over Knute Rockne in the Four Horseman era — by shifting Rodgers from Wingback to I-Back. It was a simple move, yet the results were explosive because the plain and simple fact of the switch meant Mr. Heisman of 1973 got to play with the football more than usual.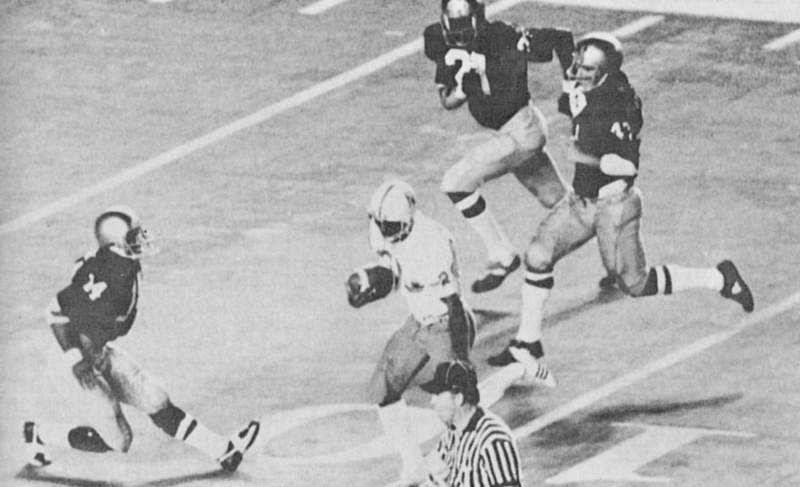 Johnny Rodgers goes 50 yards on a touchdown reception.
When the final gun ended Notre Dame's agony and launched the Corn­husker victory celebration, the Johnny Rodgers' statistics told the story:
• He carried the football 15 times and gained 81 yards for a 5.4 average.
• He scored three touchdowns on runs of eight, four and five yards.
• He caught a pass from Quarterback Dave Humm and ran 50 yards through the Irish to score a fourth time, establishing a new Orange Bowl record for total points and touchdowns scored.
• He threw a 52-yard touchdown pass to Frosty Anderson.
All told, he personally provided the impetus for 30 of Nebraska's points and clinched a dramatic and impressive final victory for retiring coach Bob Devaney.
Brilliant as Rodgers was, however, he was by no means a one-man show on this warm Miami evening.
Offensively, the Huskers rushed for 300 yards and passed for 260 yards, a whopping 560-yard total. Meanwhile, the rugged Black Shirt defense held potent Notre Dame to a mere 104 yards on the ground and 103 yards via the air — and it was 40-0, in the fourth quarter before the Irish were able to push over a TD against the Big Red reserves.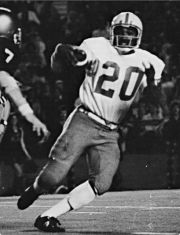 Rodgers on the move
Quarterback Dave Humm brilliantly generaled the Nebraska attack, hitting 13 of 19 passes for 185 yards and one TD. Gary Dixon ran for 69 yards (7.7 average) and Dave Goeller chipped in 43. Husker receivers were spectacular — Rodgers with three catches for 71 yards and one TD; Anderson with two for 67 and one TD; Bob Revelle with three for 62; and Jerry List three for 25.
And all the while, the aggressive Nebraska line led by All America tackle Daryl White, center Doug Dumler, guards Mike Beran and Dan Anderson, and tackle Marvin Crenshaw tore gaping holes in the Irish defense.
Fired up for Devaney's farewell to arms, Rodgers and Co. wasted no time in making the Irish stew. Taking the opening kickoff, the Huskers drove 76 yards in 11 plays to score, with Rodgers — who provided 26 yards running and caught a nine-yard pass — ripping in for the touchdown with 3:41 gone in the game.
Late in the first quarter, Nebraska launched an 80-yard drive that ended in a Gary Dixon TD after only 31 seconds of the second quarter. Then came some dynamite. Four plays later the Irish punted out of bounds at the NU 48, and the Huskers had good — but only momentary — field position. Oh the next play, Dave Humm rifled a lateral to motion-swinging Rodgers, who stopped short as the Notre Dame cornerback came racing toward him. Sprinting far downfield was Frosty Anderson and Rodgers lofted a perfect pass which was gathered in for a 52-yard back-breaking TD which provided a 20-0 halftime margin.
The first time Nebraska got the ball in the second half, the Huskers marched 42 yards to score again — Rodgers on a four yard run — and Irish comeback hopes were dashed. A pass interception by Bob Thornton got the ball back for the Huskers and they promptly drove 80 yards again to make it 33-0 on Rodgers' fourth contribution of the evening.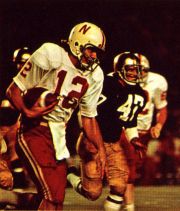 Dave Humm on the run
Johnny would do his thing only once more for the Cornhuskers. When the Big Red got the ball back four plays later on a punt, Humm hit Rodgers with a screen pass at the 50 and the Heisman flash went down the right side, cut in, weaved and dodged into the clear and sprinted into the end zone for his final college touchdown. With 6:12 left in the third quarter and a 40-0 lead, Coach Devaney waved Rodgers and his starters to the showers and the Huskers started making plans for the victory party.
Notre Dame then made a 77-yard TD drive to escape a shutout, with Tom Clements hitting a six-yard scoring pass to Pete Demmerle early In the fourth quarter.
Prior to the final Irish march against the Husker reserves, Notre Dame had managed only 59 yards rushing and 81 yards through the air as the awesome Nebraska defense met every challenge. All America and Outland-Lombardi winner Rich Glover led a charge which never let the Irish up for air. And he got great help from tackles John Dutton, Monte Johnson and Bill Janssen, ends Willie Harper and Steve Manstedt and linebackers Johnny Pitts and Jim Branch. So tough was the Husker secondary of Joe Blahak, Bob Thornton, Randy Borg and Dave Mason that Notre Dame was able to complete only nine passes in 23 attempts, three of them coming in the final quarter.
Late in the game, Nebraska — with Steve Runty at quarterback — punched to the Irish seven before the final gun, but it was all anticlimactic.
Johnny Rodgers and a fired-up band of Nebraska Cornhuskers had long since dispatched Notre Dame and proven once again that they were indeed one of the finest teams in the nation, coached by the winningest coach in the nation who capped a brilliant career with a masterful entrapment of a fine Notre Dame team.
 
PHOTOS & RECAP FROM 1973 NEBRASKA MEDIA GUIDE
---