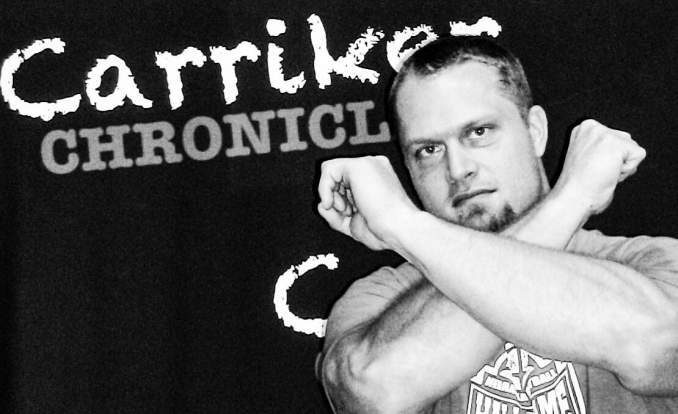 RETURN TO VIDEO 

Carriker Chronicles transcript
Nov. 3, 2016 – Ohio State week – Prediction Thursday
 
Welcome, Husker Nation, to the Carriker Chronicles. Today I'm going to be breaking down the Nebraska vs Ohio State football game in a matchup of the number 10 team in the nation and the number 6 team in the nation according to the College Football Playoff poll.
First, I'd like to point out that we are ranked ahead of Oklahoma and Iowa in that poll, so basically that just means all is right with the world.
After last week's Wisconsin game, despite the loss, I felt better about our top 10 ranking than I did before the game; and I feel like we earned some respect. And then I saw where we are as much as a 17-point underdog to Ohio State this weekend. We are only given a 13.7 percent chance of beating the Buckeyes. This is an Ohio State team that has their last three games has outscored their last three opponents by a combined 8 points. Outscored Wisconsin by 7, lost to Penn State by 3, outscored Northwestern by 4. Combined, they've outscored them by 8 points, yet they are going to beat us by 17 points?
Now I understand the line in Vegas isn't necessarily how much better one team is than the other. It's about making money. They want half the bets here, half the bets there. They want to divide the action as it's called. But to me, the guys who make their money and make their living doing this, that's where they think that line is. We clearly have some more respect to earn. The best way to do that is just to win the football game.
Now I'd like to start off by saying I'm glad to see that Cethan Carter's back on the depth chart. I'm not sure how much we can expect out of him this week, but it's good to see that.
My keys to this game – I'm going to start off with Tommy Armstrong. Wisconsin tends to make opposing QBs have a subpar performance, and Tommy did last week. But to me this game revolves around Tommy. Tommy making good decisions, taking care of the football, and completing a higher percentage of his passes. Also, we need to get the running game going better than we did last week and I would like the play calling to be a little bit more diverse. But to me this revolves mostly around Tommy Armstrong, our 4th-year starting senior quarterback.
On defense, hey, the Blackshirts played well last week. They stuffed Wisconsin time after time when they were running the ball. The problem was, they still gave up over 200 yards rushing and the issue was the big runs. I used to have a defensive coordinator that would say if a team runs the ball 30 times in a game and you stuff them for zero yards 25 of those times it means nothing if 5 of those other runs you give up 20 yards or more, you've given up over 100 yards of rushing. And that's kind of what happened to Nebraska a week ago.
Earlier this week I thought about predicting Nebraska to win this football game; but I must admit to you earlier this day, today, when I was getting ready to make this video I was going to predict Ohio State to win 31-24; BUT I did notice something before I sat down to make this video. Before I get into that, let me break this game down a little bit more for you.
The Blackshirts this year are 15th in the nation in points allowed; 20th in yards allowed; and are tied for the lead with 15 interceptions so far this year. They have not given up more than 24 points to anyone except for the speedy Oregon Ducks.
The Ohio State defense itself is pretty stout, giving up only 15 points a game. The Ohio State offense – and this is where I noticed something changed – the Ohio State offense the first four games of the season averaged 57 points a game. The last three games, they only averaged 26 points. They do not have a deep threat; and defenses have figured this out. J.T. Barrett has not completed a pass over 35 yards since the Wisconsin game three weeks ago. In fact, if you take out their overtime touchdown, which was an extra touchdown; so if you just look at their regulation points that they've scored, they averaged 23 points their last three games.
Now if I'm an NFL and college scout and coach, I only look at the last three games, I don't break down all eight games. I don't have that much time, plus it's more scientific and accurate to look at the last three games a team has done. Ohio State is averaging 23 points. They're struggling quite a bit. In fact, they got booed at home last week pretty soundly against Northwestern.
Now Nebraska's been pretty much the same team all year. I can't think of a lot of things that were different early vs. now. But if you look at their last three games, they're averaging 24 points a game. So my prediction is 24, Huskers 24, Ohio State 23.
Now, am I just being a homer? Am I not being unbiased? Just trying to find a way to predict Nebraska? I thought that at first. But to be honest with you, you break down the last three games, Ohio State is trending this way (pointing downwards). I just happened to notice this; and when I dug deeper they're trending this way, while Nebraska , I mean they're here (level). The fact of the matter is, I am completely comfortable predicting Nebraska, unbiased as I can possibly be, 24-23 to beat Ohio State, baby; and I said it.
Now, here's another couple facts you might find interesting. Ohio State struggles against slot receivers, so look for Jordan Westerkamp to possibly have a big day. And, Wisconsin, our biggest competition in the West, is playing Northwestern this Saturday on the road in Evanston a place they haven't won in 17 years, since 1999.
That's my prediction, you're welcome. Go Big Red, and always remember to Throw the Bones!
Views:
2017 views: