COVERAGE
Stats & recap
Huskers lose Armstrong, suffer big loss:
No. 10 Nebraska dug itself a hole and never responded in a lopsided 62-3 loss to No. 6 Ohio State that puts the Huskers out of the driver's seat in the race for the Big Ten West Division championship.
The only bright spot for Nebraska came when quarter­back Tommy Armstrong Jr., still wearing the bottoms of his hospital scrubs, trotted back into Ohio Stadium during the third quarter. Armstrong had left the stadium via ambulance in the first half after being briefly knocked unconscious.
Ohio State dominated from beginning to end, outyarding Nebraska 590 to 204. The 59-point margin of defeat was the second-worst in Husker history (2004, 70-10 vs. Texas Tech).
Full Huskers.com recap
Omaha World-Herald*
Lincoln Journal Star*
More Neb. sources
Grand Island Independent
Daily Nebraskan
Hail Varsity
Corn Nation
Huskers.com
HuskerOnline
Huskers Illustrated
Opponent sources
Columbus Dispatch
Cleveland Plain Dealer
Akron Beacon-Journal
Dayton Daily News
Bucknuts.com
Eleven Warriors
National sources
Associated Press
CBSSports.com
ESPN.com
Land of 10
SI.com
USA Today
Sports Xchange
Photos/Audio/Video
Photos
Audio
Video
Pregame links & info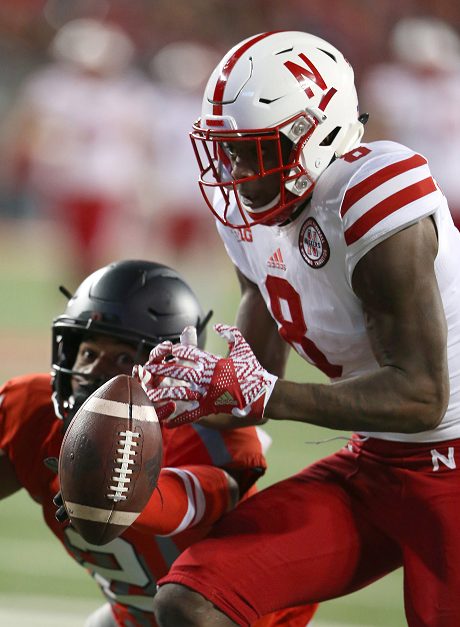 Joe Maiorana-USA TODAY Sports
Marshon Lattimore breaks up a pass intended for Nebraska's Stanley Morgan Jr. during the second quarter.
COMMENTARY
Keeler
"

The short, painful lesson is that they're not there yet, these Huskers. Still."

Sean Keeler
Land of 10
Lesmerises
"

They changed the way they used their offensive talent. It worked."

Doug Lesmerises
Cleveland Plain Dealer
Chatelain
"

The failure of failures was Mark Banker's defense and its complete inability to get off the field on third down."

Dirk Chatelain*
Omaha World-Herald
Nierengarten
"

Mike Riley's team looked a lot like those Bo Pelini used to trot onto the field in big matchups."

Brett Nierengarten
Daily Nebraskan
Shatel
"

Mike Riley has some explaining to do. So do the players."

Tom Shatel*
Omaha World-Herald
Sipple
"

This night certainly qualified as 'hard times.' For Nebraska fans, it felt all too familiar."

Steven M. Sipple*
Lincoln Journal Star
Hamar
"

So now we'll see how Riley handles a blowout loss. Most likely, he'll handle it well."

Bob Hamar*
Grand Island Independent
Vogel
"

Ohio State did whatever it wanted. Nebraska did almost nothing it wanted."

Brandon Vogel
Hail Varsity
Stryker
"

Let's hope the Huskers' inept performance was deceptive, and that its character rises to the top."

Tad Stryker
HuskerMax
Bender
"

Nebraska could finish 10-2 ... But that won't be enough for long in Lincoln."

Bill Bender
Sporting News
Washut
"

The Huskers still have a whole lot to play for, but that may not be the case if they can't find a way to recover in a hurry."

Robin Washut
HuskerOnline


---
* Article may require subscription
---