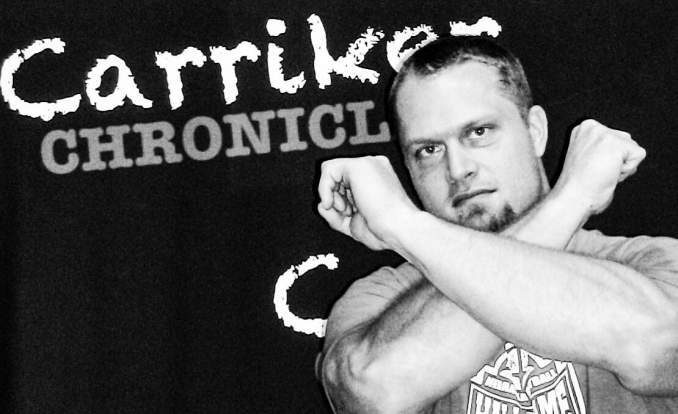 RETURN TO VIDEO 

Carriker Chronicles transcript
Nov. 1, 2016 – Ohio State week – Tuesday updates
 
Welcome, Husker Nation, to a Tuesday edition of the Carriker Chronicles.
Now, real quick, I want to handle some show business. As many of you know, there's some things going on with my family this week, so we are only going to be doing three episodes of the Carriker Chronicles: Sunday, Tuesday, and Thursday. Every other day this week. So if you missed Sunday's show, go back and check it out. I break down the Wisconsin game. Obviously you're watching Tuesday's show, so great job there. Be sure to check out Thursday's show when I break down the upcoming Ohio St. game. I might surprise a few people but I haven't even made up my own mind yet. So three days this week: Sunday, Tuesday, Thursday.
So, let's get right on with today's show. I want to give an update on Coach Tom Osborne. You ever wonder what he's doin' now? Not coaching anymore, not the AD anymore. I had the opportunity to sit and chat with him at the Hall of Fame a couple of months ago. I just asked him what he was up to now and I shot him a couple messages afterwards and here's what he told me: he works with various groups helping out various different kinds of people and he does lots of fishing and of course watches lots of Husker football. Now this is one of the more brief updates I think I have ever done; but as we all know, Coach Osborne is a soft spoken individual. He is one of those individuals he almost says more the less that he says. And I've always thought that was a very cool quality for an individual to have. So, there's the update on Coach Osborne.
Now, tonight, and you gotta keep in mind, I'm recording this before the College Football Playoff, the first poll comes out tonight – the committee will release. So, this is being released perhaps at the same, or maybe before or after, I'm not sure exactly when they are releasing it; but this is being recorded before – a day before a matter of fact – so this is MY College Football Playoff Poll.
And, I'm going to give you my top four teams:
1. Alabama
2. Clemson
3. Michigan
4. Washington

Now, I looked at the Coaches Poll and it has Michigan ahead of Clemson. The reason I have Clemson ahead of Michigan is that while Michigan is putting up some gaudy numbers and people are talking about this quality win they had at Michigan St. this past weekend, I don't see it. Michigan St. is like 2 and a thousand this year. I mean, how much of a quality win is that? I mean, they did beat Penn State earlier this year. But if you look at Clemson, they beat Auburn, who could easily end up a 10-2 team in the SEC West. They also beat Louisville (number 5) and they just won at Florida St. And Florida State's got a couple losses this year; but on the road in that type of environment, another quality win.
My next two teams, first two teams on the outside looking in on the top four:
5. Louisville, who I think could be the third best team in the nation; but we'll see.
6. A&M, and the reason I have Texas A&M ahead of Ohio State, you look at who they lost to.
Yeah, A&M lost by 19 points to Alabama; but Alabama is killing people. And you look at the rest of the resume vs. Ohio State. Ohio State lost to an unranked at the time Penn State team and then they went out and struggled against a Northwestern team last week. So I have A&M ahead of Ohio State.
The rest of my top 10:
7. Ohio State
8. Wisconsin
9. Nebraska
10. Florida

Now the Coaches poll has Florida ahead of Nebraska. And I looked at Florida's schedule; and the two best teams on their schedule so far this year they either lost to (at Tennessee) or they didn't play (LSU). So people want to give us a hard time about our schedule, their schedule is as soft as tapioca pudding. So I've got Nebraska ahead of Florida.
Now, the reason I made this video is because, don't forget, we're still first in the Big Ten West. We still control our own destiny. Everything is still in front of us. And, in the AP poll, they actually have Nebraska at number 9 like I do in my poll, so I'm going to go off the AP poll for the rest of this video.
If a number 9 Nebraska team goes in to a number 6 Ohio State team's house and beats them; which they might do this weekend. I understand they are almost 13-14 point underdogs; but check out my video on Thursday. I'm undecided; but I might just shock the world. Give me a couple more days to think about it though.
But if Nebraska does go in to Ohio State and Beat them, I see no reason we don't jump to number 6. And I know that's leapfrogging Wisconsin who beat us; but we also beat Ohio State who beat Wisconsin and Wisconsin has two losses and we have one. So I don't see any reason we can't jump to number 6.
We got some tough games the rest of the way: Minnesota, Iowa. None of those teams are gimmees. We could lose 2 or 3 games, I'm not delusional. I understand we're not as talented as Alabama. I understand Tommy Armstrong isn't as good as Lamar Jackson. And I understand we may be a couple of years away from realistically having this conversation; but I'm looking at what we have got ahead of us. If we beat Ohio State, this could happen this year. Possibly. Maybe I'm delusional? I don't think so. I'm pretty realistic, and here's what I realistically think.
If a number 6 Nebraska team that beat Ohio State plays a Number 2 and possibly undefeated Michigan team in the Big Ten Championship game – Whoa Nellie! (As the old announcer used to say.)
But, be sure to check out the rest of the Chronicles: Thursday, Sunday if you missed it. Thanks for watching today. Go Big Red and always remember to Throw the Bones!
Views:
2017 views: