Best of the Decade: Wins against ranked teams
The Huskers' 58.1% winning percentage in the 2010s was the third-lowest in program history, but there was still plenty to cheer about. Here we look back on Nebraska's nine victories over AP-ranked teams (based on gameday or final AP rankings). That was down from 12 in the previous decade.


                                    Gameday   Final
Date        Opponent       Score    AP rank   AP rank
                                    NU/Opp    NU/Opp
2010/10/23  @Okla. State   51-41    14/17     20/13
2010/10/30  Missouri       31-17    14/7      20/18
2011/10/29  Mich. State    24-3     13/9      24/11
2011/11/12  @Penn State    17-14    19/12     24/NR
2012/10/28  @Northwestern  29-28    NR/NR     25/17
2012/10/27  Michigan       23-9     NR/20     25/24
2014/01/01  ‡Georgia       24-19    NR/23     NR/NR
2015/11/07  Mich. State    39-38    NR/6      NR/6
2016/09/17  Oregon         35-32    NR/22     NR/NR

‡Neutral site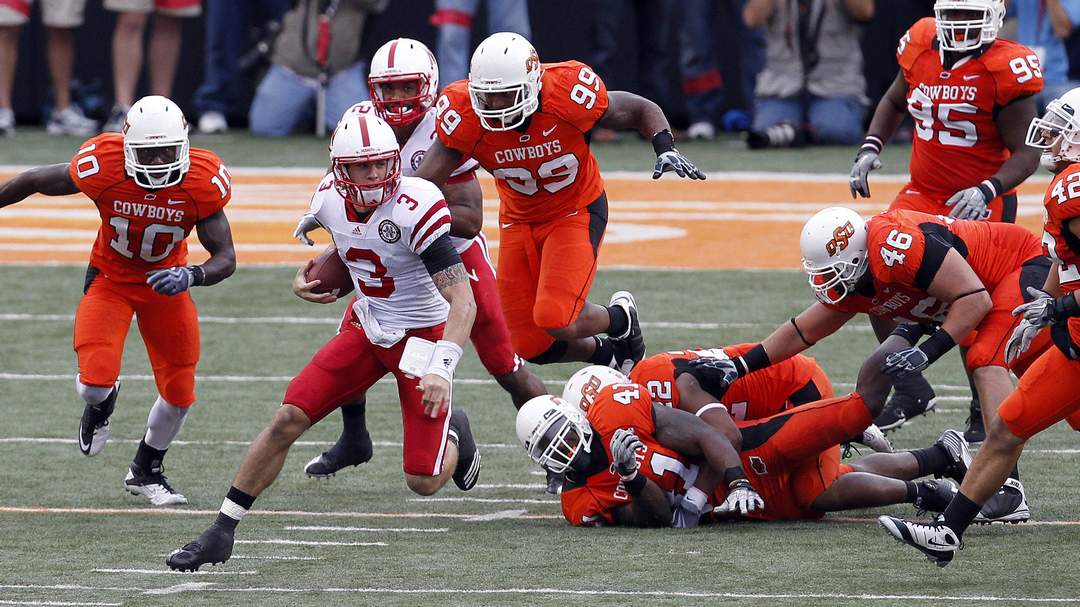 2010 Oklahoma State
Stellar play from quarterback Taylor Martinez and the special teams helped the Huskers win a 51-41 shootout against the No. 17 Cowboys in Stillwater. Alex Henery jump-started Nebraska's opening touchdown drive with a 27-yard run on a fake punt from the Nebraska 22. In the fourth quarter, the Huskers iced the game with an 81-yard drive that consumed 6:23 and gave Nebraska a 17-point lead with under five minutes left.
---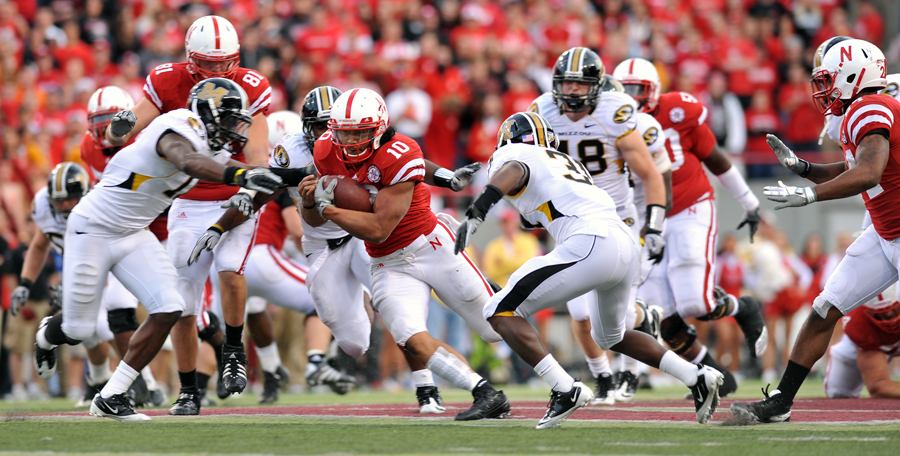 2010 Missouri
Roy Helu Jr. scored on three long touchdown runs and set a school record with 307 rushing yards as the Huskers tamed the seventh-ranked Tigers in Lincoln, 31-17. Nebraska quarterback Taylor Martinez left the game after taking a hit late in the second quarter and didn't return. He would miss two of the Huskers' four remaining regular-season games.
---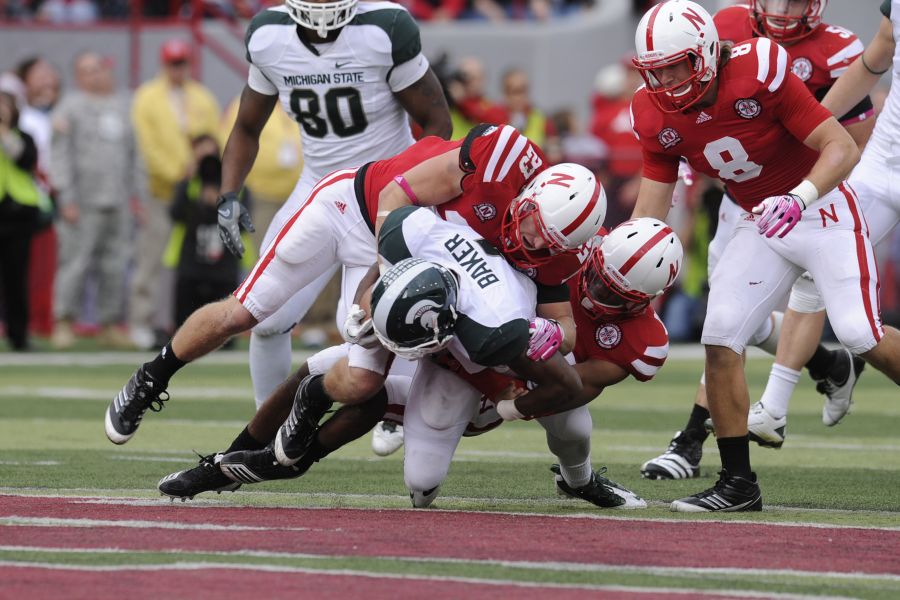 2011 Michigan State
The No. 9 Spartans were the team with an NFL-bound senior quarterback, but the Husker defense shut down Kirk Cousins and the Michigan State offense in a 24-3 victory in Lincoln. Rex Burkhead scored all three Nebraska touchdowns and rushed for 130 yards.
---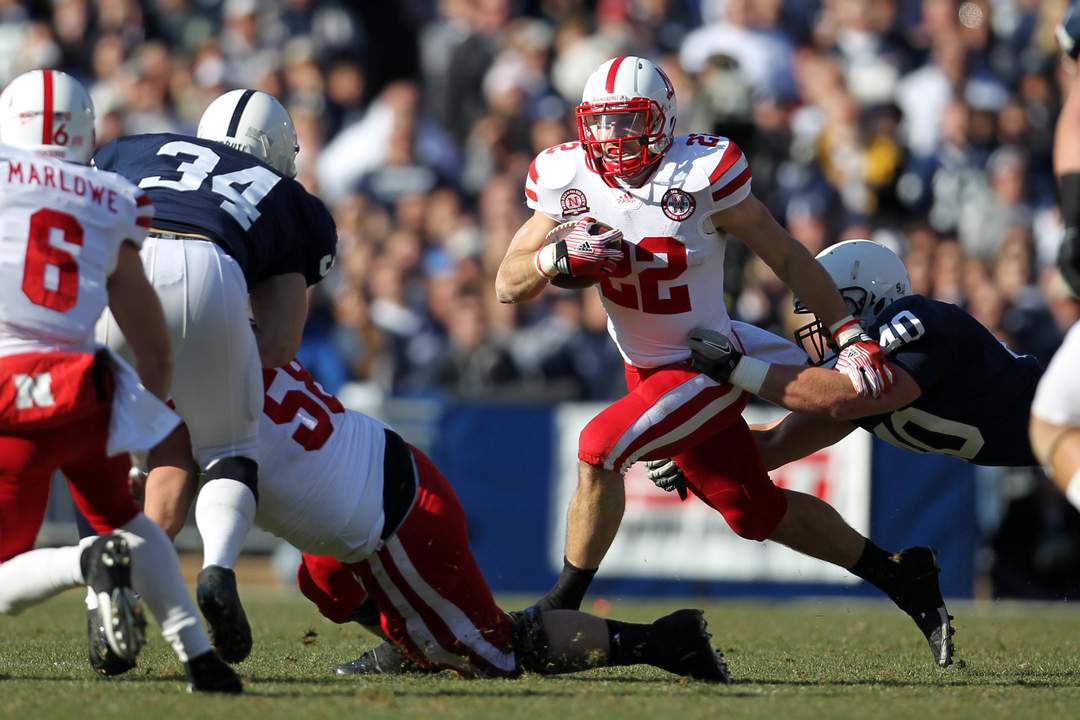 2011 Penn State
Just days after the Jerry Sandusky scandal brought down Penn State coach Joe Paterno, the Huskers won a defensive struggle against the No. 12 Nittany Lions in State College, 17-14. Nebraska's Rex Burkhead rushed for 121 yards, and linebacker Lavonte David helped seal the win by stuffing PSU's Silas Redd on a fourth-and-1 run in the final two minutes.
---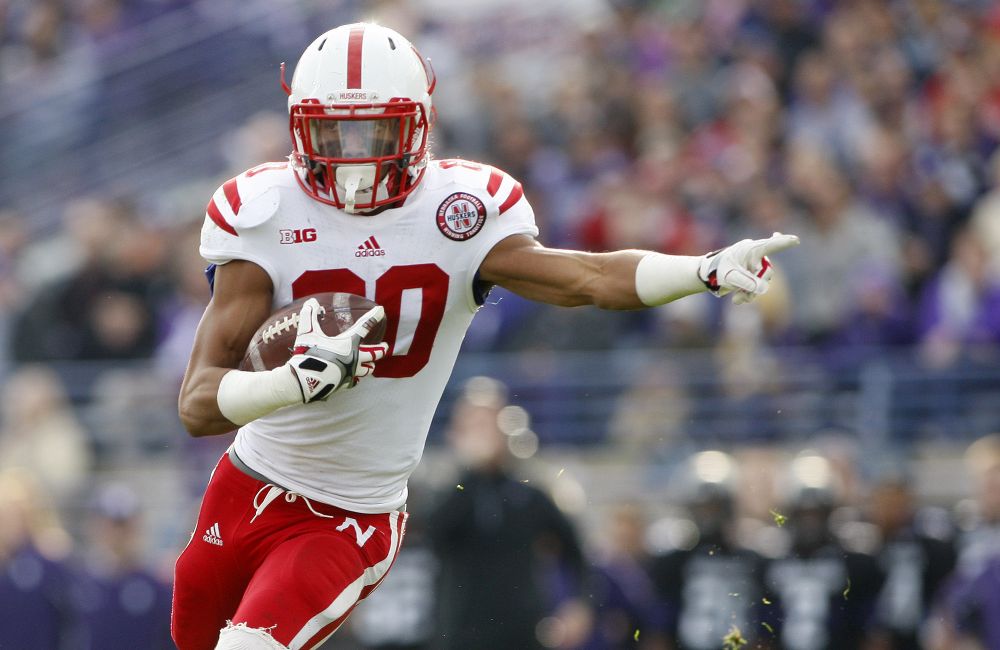 2012 Northwestern
Facing a 12-point deficit midway through the final period, the Huskers matched the largest fourth-quarter comeback in school history and edged Northwestern in Evanston, 29-28. Taylor Martinez led touchdown drives of 80 and 76 yards in the final 8½ minutes. The Wildcats were unranked at the time but earned a spot on this list with their No. 17 ranking in the final AP poll.
---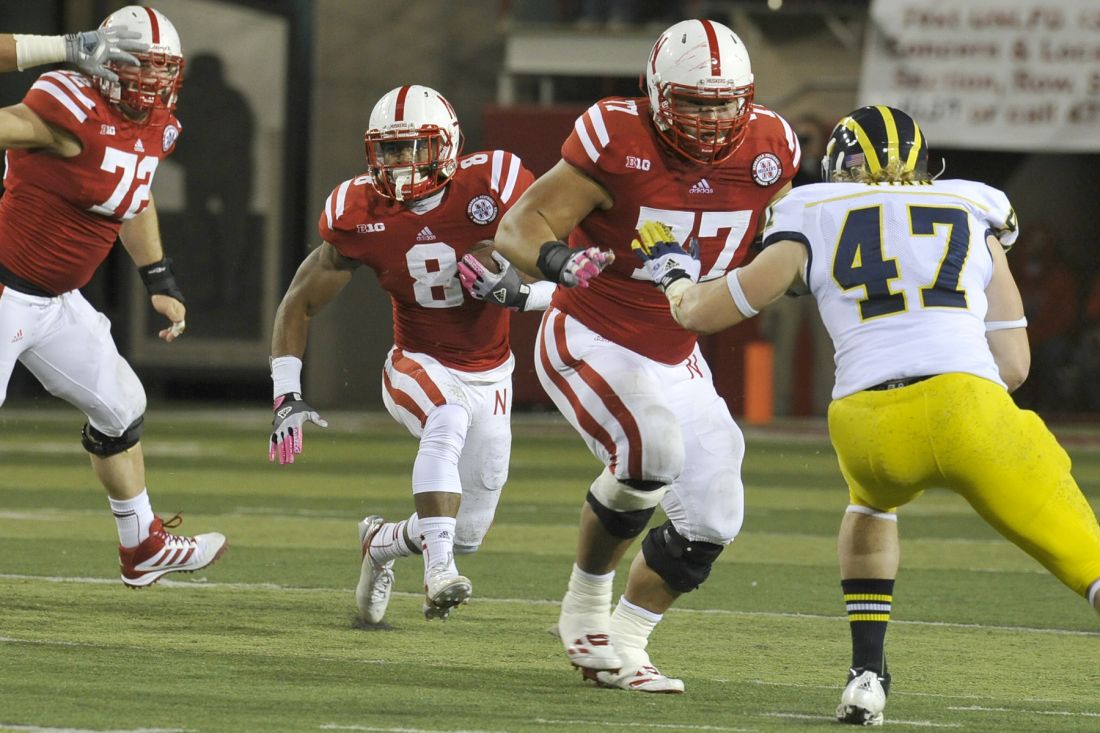 2012 Michigan
The Blackshirts kept No. 20 Michigan out of the end zone, limiting the Wolverines to three field goals and 188 total yards in a 23-9 win in Lincoln. Michigan dual-threat quarterback Denard Robinson left the game with an injury late in the first half. His replacement, Russell Bellomy, was intercepted three times by the Huskers and sacked twice.
---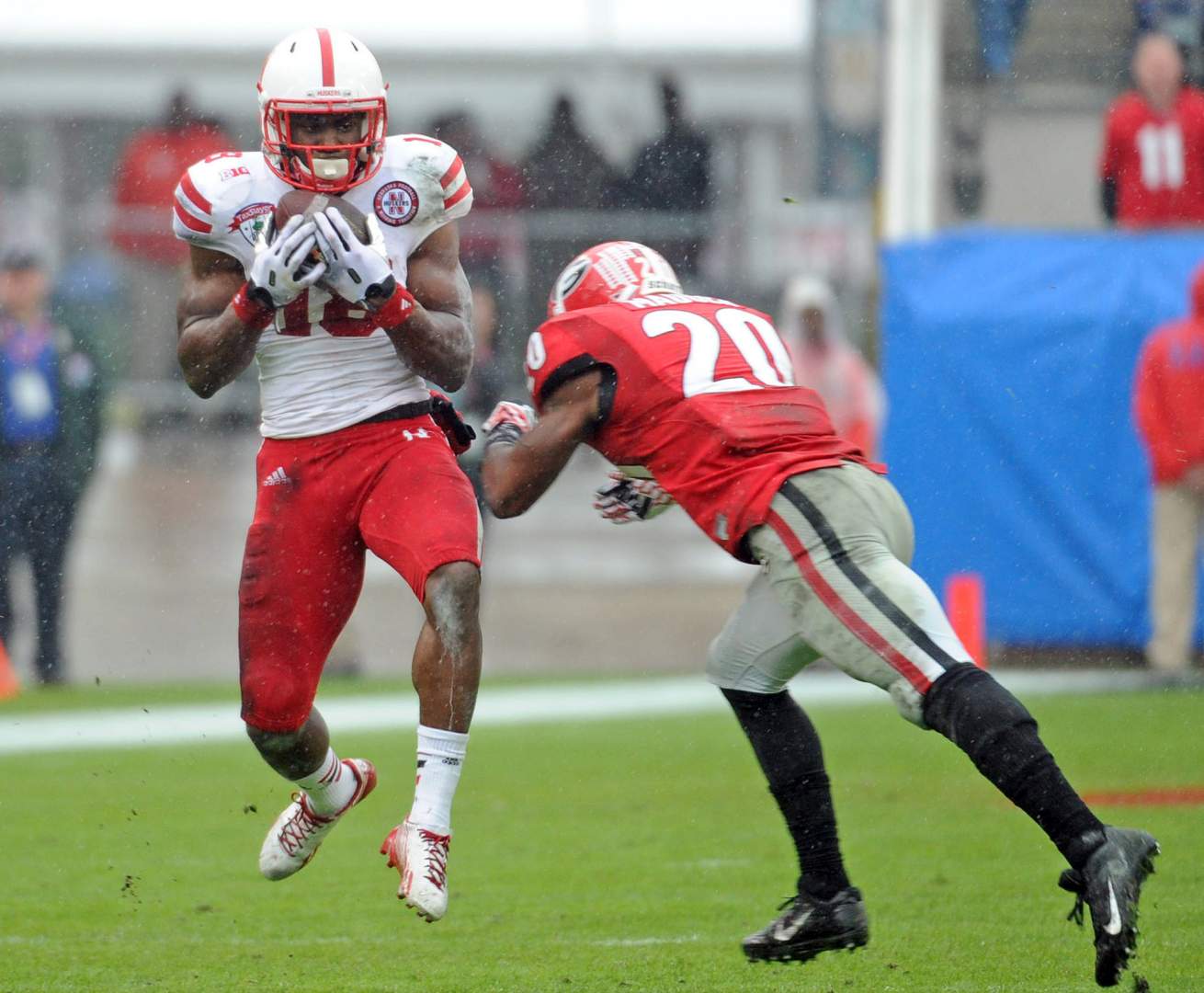 2013-14 Georgia
Quarterback Tommy Armstrong Jr. connected with Quincy Enunwa on a 99-yard pass play, turning a dicey situation into the deciding score in a 24-19 Gator Bowl win over No. 23 Georgia. Armstrong's heave, which put the Huskers ahead 24-12 with 4:58 left in the third quarter, came one play after he narrowly averted a safety that would have cut Nebraska's lead to 17-14.
---
2015 Michigan State
Behind by 12 points with under two minutes remaining, the Huskers stunned No. 6 Michigan State with two late touchdowns for a 39-38 victory in Lincoln. The game-winner was a 30-yard pass from Tommy Armstrong Jr. to Brandon Reilly with 17 seconds left, capping a 91-yard drive. Despite the loss, MSU was selected a month later for the four-team College Football Playoff.
---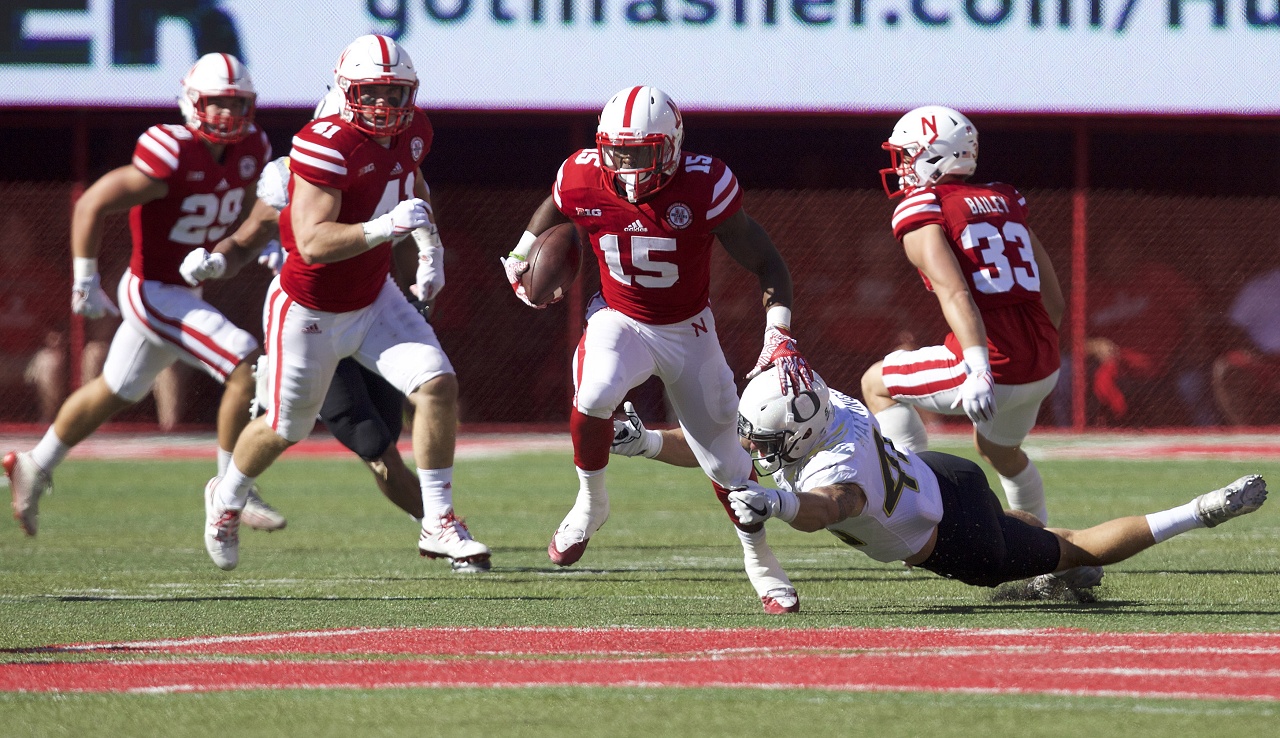 2016 Oregon
Tommy Armstrong Jr.'s 34-yard touchdown run with 2½ minutes remaining lifted the Huskers to a 35-32 win in Lincoln over No. 22 Oregon. Nebraska trailed by 13 points before going on a 21-0 run in the second and third quarters. The Huskers benefited from Oregon coach Mark Helfrich's decision to go for two points after every touchdown; only the first attempt worked.
---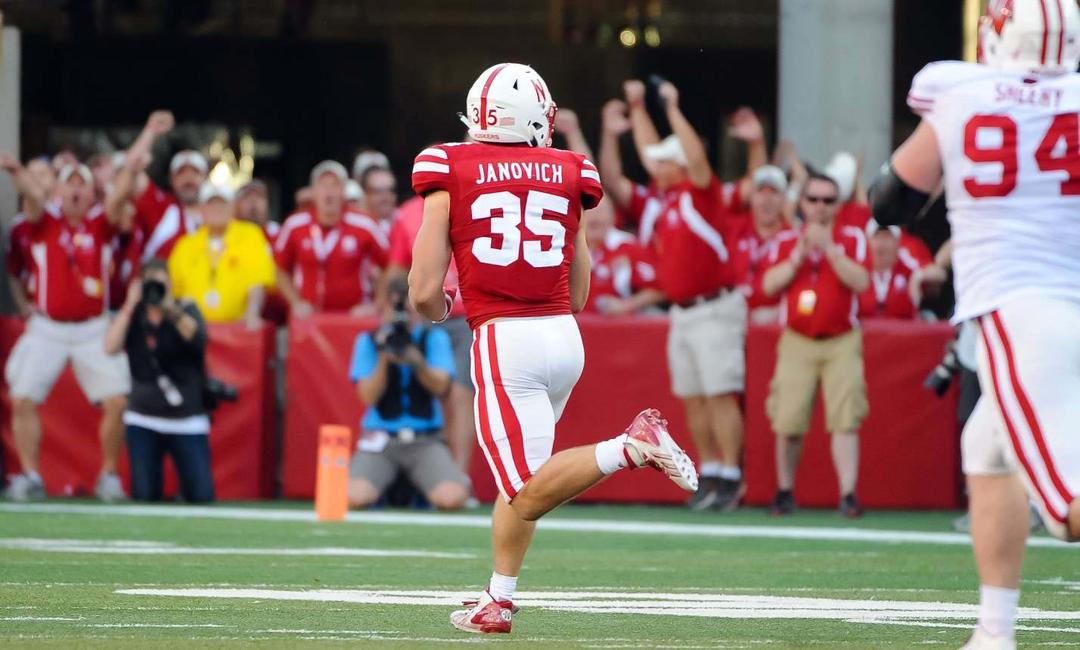 Woulda, coulda, shoulda …
The Huskers had their chances to add to their total. Nebraska was 5-13 in one-possession games against AP-ranked teams (based on gameday or final AP rankings). Here are the 13 losses: