Anatomy of an Era: Michael Booker, Part 1
Excerpted from Chapter 65, No Place Like Nebraska: Anatomy of an Era, Vol. 2 by Paul Koch
"I am a part of all that I have met."
-Alfred, Lord Tennyson
Making Ohio, California, Nebraska, Georgia, Tennessee, Texas and North Carolina his home during various stages in life, Michael Booker is a well-traveled man. I had a hard time tracking him down, but desperately wanted his viewpoint on being a Husker during those pivotal 60 & 3 years. He hadn't experienced the initial, multiple heartaches and build-up to that era, but I wanted to catch a glimpse of his college career and how it may have mirrored or deviated from his Husker forerunners.
A hotly pursued talent out of high school, he was considered an academic casualty and scholarship risk, so his dream school of Ohio State balked on him. To Nebraska's benefit, though, his focus was on being and becoming a winner, and the support system provided in the way of academics, strength staff, and the coaching staff swayed him.
Candid, straightforward and without inhibition, Michael could always be counted on for calling a spade a spade. Listen in on how he played the cards he was dealt on the way to reaching Nebraska Football's upper deck.
Notable quote #1:
"They took from California, they took from Nebraska, they took from Texas, they took from Florida. They took us from all these places and put us together and we found a way to win."
Michael Booker
Scholarship recruit, Cornerback, Oceanside, California (El Camino)
Where are they now? Charlotte, North Carolina, Entrepreneur
Question: So you played in Oceanside, CA for legendary coach Herb Meyer, right?
Michael Booker: One of the winningest coaches in history.
Q: So how did a San Diego/Oceanside kid become a Husker?
MB: Well, it really started with Coach John Cooper not accepting me into Ohio State. Coach Cooper -my grades, I prop 48'ed my first year- he was looking at me heavily, but once I didn't meet the requirements after taking the SAT they stopped. And Coach Osborne and Coach Brown called and said, "We're still interested." I was born in Cincinnati, Ohio, so I wanted to go back to Ohio, and I moved to California when I was probably about nine years old. Coach Cooper was hardnosed, but I only engaged with him twice. But the times I had to speak to anyone, no one was as cool as T.O. and Coach Brown were.
Q: Was it Coach Brown or Coach Darlington who recruited you out in California?
MB: It was Coach Brown more heavily. Coach Darlington, I might have met him when he came down one time, but I remember Coach Brown more than Coach Darlington at the time, even though he was my coach. And T.O. came down, came to the crib.
Q: So what was it like having Coach Osborne walk into the home?
MB: Well, you have to understand, in high school I didn't know he was the President of Nebraska. (laughs) He was just a coach walking in the house. It wasn't until I got there that I realized just who I'd had in the house. It was cool. They were real proper, they talked to the parents and the next thing I'm flying to Nebraska.
Q: Did you go by yourself or did your parents come with you?
MB: I went by myself.
Q: Anyone else in the mix?
MB: USC was close, Miami was close. But I never really actually had another school besides Ohio State. Nebraska really didn't come into the picture until later on. I was set on Ohio State, I was so interested in them.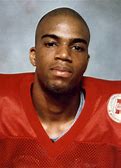 Q: What eventually sold you on Nebraska, then?
MB: They were a powerhouse. I had some friends who followed Nebraska. I got a couple letters from them and I saw that they were real interested, so I started watching them on TV and said to myself, 'Hey, I can play with these guys.'
Q: Probably the Nebraska-Oklahoma game?
MB: I don't remember the first game, but I remember watching Donta Jones playing. When I got there on the recruiting visit I remember telling him, 'Hey, I saw you on TV.'
Q: So when was your first fall camp in Lincoln?
MB: My first year playing was '95. I graduated high school in '93, Propped the next year, then '94 we played Miami -and I came in '94 and redshirted- and then after that in '95 I sat on the bench for a little bit and sat three games, then I started.
Q: What do you recall about your first few days on campus?
MB: I got a great story to tell my friends: When I went to my recruiting trip Donta Jones was my host. So what we did when I got there, they took us out to the night life: all the black people, an urban club. So here it is, my first day of school, and I couldn't find any of the black people. 'Where are all the black people? Where do all the black people live?' (laughs) The funny thing is, when I hosted Ralph Brown I did things the same way. I went to all the nice clubs and everything like that, then the first day of school, "Where is everybody?" (laughing) But the whole thing about the recruiting trip is, "Hey, we win games. That's the reality of it, but there's no social life at all." (laughs)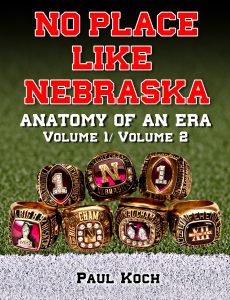 Available on Amazon.com
Q: That is funny, man. Do you recall what club you went to?
MB: I think it might have been a club called The Underground, but I'm not sure. They took me to this club and I saw all these black girls and all the black guys. Now, I'm from California, so I don't care, we're wide open. I got there and it wasn't as diverse as they made it seem. (laughs)
Q: Like, "Where are the Latinos, the Polynesians, the Asians?" (laughs)
MB: No Mexicans or nothing. (laughs)
Q: Who were your good friends?
MB: Jamel Williams right off the bat. We hit it off first time we met. That was kind of cool. I met him on my recruiting trip and we both just said, "We're coming." He's from Gary, Indiana.
Q: It seems both of you guys had great games that '96 Florida/National Championship game. Was that your last one? I don't recall?
MB: No, we had one more year. We lost two games that next year, that one to Arizona State and to Texas.
Q: So Coach Darlington was your position coach. Describe him for me.
MB: Yes sir, how do I want to say this?  He was laid back and stuck in his ways. He's a great coach, and if he said it was going to work he was gonna keep pushing so in the end it works. He had a firm grasp on his game.
Q: He had a stubborn streak in him?
MB: Yeah. Very, very stubborn.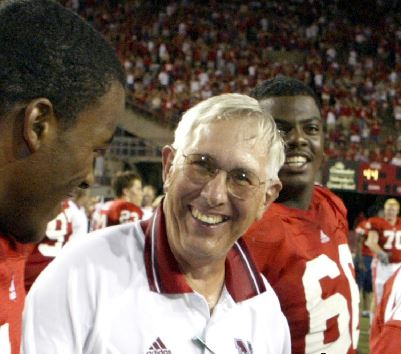 Coach George Darlington
Q: Seems like a lot of guys butted heads with Coach D….
MB: Well, Coach D had his favorites, but for the most part it was a job. But being an adult and being older now, he did what was best for the team. Overall, he was a great coach. He gave me the opportunity to play, but he was very stubborn. If he liked you, you were going to play.
I was one of those guys that I don't think he liked at first, (laughs) but I think overall I showed him my consistency and stuff like that. But he was stuck in his ways, he thought he knew everything. But he had a great secondary. His coaching mixed with his athletes made us a whole lot better.
Q: Any run-ins or remembrances of Charlie McBride?
MB: Oh man, let me tell you, you tried to keep your head low around Charlie McBride. The only reason I never had any run-ins with Charlie McBride was because I was always scared he was gonna spit that dip that he had in his mouth on me. He always had that tobacco in his mouth. I swear he would eat with that dip in his mouth. (laughs) I'd see him spit it on his chin and on his clothes. He was an addict, but he was a great coach.
Q: What about Coach Steele or Coach Samuel?
MB: The coaches that mostly stand out to me are the defensive coaches. I for the most part tried to stay to myself, but Coach Samuel? One thing about him was that he always seemed like he'd keep his composure. He never got out of the pocket. He'd never break his mold, unlike Coach Darlington or Coach McBride or Coach Steele. I did what I had to do and chilled out, kept my head low. I was there to play football.
To be continued….
Copyright @ 2013 Thermopylae Press. All Rights Reserved.
Photo Credits : Unknown Original Sources/Updates Welcomed