Anatomy of an Era: Kevin Ramaekers, Part 1
Excerpted from Chapter 27, No Place Like Nebraska: Anatomy of an Era, Vol. 1 by Paul Koch
Making its way towards Japan over the vast Pacific Ocean in 1945, the battleship USS Pennsylvania carried a particular soldier tasked with decoding encrypted enemy messages. Though fully up to the challenge, his true talents lied in performing magic tricks and an engaging, witty, conversational banter. His name? Johnny Carson, Norfolk, Nebraska's most famous son. Were it not for Fat Man and Little Boy's timely visits to Hiroshima and Nagasaki as he and his shipmates ventured toward the proposed Asian combat zone, the world may have never enjoyed Johnny's long-running Tonight Show antics. A 1949 University of Nebraska graduate with a Bachelor of Arts degree in radio & speech with a minor in physics, Johnny brought people together. And with his sidekick Ed McMahon they were a unifying factor for much of late-night America from the '60's to the early '90's.
But just as Johnny was hanging up his clubs in 1992, another unifying Norfolker was just getting into full swing. His name was Kevin Ramaekers, and I'll call him the 'Mad Uniter' here. Why? Because his outgoing personality, eventual maturation, and a desire for Nebraska Football greatness lit a match that soon catapulted the program's culture to a raging inferno. Hold on, folks, this should be one helluva interview. Without further ado, heeeeerrre's Kevin…
Notable quote #1:
"That's when I felt things clicked. When we changed our defense and they said 'Okay, you're not 320 lbs. anymore, you need to play 285-290 lbs. And it's all speed, pin your ears back and just go.' "
Kevin Ramaekers
Scholarship Recruit, Defensive Tackle, Norfolk, Nebraska (Norfolk Catholic)
Where are they now? Atlanta, Georgia, Management
Question: What year was your first fall camp, Kevin?
Kevin Ramaekers: First camp was '90. I played freshman ball and after three games got moved up to varsity. I redshirted my second year because Kenny Walker was there at the time and I wasn't going to beat him out, and then I started the next three years.
Q: What was it like being around Kenny?
KR: Kenny was awesome, because here was guy that was obviously deaf… just ultimately led by example and couldn't say a thing. So his actions spoke volumes more than words, and you saw the way the guy worked out and the way he played.
And every play was 120%. I don't care if we were in helmets or full pads, versus the scout team or the starting offense, he was full bore. So he was a great guy to look up to. As a young guy coming in it was like, 'If I'm gonna play at this level I've got to be as good, if not better, than this guy.' I was in awe. He was so intimidating. If the guy took his shirt off you're just in awe of him. Here I am wearing a freakin' training bra and a fat roll, and this guy doesn't have an ounce of fat on him. (laughs)
Q: Did you ever see Kenny play basketball?
KR: Yeah, at the Rec Center. The guy could have played basketball at Nebraska if he wanted to…
Q: Kevin, this one time I saw him with one foot planted out by the three point arc, right? He then pivoted, took one step, elevated and just tomahawked the freaking basketball! Danny Nee saw it and just about crapped his pants! (laughs) So tell me, what stood out to you when you first stepped on campus?
KR: At the time, in high school you're All-Everything, right? You won football titles, wrestling titles, track titles… and when I got to Nebraska I was basically a man-child. I was basically a big fish in a small pond in Norfolk, Nebraska, Class C ranked. So I thought I was all that and a box of peanuts. And one thing that really stood out to me was one, my ego, and two, how immature I really was, because I was an extremely selfish, immature kid coming into Nebraska. At the end of the day, it was like, 'I'm gonna come in, start, be this All-American everything.'
A story for you: I don't know if you remember offensive lineman Jeff Cheney, he wasn't the greatest player and kind of was the butt of a lot of jokes…but the first practice I lined up at nose guard and he's playing guard, and I'm thinking, 'I'm gonna be eating this guy's lunch every play.' And the first play from scrimmage he gets up under me and just puts me on my back! That was my wake-up call, and it took a year for people to forget about that play. Here's this high school All-American, Nebraska Athlete of the Year and 'I'm just going to come in and dominate people', and he just absolutely physically kicked my butt. It was a wake-up call that I needed to step it up and tell me I wasn't as good as I thought.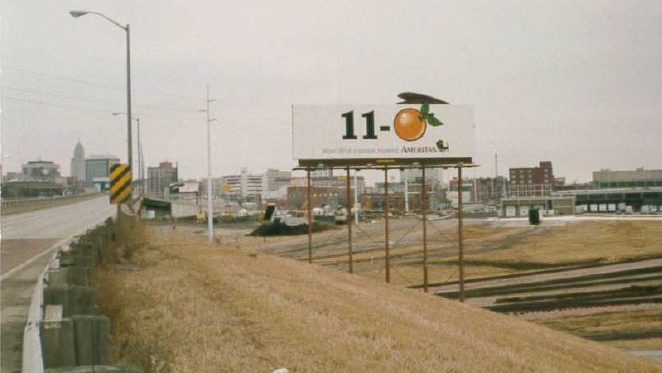 Billboard congratulations 1993 (Tina Lundberg photo)
Q: Anything organizationally stick out to you?
KR: I think the biggest thing was -you know, you grow up in Nebraska: I was going to games as a freshman and sophomore in high school, and then I was recruited my junior and senior year, so I was basically there every weekend at home games- but when you walk on campus and you're there and you see how it's run, it's so professional and it's so serious.
The minute they blew the whistle it was intense. It didn't take you very long to figure out that you needed to focus, stay intense, and the speed was so much greater than what I'd ever experienced. My hardest practice in high school would have been my easiest practice at Nebraska. It just stepped things up a whole other notch. Everyone is flying around 100 miles an hour. It was awesome.
Q: Any good friendships develop?
KR: What was really weird was, I was recruited as an offensive guard. A lot of people don't know that. I was a pulling guard in high school and could move and was used to that position, and after testing out at Nebraska Charlie McBride walks up to me as we make our way out of the fieldhouse and says, "You need to come to Defensive Line meetings tomorrow."
I never took one snap at Nebraska on offense: I immediately was plugged into the D-Line. Right off the bat Kent Wells, Mike Murray, Lawrence Pete, those guys took me under their wing. They treated me like one of their own. It was just amazing, because I hadn't proven anything at Nebraska.
And you look back in hindsight, and when Christian Peter came in they asked me to take him under my wing. So I'm assuming that's what they did with Mike Murray, Lawrence Pete & Kent Wells. These guys would work out and I was invited to work out with them in the weightroom, just to push you. You learned the good things from them, because all of us learned a lot of bad things away from football.
But when you got onto campus there, they were great mentors and they passed the baton on to you, and then you passed it on to others when you left there. There were always good relationships, good support. You know, some people tell you that I was one of those guys that was supportive, but here I was 18, 19 years old and these guys are treating me as if I'm one of their own.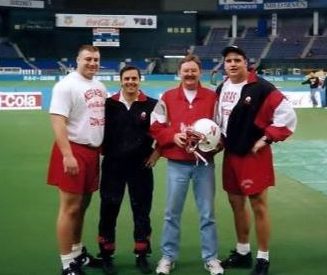 Tokyo '92: John Parrella, Randy Gobel, Dave Finn & Kevin Raemakers
(Unknown source)
Q: That's quite a group, too: Wells, Murray, Pete?
KR: Oh yeah, they were nuts. People thought we were nuts. Russ Hochstein was an offensive lineman who played at Nebraska long after I was gone and then played in the pros, and there was an article that was sent to me where a reporter once asked him, "Who was the craziest player you ever knew?" (And I never played with the guy, okay?) And he said, "Kevin Ramaekers." And I'm like, 'What?!' (laughs) I don't even know the kid! Don't think I ever met him! But I guess them just seeing us and hearing about the things we did… and a lot of it's embarrassing. I'll even run into people nowadays and I'll be like, 'Gosh, I apologize for being such an ass!' (laughs) And they go,"No! You were great because of how hard you pushed us."
Q: What people would say that?
KR: I'm good friends with Zach Wiegert now, and Jason Peter, and they said, "You guys basically paved the way and the foundation for the championships." It's just kind of a role you got into. At the time you don't really think about it: your confidence level is up and it works for you and it works for the team. It just is real weird. It's flattering, its humbling that people bring my name up and John Parrella's name up. You really don't think about the impact you've had on guys until you're gone.
I heard it the year after we'd left and missed the field goal versus Florida State for the national championship. Terry Connealy had said it the next year after the Miami win. And then Osborne was really cool: he sends me a hand-written letter with a national championship t-shirt and hat and it said, "We finished what you started." A lot of guys started bringing my name up and all of a sudden I start getting these calls from all these writers, saying, "Do you know what they're saying about you?" It was just humbling.
And now I go back and the guys I played with start getting inducted into the Hall of Fame now. They invite you back because you played with them. So they invite you back and they're up there giving their speech and they go, "I owe a lot to Kevin Ramaekers." And I go, 'I used to just pound on you in practice…'  and I wouldn't even think the guy would want to talk to me.
But at the same time there are guys there who still hate my guts, guys like Aaron Graham, as an example. Him and I to this day won't talk to each other. I went against him every day and called him every name in the book, never thought he was any good. And I always let him know he wasn't any good. Our egos just won't let it go. (laughs)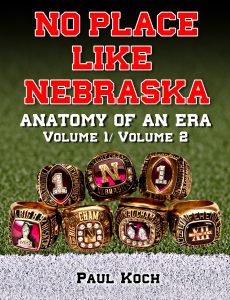 Both volumes available on Amazon.com
Q: I have to say, Murray and Wells -as role models- those guys did some absolutely crazy, gross and nasty stuff, didn't they?
KR: Well, they did. But it was our group. When Pat Englebert was a senior and I was a sophomore, we were the ones that started what we called "the Girthing."
Q: The Girthing?
KR: What we would do -and it was only done strictly on your birthday, it had to be your birthday- what I did was, it would be after practice and I'd lift my shirt up and people would spit on my belly, wipe snot on it, and then I would lay on your face while they held you down. As that went on, it got more and more disgusting, people crapping in a bag and bringing it out to practice and wiping it on my belly and me laying on someone's face. We had Jason Pesterfield (got a turd in the face), he's puking on the turf. I'm on my knees getting up, and trainer George Sullivan, he kicks me in the ass and smacks me on the back of the head. And the shit's all over the field. It was bad.
And then my senior year, we "Girth" Charlie! (laughs) Charlie (McBride) took his teeth out and he freaking bit me in the gut and punctured my freakin' fat roll! It was out of control. (laughs) We were nasty. I remember Christian crapping in his hand and wiping it on my gut, it was just nasty. And Charlie knew it was coming, during the week we were talking about it. And he said, "Don't you even think of it," and the guys brought him down to the ground -not too hard- but he spit his teeth out and bit me in the gut!
Q: Charlie McBride was your position coach your entire career?
KR: Charlie was my position coach my whole time. And you know, Charlie was like a father. He always took care of his guys. He was very hard on you, but away from the field he was like your dad. The whole time at Nebraska he was awesome. I could talk to him about anything. After my parents got killed in an accident my first call was from my brother, and the first call from a non-family member was Charlie McBride. He could barely even talk, he was just, kept saying how sorry he was, how much he loved me.
You know, when I had my knee surgery after I blew my knee out in the Orange Bowl my sophomore year, he was the last person I saw before I went under.. and when I woke up he was standing there with my mom and dad. That's just the type of guy he was. And that's kind of how the whole program was. I never once felt at any point during that time that I wasn't part of the program. And I would say the intensity and support that they showed during that rehab time actually picked up, all calling me on the phone and "Are you still working out? School? Training room?" They were checking up on me.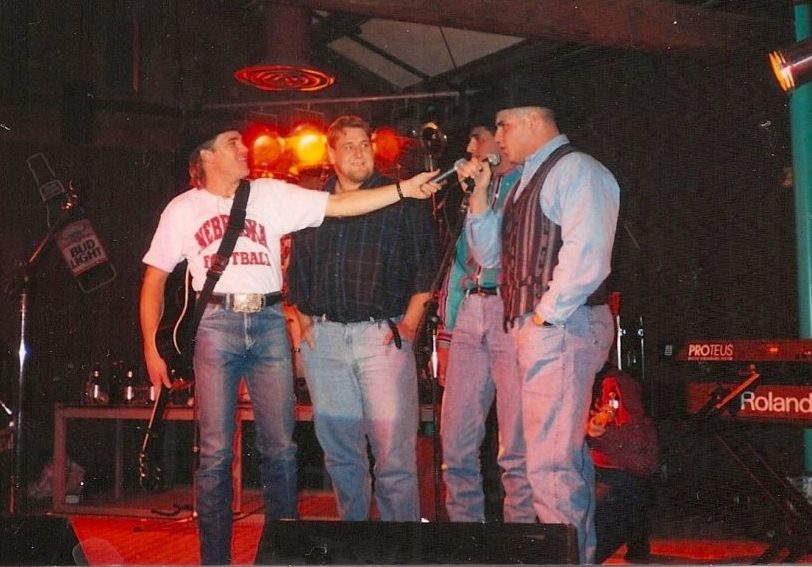 Country singer Doug Supernaw, Lance Lundberg, Brook Berringer & Kevin Raemakers (Tina Lundberg photo)
You know how it is, that's probably the most depressing time at Nebraska that I experienced. Even losing my Blackshirt for a while to Jamie Liewer, who's a great guy. And that's humbling in itself, and frustrating, but at the end of the day it's my fault and nobody else's. And when you blow your knee you're thinking, 'I'm never gonna play again. I'm starting as a sophomore, I'm gonna play pro ball,' and then boom! It's over.
Q: That's pretty tough for a 19 year old.
KR: Yeah, a 19 year old kid who thinks he's all this and a box of peanuts, and here I am hobbling around.
And I have to say, Charlie is the kind of guy -back when I was playing- he's the type of guy who could have put on the pads and played. He was that intense. That guy would go from zero to one thousand in a second. But the details? He was a master at motivating people and pushing you beyond your limits. You thought, 'I can't do this,' and he'd show you how to do it and he'd push you to do it. As rough and tough as he was, he always made me feel like I could walk through a brick wall, that there was nobody better than me, that there wasn't an opponent who I didn't feel I couldn't kick his ass.
The things he said on the practice field, you couldn't put in writing, "I can't believe we gave you a f***king scholarship. This is a joke, you should be playing at Wayne State." But then you go in the film room and he goes, "This is a great job. Step here with your foot, reach with your left hand here…" He'd show you ways to beat your opponent. He was a great teacher of the game and an unbelievable motivator. And different techniques? The motor never stopped with that guy. If you had a tank that was half full you were not going to play for Charlie. You had to be half nuts.
And I think the greatest compliment we got, when we went back for the alumni thing, Debbie -his wife, she came up and said to me, Christian & Connealy- she said, "You have no idea how much Charlie misses you guys. It's not the same. He talks about you guys all the time." And that group was a very, very special group. You've got to understand, that group from Pat Englebert all the way to Jason Peter, we were together 6-7 days a week. Even when football was over on Saturdays we would hook up and eat together on Sundays. We were always together.
To be continued….
Copyright @ 2013 Thermopylae Press. All Rights Reserved.
Photo Credits: Unknown Original Sources/Updates Welcomed
Paul Koch
---
---
---