Anatomy of an Era: Final Chapter/THE FANS
Excerpted from Chapter 104, No Place Like Nebraska: Anatomy of an Era, Vol. 2 by Paul Koch
Anatomy of an Era: Final Chapter/THE FANS
THE CORNHUSKER FOOTBALL FANS
On the opposite end of the spectrum, an age-old component always remained fixed in the players' consciousness: The Cornhusker Football Fans themselves. What impact did the so-called "Greatest Fans in College Football" have? You might be amazed at the significance of their contributions to the game day atmosphere, as well as in the hearts and minds of the players.
Nebraskans have held a stronger-than-most affinity for the sport since it first appeared on the university scene in 1890, including sellout crowds and a permanence spanning the generations. They were also leaders with their culture-confounding acceptance of the black college athlete, most notably halfback George Flippin in the early 1891-94 days. At a time when teams such as the University of Missouri chose to forfeit rather than field their team, Nebraskans far and wide welcomed, embraced, and emboldened those who donned the uniform of the garnet and old gold on through to the modern day scarlet and cream, from the time they were known as the Old Gold Knights to the Bugeaters to the Rattlesnake Boys to the present-day Cornhuskers. They and generations of their offspring became one with the game, the struggle, the spirit and the student-athletes, cheering them on to victory as a collective teammate.
No one forgets their first game day memory…
When you see the fans and the excitement and the energy level of the stadium and just being able to run through the band and hear 'Hail Varsity,' it's just… you get goosebumps. There's no better deal. – Ryan Held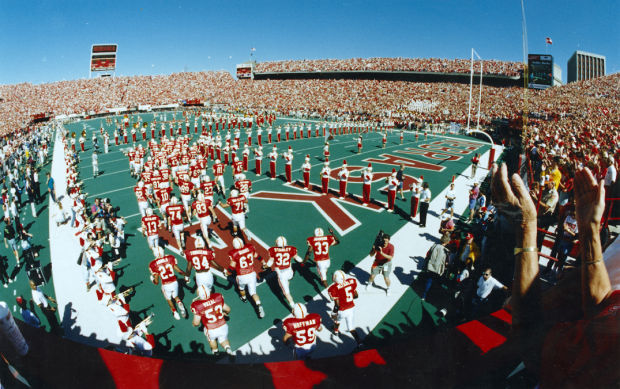 …that was something. You watched Nebraska on TV and the commentators always talked about the fans, but to see it first hand, to witness that, that was something that was overwhelming in itself. Just to see the love they have for the team. Everybody always talks about -wherever you go- they always say that Nebraska fans are the best fans in college football, which they are. – Jacques Allen
…those memories, they will last a lifetime. I would have the cold chills all over my body and my hair would stand up on the back of my neck. I felt like our team unity on game day and coming out of the tunnel and hearing that song, man, I was always just ready to hit somebody. I always wanted to hit somebody and take somebody out. – Jason Scott Jenkins
Their gathering together transcended socio-economic, geographical, and other barriers…
…whether they tailgated or not, whether they had money or didn't have money, whether you were a farmer or a doctor, everybody wore Nebraska Red. Everybody. So on that one particular day everybody was on the same level. And even though we have the class system in America, on that particular day it didn't matter if you were from the North side of O Street or the South side of O Street, that day everybody had the same purpose. It was the entire state's team. It was 'our' team. – Sonya Varnell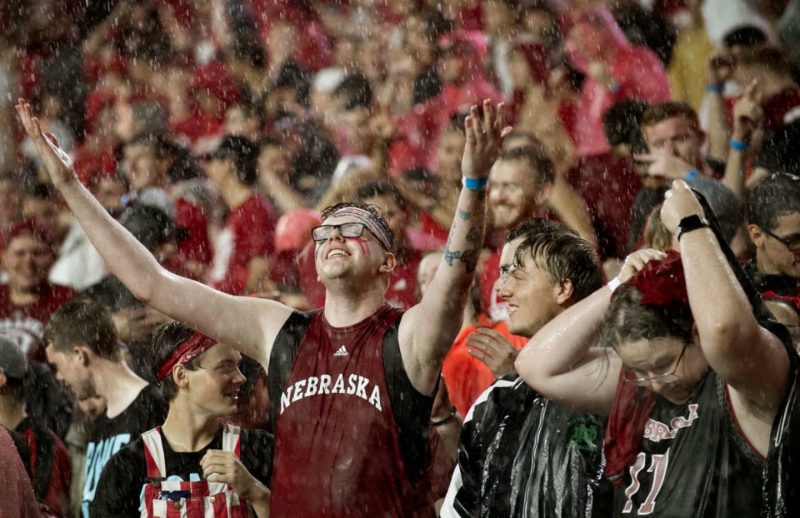 Football is the most physical, hard work, hard labor sport. Just like it was hard work working the fields. So I think that is why Nebraska fans have gravitated more to football than to other sports… I think over the decades, whether it's good or bad, the psyche of Nebraska football permeates through Nebraska fans, and when Nebraska loses we're in a bad mood until Tuesday. It usually takes a couple of days to get over it. I think Nebraska fans identify with the blue-collar, hardworking parts of the football team… – David Max
These boosters were a step above and a world apart…
…of course, Oklahoma is Oklahoma, and the fans around here asked me about Nebraska. And even though Oklahoma has good fans (and they live and breathe their football), but I always thought Nebraska fans were always on a different level. I always joked about it. I used to say, 'You lose a game at Nebraska, and the people take off the next Monday because they're just sick.'   – Ben Rutz
My grandmother, she never missed a game. I remember taking her to her last game before she passed away. I remember she was 82, and I remember it was her last game…you could just see the tears in her eyes as she was leaving the stadium and probably knowing she wouldn't ever be back again, because she'd been going to games for close to 50 years. And you look at that: that's the true Nebraska fan.    – Darren Schmadeke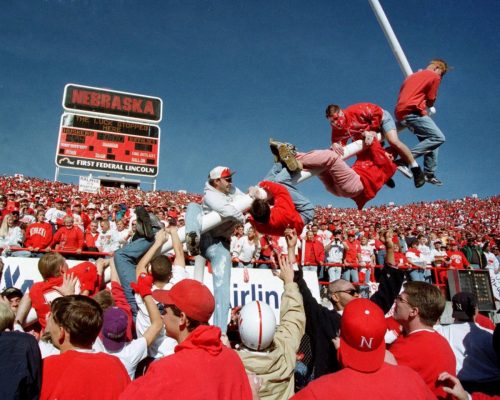 The 'Sea of Red' around and in Memorial Stadium…
Some of my fondest memories were just the bus rides to the stadium over there in Lincoln, just riding the bus over and seeing all these people in red in the streets. And then you get out into the stadium and you start warming up: it's about 20 to 30 percent full, and you go into that locker room for one last time. And then you come back out and that place is just a Sea of Red. Some pretty special memories right there.                  – Ed Stewart
It felt so small out there, it was almost claustrophobic. It was just awesome. I loved the feeling and high you get from the fans who are cheering you on and encouraging you. There's no better feeling than that. I was a goosebump when I walked out there. You were like, 'Look at this. The Sea of Red.' You always heard about that 'Sea of Red', but when you're out there in the middle of the field and experience it, there is no better feeling… Husker fans are an amazing group of people. When you talk to other players that played in Memorial Stadium, they really loved playing there. It was just a great experience, even after the game, no one spit on them or threw things at them. Even when they got smoked, they were, "Hey, good job out there today." That is Nebraska football."We're gonna give you a licking, but we're going to pick you up and say 'good job.' I've heard from several players that we had the best fans. – Cory Schlesinger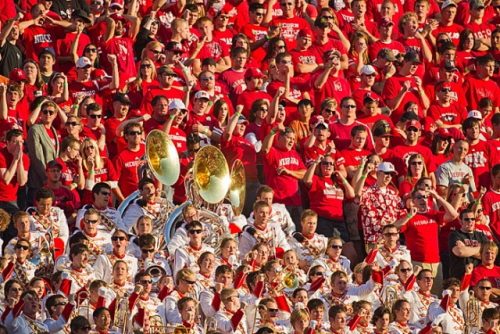 And then running back out there, it was so overwhelming, it almost brought tears to my eyes. Your heart was beating so fast, and I'd never in my life played football in front of this many people. I'm looking up there and all this red… – Trumane Bell
There's nothing like experiencing game day at Memorial Stadium… it's just the pregame warm-ups, the marching band, the tunnel walk, the anticipating a win or the disappointment of the loss. And being a part of the crowd, the mass of red, it's ultimately exciting… It's just something that overpowers you. It's the 'excitement of the kill', I guess. (laughs) It's the competition… And I'll stand and clap for the visitors when the game is over. – Virginia Goedeken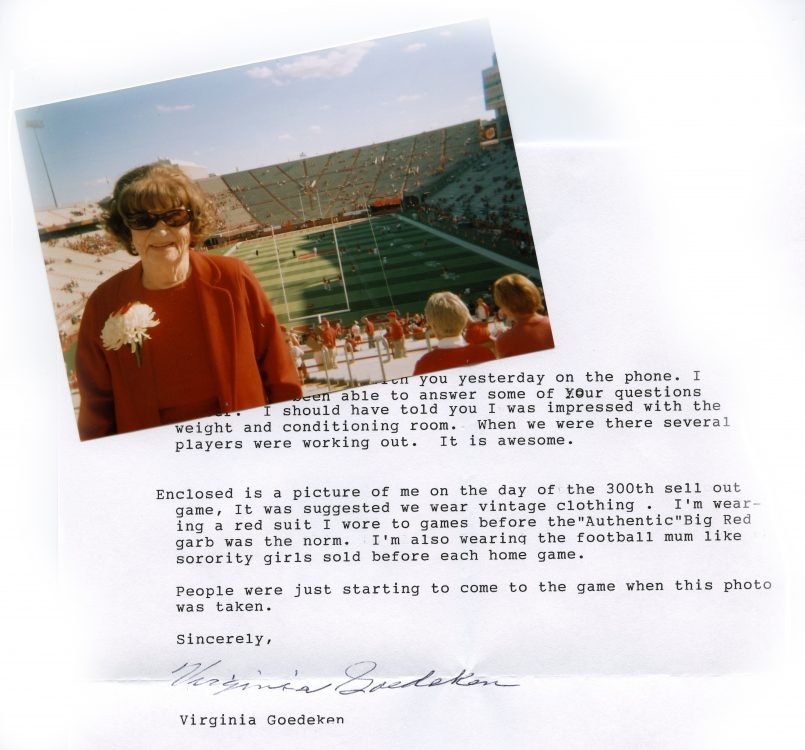 Fans made their mark in places far from Lincoln, too…
We always took the kickers, the special team guys, out about an hour before the game. When we walked out with those guys, to see all the stadium that was 75% Nebraska fans, it was just like walking out and playing a home game at Memorial Stadium. We had such great crowd support… I'm sure it inspired a lot of those players to go on and play the way they did in that game… That was one of those games I'll never forget, how the fans inspired all the players to come out and just destroy Florida.   – Dan Young
…Notre Dame one time, we couldn't even get all the way up to the stadium, as all the Nebraska fans were in the way. So we ended up walking through a tunnel of Nebraska fans. I'll never forget that. That was a great moment. – Curt Thompson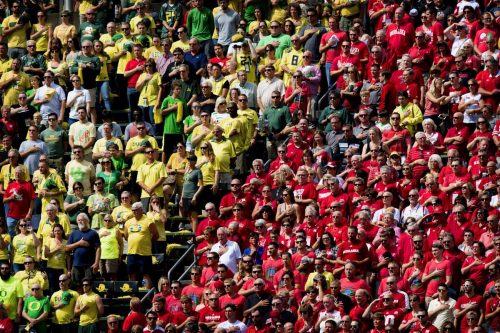 They also made their mark through commonplace kindness in the public sphere…
I ended up walking down 'O' Street and over by Valentinos. And I must have had this look on my face like I was lost, because this gentleman came up to me and said, "Excuse me. You look like you're lost. Can I help you?" And I came from Camden, New Jersey -and that was just foreign to me at the time- and the guy directs me back to the Cornhusker Hotel. And from there I was like, 'That's it.' I walked into my mom's room and said, 'I'm done. This is where I want to go.'  – Troy Branch
I didn't even know this lady and she wrote me a letter. (Diane Yuetter) was just encouraging me and giving me words of comfort. And for some reason the words that she said really touched me and opened my eyes as to what was going on…                     – Tony Veland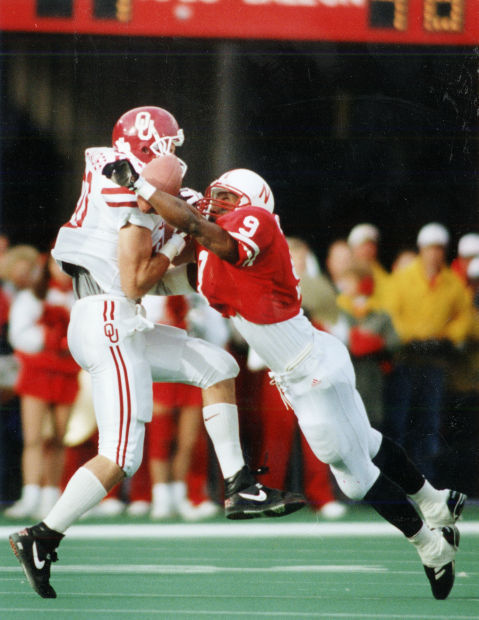 Tony Veland disrupts a Sooner pass reception
I had major surgery and almost died. I was hemorrhaging to death… I looked up and said, 'Lord, you must have a plan for me. You don't want me home yet, so whatever you want me to do, I'll do.' That autumn, Paul, I don't know if I can explain it any other way, I just… I felt like it was a divine appointment from the Lord to write Tony Veland …he had wanted to be quarterback and he had broken his collarbone and they were making a position change on him from quarterback to defensive back, and something inside of me had compassion …and he wrote us back. Tony even became involved in my second grade classes, becoming a big brother. They would write him letters and he would write them back. I always had Tony's back in prayer. There hasn't been a long period of time where I haven't prayed for that young man. So I think of Tony as if he were my son…   – Diane Yeutter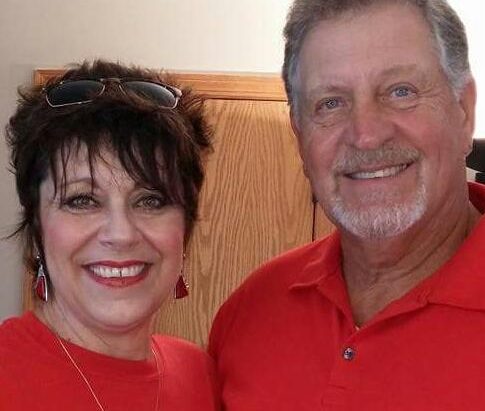 Diane & Ed Yeutter: The blood is red but the heart's of gold
I told a guy who played at smaller school, 'Hey man, it was seventy-six thousand! Seventy-six thousand people all in red and it's the third largest city on a Saturday, and they bleed Husker red.' And I can remember just going out to eat after a game and people would come up and say, "Hey, how're you doing?" and knowing your stats, knowing who you were. I was like, 'These people are really crazy about Nebraska football.'(laughs) …It was definitely kind of strange to get used to, but it meant a great deal to the people there at Nebraska. And I can see why, because that's the only show in town. For us to have that opportunity to entertain the people, it's a blessing and it's a privilege and an honor. – Trumane Bell
They played a big part in recruiting…
…you got to remember, Nebraska is probably the most wholesome place in the world.
– Michael Booker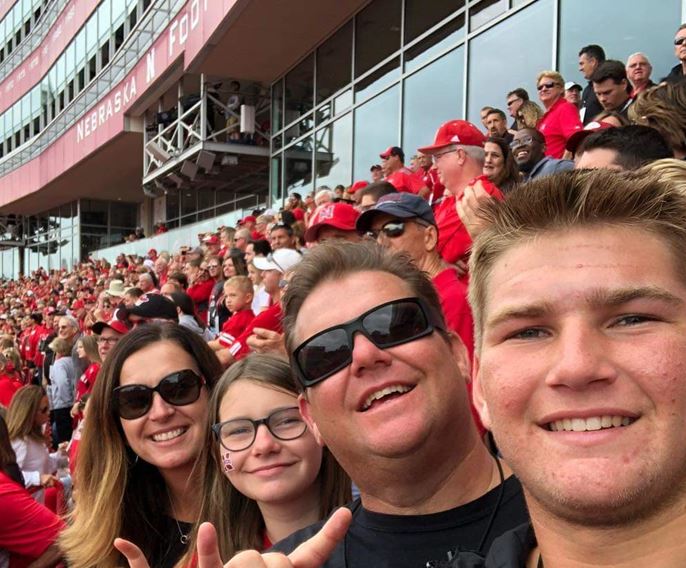 It seemed the focus and the attention was on the football program. Everybody focused on them. And you kind of got that feeling that everybody was there to help you succeed. You got that feeling as a young player, 'Hey, I can fit here and succeed, and they all want me to…" They were just generally all good people. The kind of people that will open up a door for you, feed you, give you a warm bed to sleep on. They're just good-hearted people in Nebraska.
– Larry Townsend
…when I came up on the trip for the spring game and saw like 50,000 people for a spring ball game, and thought that was a big deal. I remember standing on the sidelines and people were talking to Calvin Jones -and this was before he even came to the school, because he was still a senior in high school- they were just in awe of this guy. And I remember thinking, 'Man, this is crazy!' I'd never seen anything like that before… I think (Mom) was overwhelmed more than anything. One of my high school buddies came with her to see it and she was like, "This in unbelievable. I've never seen people be this crazy about a football game."  – Trumane Bell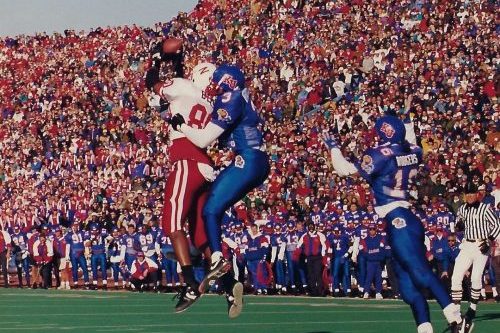 They also held great sway in many a student-athlete's career experience…
The people out there are just so nice and genuine and loyal… it's just I guess I was a little bit guarded and just wasn't sure that people could really be that nice. And obviously, over time I found out they were. – Christian Peter
The letters you would get. When I got hurt -when I blew my knee- I get this big freakin' stack of mail! The mailman brings me this big honkin' stack of letters! I don't know how the hell they got my address, but he must have brought a stack of something like 75 letters. People I don't even know. Don't even know! Just, "We hope you're doing well, we're thinking of you. We can't wait to see you get better and get on the field again." Just totally encouraging… – Kevin Ramaekers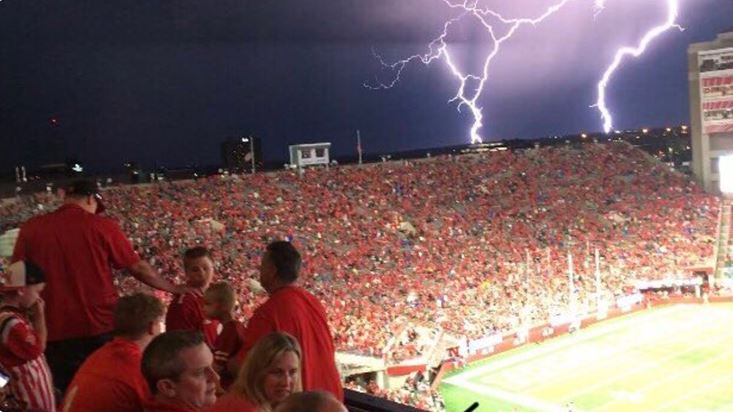 They all stuck together in all kinds of weather… 
It was Colorado in '91, a night game. I think the temperature was minus 5 degrees at kickoff. I've never been so cold in my entire life. I remember coming to the stadium -and you get there like two hours before the game- and the student section was packed. They were all drinking beer and drunk, and man, they were crazy. There's no way I'd be sitting out there. (laughs)    – Mike Anderson
…and there was a blizzard. A blizzard! You could hardly even see the lines on the field that day! And just like you guys, I'm going into Memorial Stadium earlier that morning for recruiting and I see some fans milling about and I'm thinking, 'Sure, some fans will be here today… but not as many in the stands as usual.' So when we're all done with recruiting I go out there to the field and I found out how wrong I was. There were as many fans there as there would have been if it was 70 degrees!     – Sonya Varnell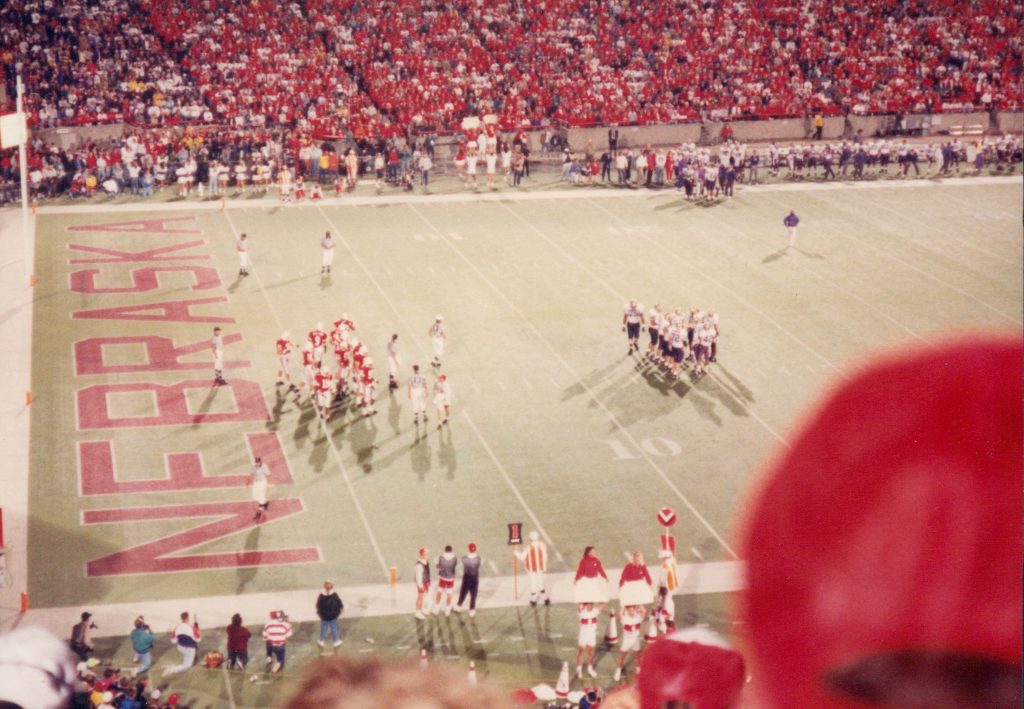 By their devotion, where they're all true blue…
…I think, all in all, the Nebraska football fan is a highly educated fan and really knows and pays attention to what is going on.   – Lee Barfknecht
…it's when you see the love and the appreciation the fans have for the team and the program. When you see their dedication, when you see them sit through hours of pouring rain or snow or sub-zero degree weather, when they line up for your autograph, this is what they live for and they love the program.
– Jason Peter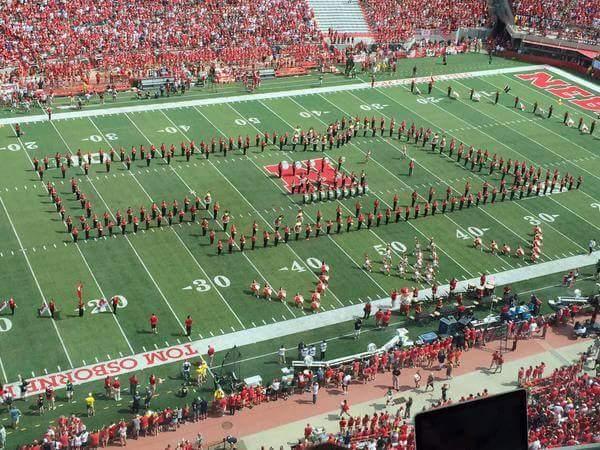 The Pride of all Nebraska
What caught me at first was Autograph Day at the stadium. I saw fans that came out -it almost scared me a little bit- because fans knew so much about me. (laughs) I'm like, 'Wait. Hold on. Something's not right here. You know my parent's names, where I'm from, my stats?' Wow, it's kind of psychotic, (laughs) a little bit wrong.                           – Riley Washington
Then you have fans like my grandmother, going to the games for over 50 years, and she was 82 and was bound and determined to go to as many games as she could until her last day. I remember her walking out of the stadium with tears in her eyes knowing she wouldn't see it again. I'll always remember that. She ended up passing away at 83 and was a huge supporter, a true die hard. Something I enjoyed, playing for her.                   – Darren Schmadeke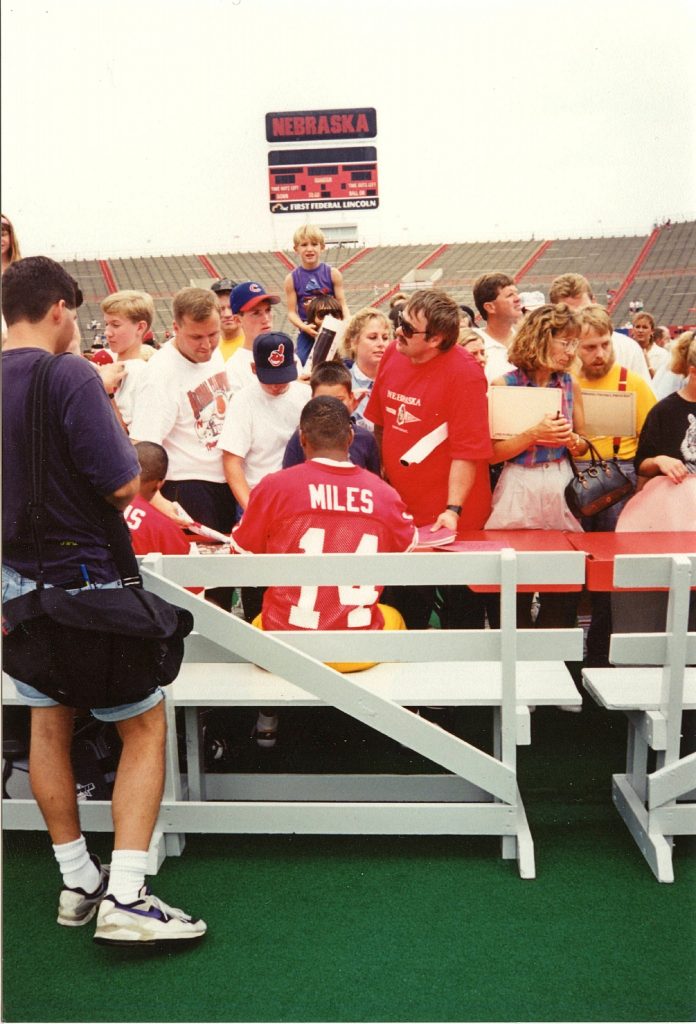 Autograph day
I had a pretty unwavering devotion to the Huskers right up until I went to college… I have to confess, the student seats were so terrible, I really hated the games because I couldn't see anything. There was all this craziness, these fraternity guys would be passing the sorority girls overhead and everything, it was so drunk and disorderly. In the beginning of the season it's hot and at the end of the season it's cold, so I really didn't go very much. In fact, at one point I drove a cab at the University. I worked my way through college doing a lot of things: I used to deliver football tickets and film. I don't know if they were bribes, (laughs) but I used to deliver football tickets to some key state senators just before some key votes. – R. Scott Clark
…on Husker Saturday the streets of Omaha and Lincoln are quiet, because everybody's at the big game in the stadium or else they're at home watching the game… The culture back then was, "Come Saturday and you're not watching a Husker game- if you're from Nebraska and not watching the game?- people would think you were crazy."                   – Ahman Green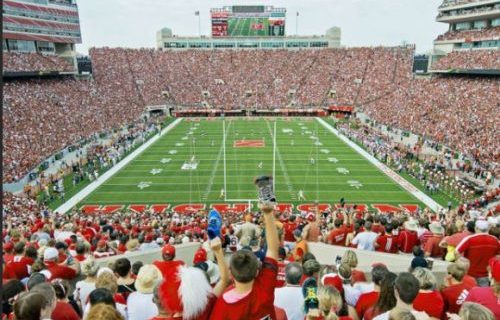 They stayed in their seats and took in every second of gametime possible…
I remember it was my redshirt freshman year, it was an actual offensive series. We were whooping ass on somebody and I got in about 8 or 9 plays. It was fun, because our fans don't leave the game. So they were still cheering and yelling, it was just a lot of fun…      – Jacques Allen
For me it was the very early years and watching how people wouldn't leave the stadium. That was always amazing to me… I remember on days I wouldn't go to the game and I'd be driving in downtown Lincoln and it was totally quiet. Then you'd hear the roar of the crowd coming from the stadium, it was always impressive to me. There are a lot of memories like that. I remember the game back in the mid-nineties that both of my sons went to: Nebraska won. It was the last game of the season and we beat either Oklahoma or Colorado in a thirty-three degree rain. It was the most miserable Nebraska football game ever and, of course, nobody leaves the games …they sit out there when the wind chill's below zero, and I've been to games when it's snowing and the weather is in its teens and twenties… they don't leave the game.' …Nebraska fans stay until the end. It still amazes me… You flip around the TV on a Saturday and you'll see a stadium half empty because it's raining and 55 degrees, but not at Nebraska. They take it very seriously here. I felt like it was the perfect place to come, because they take their weather seriously here and they take their football seriously here.                                    – Professor Ken Dewey
They're also known their benevolence…
Folks like Lee Sapp, the big-name donor people, the Cook family… – Trev Alberts
…there was a lot of background support, financially, for the Foundation and such that came. That was because of the success of the program. I know that because of the national championships and such, the Foundation made comments that they were seeing a lot more donations. Not only to the Athletic Department, but to the Academic Department…  – Gary Fouraker
…there wasn't as much diversity when I went to the Midwest, but the people were much nicer. They seemed to want to talk and help you out a lot more than people were where I grew up.   – Jason Scott
Jenkins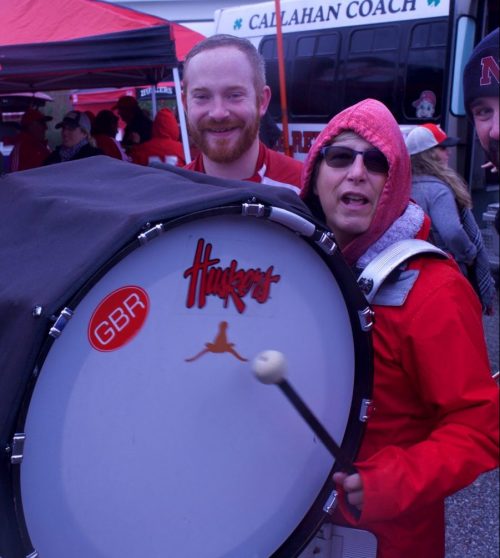 …that's why we have such awesome fans, because they truly feel like it's their team, that they're a part of it. And they are…  I'd take (the letters) home at night and I'd open them as I was sitting at home, just because there was so much mail! To open it took forever! But out of those there was probably one in two hundred to three hundred letters that would be negative. All the other ones of those would be positive, "We would have done the same thing. We admire your decision."  – Mary Lyn Wininger
Most importantly, the fans served as inspiration to the players during the low moments…
…we played at Washington and got beat. When we got back to Lincoln at about three in the morning and there's like 150 to 200 fans at the airport cheering for us, saying, "Hey, you guys fought hard." You know, it's easy to get people cheering for you when you're winning all the time -and it might even have been 4 in the morning- but to have these people there cheering for us? …Those are the kind of things I remember. You can't get that somewhere else. –  Zach Wiegert
…the fans, the kids, there was a foundation where they'd put you on a wish list and they would want to meet you. And to meet some of those kids that put you on a wish list, you'd never assume that kids would want to do that, you know? I mean, they wanted to meet me? To meet me! That's amazing. Of all the people in the world, a sick kid wants to meet me. I think I still have a t-shirt that a kid drew me. It had a picture of me running the ball on the front of this t-shirt. I'll always remember that being special.  – Corey Dixon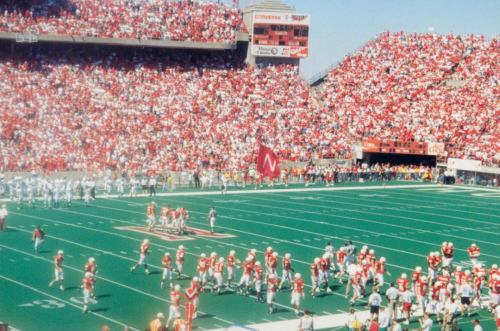 Gameday!
…the first home game, we were riding up to the stadium on the team bus and I'm seeing people out there on walkers moving with ten gallon hats, red hats with N's on them, walking to the stadium. I was, 'This is like ten in the morning! And people are here already?! And on game day this is the third largest city in the state? Are you serious?!' I couldn't fathom that… It's one thing to see a fan around town on game day wearing a team's colors and stuff, but to have that many fans in one spot, it was crazy…In droves! 'Wow!' And again, it wasn't a bunch of young college kids, it was everybody from every age group, it seemed like. There'd be moms rolling in, and old people, wow. And then people drive from six, seven hours away to come to a game? They'd come to a game that lasts, what, sixty minutes? They drove six hours and it lasts one hour…    – Riley Washington
Thank you to all the Husker fans who supported us before, during and after those great seasons we had. Thank you to the Husker fans who support me now when I need it more than ever. And to those Husker fans who feel they cannot support me any longer, I apologize for letting them down. – Lawrence Phillips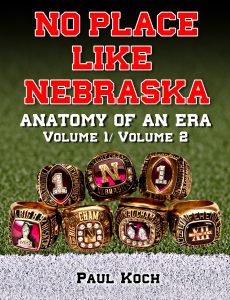 Available on Amazon.com
There was such beautiful synergy between the football players and the Husker fan-base. From the visual enormity of the stadium's sold-out bowl to the noisy roar they generated during the pre-game entrance, the players felt it. Often times, though, they would be accused of being too polite, too demure, too hushed in comparison to more intimidating venues. As for the success the players achieved during play? Well, it then inspired the fans up off of their seats, and that too served as a form of audible feedback and drove the young men to continue performing at such high levels. It was a mutual, magical, synergistic fan club, and one big, happy Husker family. It was a blast.
Copyright @ 2013 Thermopylae Press. All Rights Reserved.
Photo Credits : Unknown Original Sources/Updates Welcomed
Author assumes no responsibility for interviewee errors or misstatements of fact.
Summary Chapter to be continued…..