Anatomy of an Era: Final Chapter/SPECIAL TEAMS
Excerpted from Chapter 104, No Place Like Nebraska: Anatomy of an Era, Vol. 2 by Paul Koch
Anatomy of an Era: Final Chapter/SPECIAL TEAMS
THE NEBRASKA SPECIAL TEAMS
It's amazing how often the concept of special teams is overlooked when one thinks about football success. But for a coaching staff who didn't have the benefits of a fertile, local Blue-chip-heavy recruiting ground, a pleasing year-round climate and the like, you simply had to make do with what was available. And in this case, it was a bevy of hungry young ballplayers itching to get on the field some way, somehow. Special teams was an occasion to make a special difference, a game-changing difference. From setting the tone of the game from a psychological aspect to raising up future starters, special teams gave Nebraska Football a leg up on foes…
I always thought our edge had a lot to do with special teams, which had a lot to do with depth, which to me went directly back to the walk-on program… Lance Gray was a great special teams player for us. He set the mindset… He was a walk-on coming all the way from New York. He wasn't even a Nebraska guy.
– Tony Samuel
It started with the Coach…
(Special Teams) Coach Steele, he was pretty intense, you know. I had a home game where I had kicked a couple of terrible kickoffs -knuckled the ball down there- and he came at me like, "If you don't kick the next one into the end zone, I'm gonna get you." And I knuckled it down there again, and they had to hold him back. (laughs) He was just trying to get me going, and I loved it. I absolutely loved that. – Darin Erstad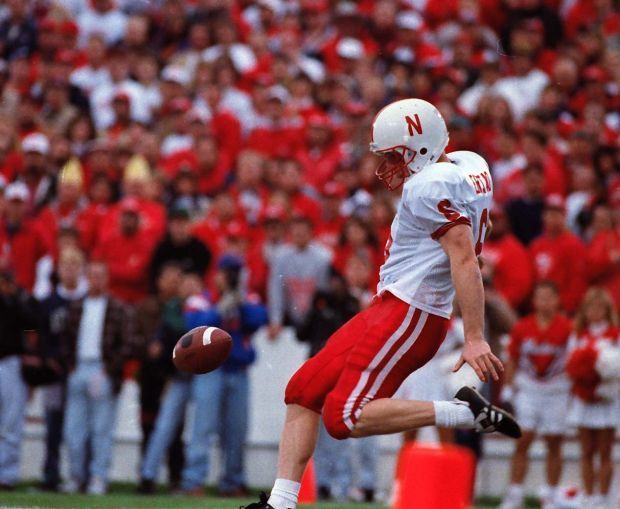 Special Teams played an equal part to both offense and defense in practices and game preparation…
When I was there at Nebraska we spent an equal amount of time on special teams as we did with the breakdown in positions and the scrimmage and conditioning. It was just one of those things you took pride in, because it was the easiest way to score points… Some teams just look at it as a way to get rid of the ball. It was a long time ago, but I do remember that was one of the biggest things they talked about that was the make or break, especially back then… if you watch the special teams of those years, no one ever ran out of bounds. If you caught a kickoff or a punt you ran north and south until you were stopped, you'd never ever see a Nebraska football player run out of bounds. You run north and south until you're stopped. We had the wedges and the walls and the whole nine yards, and it was smash-mouth football. That's what it was… You unscrew your head and take your brain out and just run as fast as you can and hit something. That's all I can say. I had no sense back then.    – Lance Gray
…before games (Osborne would) go through special teams just to remind us on punt team, kickoff team, he'd always say, "You are going to play well today."
– Mark Gilman
(Tony Samuel) liked the stuff I'd do on special teams. He was the one who sat me down one day and said, "You're really good at that. But you can be better." And he gave me these special teams tapes. He was like, "Watch the ball. Punt returns, kickoffs, kickoff returns…" He said, "You're probably not going to start, but you're an impact player. Watch these tapes." So three days before every game he would give me all the special teams tapes, and I could find the weaknesses and find the guy who was not looking, and that was the gift they gave me…  You had to "go with controlled fury", was his catchphrase. – Lance Gray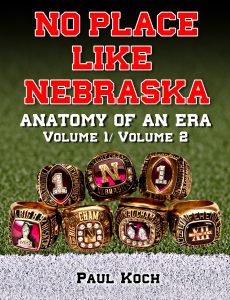 Available on Amazon.com
Special teams gave most everyone their first taste of playing time…
…as a freshman they said you should want to be an impact and do everything properly, and found my niche on special teams. I just dived in when I was 18 years old and they were letting me play with the varsity after my freshman year, covering kickoffs, and said I was going to give it my all. I had a hell of a lot of hits, caused a lot of fumbles and made a lot of tackles, and one thing led to another and I was 'Bullethead', and made the travel team… I was on all four of them: punts, punt returns, kickoff, kickoff returns. I was on the field every time down and that's where I found my niche. I was pushing the guys ahead of me because I had the desire, but my niche was special teams…       – Lance Gray
I don't know how many times I'd try just to get on the field, bugging Coach Young, "Just get me out there. I'll be on the kickoff return team." …it was so competitive.        – Jon Pederson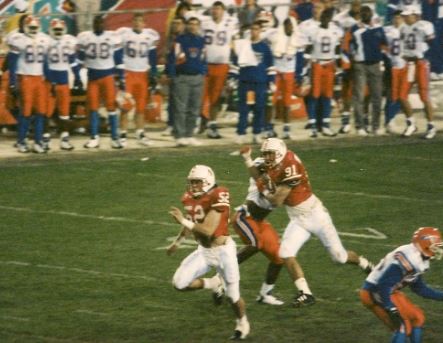 As well as some veterans hoping to make a difference…
…Coach Steele, McBride, (were) up there just chewing the defensive guys' asses because they didn't have anybody running down hard on the kickoff team, guys weren't selling out. And I walked in to see Coach Tenopir and said, 'Coach, this is my senior year, I've gotta play. You gotta get me out there, this is killing me. Can you talk to the coaches about giving me a chance as a wedge-breaker?' He kinda looked at me like, "You're nuts, you know?" He says, "I'll mention it", and sure thing he did. So they gave me a shot. – Bryan Pruitt
Even first-teamers played on them…
Earlier they did take me off those special teams, but when they did the opponents' stats started going up. So that had to change, and I couldn't not be on those teams that I had before. So I begged them to put me back on special teams. – Kareem Moss
…the Thursday night game (versus) Oklahoma State and I blocked a punt. I was having a great game defensively, too, but blocking that punt was the momentum switcher. It was neck and neck, and then me blocking the punt might have tied it. And after that it was downhill for Oklahoma State and we ended up winning the game for Tom Osborne's 200th victory…(The punter) was in the endzone, I caught (the ball) in my chest, and that was it. I landed on it and got my touchdown, and the game was history. – Barron Miles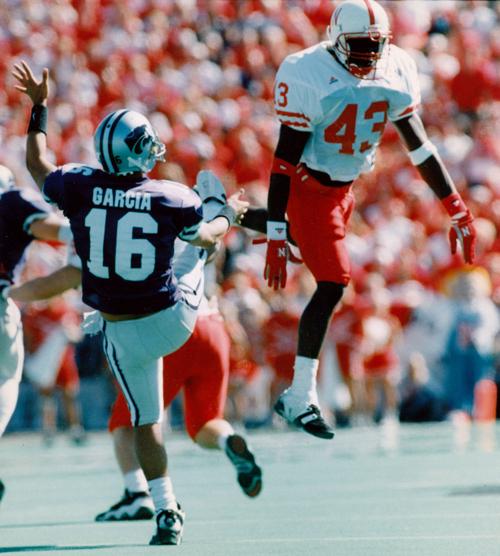 They served as a proving ground in leadership…
(Steele) made sure that when I was a sophomore through senior he was also quasi-in charge of special teams, and he would circle everything and tell us what had to be done. And then he'd say, "If you have questions, talk to this guy right here: Lance Gray." If you responded to the way he coached, he took care of you. An awesome guy.                 – Lance Gray
They made their mark by way of psychological warfare, too…
…shortly after the game started, a lot of times after the kickoff some of the guys wouldn't get up. Because we came down on the kickoff and hit them so hard, a lot of times their guys would just be laying down. I remember that, we just knew we were tough customers. We got after them, sacrificed our body and truly got after people… do you remember Aaron Penland? I remember watching him run down on those kickoffs and every time he'd hit somebody on a kickoff they weren't coming off. They'd be like, "Trainer, trainer! Somebody's down!" and it would be some guy on the other team. And Aaron would come running to the sideline with a smile on his face. He was an animal. I enjoyed watching Aaron on the kickoffs. I was a fan.    – Jason Jenkins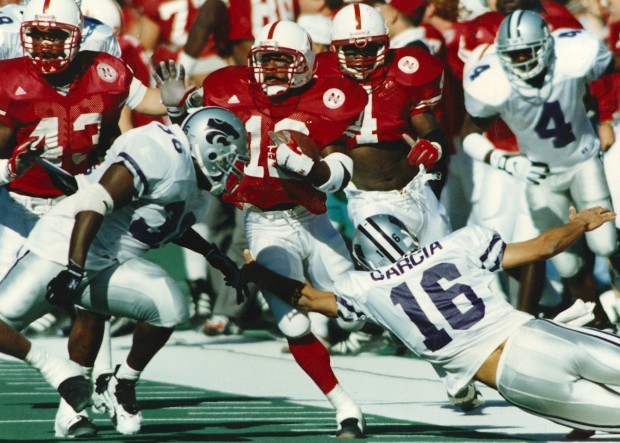 The opening kickoff return -and we had a pretty good kickoff return team and pretty good front line- and a guy came through there and I just blasted him, knocked him out cold. You just knew, when something like that happens it's gonna be a good game… I remember (Scott Baldwin), he was a stud. I tell you what, I loved watching him run the ball. I remember one time on a kickoff return he was in the front line and turned around and just lit this guy up. I saw that and I'm like, 'That's Nebraska football. That's what I want to get to: the point where I can hit somebody and knock them backwards like he did.'   – Cory Schlesinger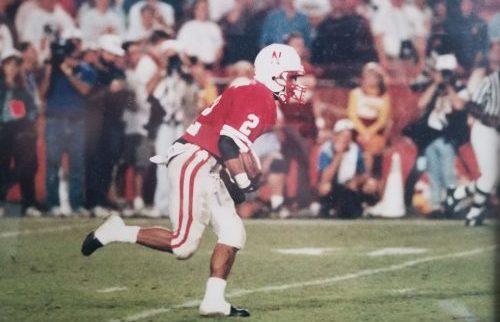 Even serving as a measuring stick by which each team's talent was judged…
That's the funny thing about that decade, we used to joke, "Even our kickers and punters were better athletes than their safeties."   – Chad Stanley
Nebraska's Special Teams were the tertiary piece of the Big Red's three-headed monster. Some used special teams play as a springboard to more playing time, some as their only chance to see game action, and others as a way to display more of their unique talents. Whatever the case, they played a large part in games that could have gone either way. It was a normal thing to stop a practice in its tracks and go straight to work on special teams units, exactly as events could transpire in a game. They were a crucial element in Nebraska's success.
Copyright @ 2013 Thermopylae Press. All Rights Reserved.
Photo Credits : Unknown Original Sources/Updates Welcomed
Author assumes no responsibility for interviewee errors or misstatements of fact.
Summary Chapter to be continued…..
---
---
---