Anatomy of an Era: Final Chapter/The 'Coaches' Behind the Scenes
Excerpted from Chapter 104, No Place Like Nebraska: Anatomy of an Era, Vol. 2 by Paul Koch
Anatomy of an Era: Final Chapter/The 'Coaches' Behind the Scenes
THE FORGOTTEN COACHES: ANOTHER SPECIAL TEAM
We wouldn't be doing this summary justice without emphasizing the young coaches toiling behind the full-time staff. I'm talking about the Graduate Assistants and Student Assistants behind the scenes, in the offices, on the sidelines, and sometimes even up in the grandstands with the fans… way, way, wayyyy up in the end zone seats. They found a way to contribute mightily to the effort.
Sometimes it was doing the advance work…
The game film would be broken down on our opponent the week before the week we played them, so we'd get all the game film in and Graduate Assistants and various people would chart offense, defense, and have a computer printout for us on Sunday afternoon. – Tom Osborne
…the amount of film we watched? I'd be there for 10 hours on Sunday breaking down film for Monday's practice… they had all of us undergrad assistants, I'd be drawing the play card, the routes, and draw the formations on the right and turn it over and draw it on the left, with colors for pass play or run play. And we'd draw these cards based on down and distance, 20 yards and under, third and long, and he would have every play broken down into what formation they would run, and we'd run each one of the plays to the defense based on them. – Damon Schmadeke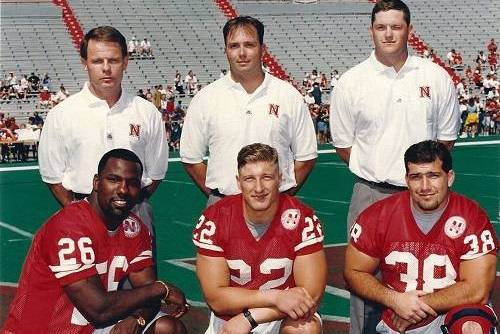 Front) Fullbacks Clinton Childs, Jeff Makovicka & Chris Norris. Back) Frank Solich, D. Schmadeke & Chad Stanley
Other times they were thrown into the heat of the battle, with much riding on their contributions…
I got to go up into the end zone during the games with the Graduate Assistant Coaches. I was with Mike Grant on offense and drawing the defenses during the game that would eventually get in front of Coach Osborne, so it was a really important job. Mike would watch the fronts and the 'backers and I might watch the secondary, and Tom would base his play calling off these drawings, so they had to be accurate. – Chad Stanley
My job during that time was to (along with Graduate Assistants Mike Grant one year and Chad Stanley another), would tell me what the defense was for each play that we ran, and I would draw up the formation and draw in the defense, and then those cards I would give to Coach Osborne and he would go to the quarterbacks and show them, "When we do this, they do this…"  – Ryan Held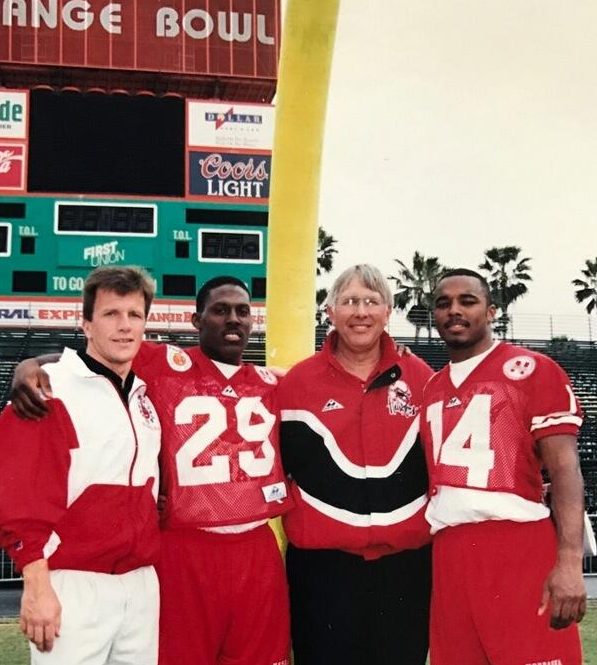 Clayton Carlin (far left)
…Mike Grant and myself were sitting in the end zone and we would chart the defensive front of the Kansas Jayhawks versus Nebraska's offense, and we'd chart the defensive front and if there was any slants or blitzes based on our offensive fronts. So then after each series we'd have a runner run those down to Coach Osborne so he could see the formations from the way we saw it in the end zone, from the goal posts where we were sitting. So sitting at that angle you could see the defense and then you could see our offense go into a formation, and you could almost call a touchdown before it happened by seeing it from that angle.     – Damon Schmadeke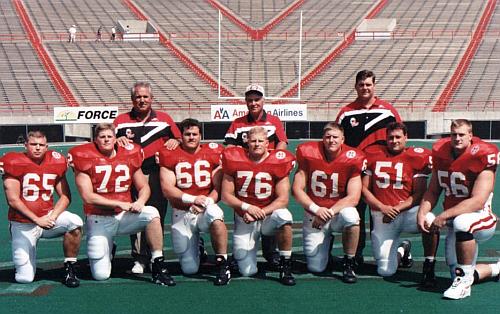 Rob Zatechka #56 (far right)
One of the things they used to do was have those guys up in the end zone drawing: those Student Assistant Coaches, they'd sit and draw the plays. (laughs) They'd sit up in the end zone and look at the front, just the alignment of the guys, because you could see it so much better from there. They'd have the little kids run it down to the sideline and Coach Osborne would kind of look at it. (laughs) And I don't know if they ever said it was against the rules, actually, but we kind of just quit. We tried to do it at the away games; we always tried to find some tickets up in the end zone for away games. But K-State, boy, Bill Snyder knew we were doing it and so he sent security up there. (laughs) They kicked Mike Grant out of the game one time, it was pretty funny.
– Bryan Carpenter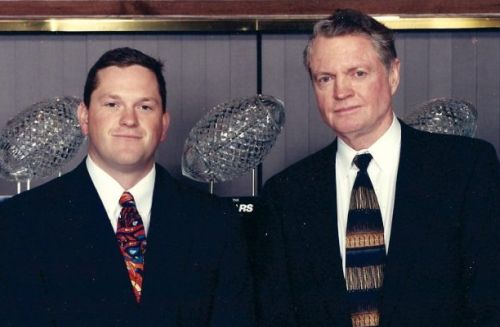 Chad Stanley and mentor Tom Osborne
Other times it was as if they were a full-fledged full-time coach…
You were a graduate assistant, but I tell you what, you were just treated very well. You had to work hard, obviously, and do some tough things, but everybody just treated you with nothing but the utmost respect day in and day out…   – Clayton Carlin
…the coaches would go out recruiting some Thursdays and Fridays in the fall and we'd have a practice with Tom and a few assistants there, and one time Frank went back to New Jersey to recruit some guys and he gave me a list of drills to give these guys. And you know, they're banged up and sore -I knew what that was like- and they were grumbling, but Frank gave them to me to do them. – Chad Stanley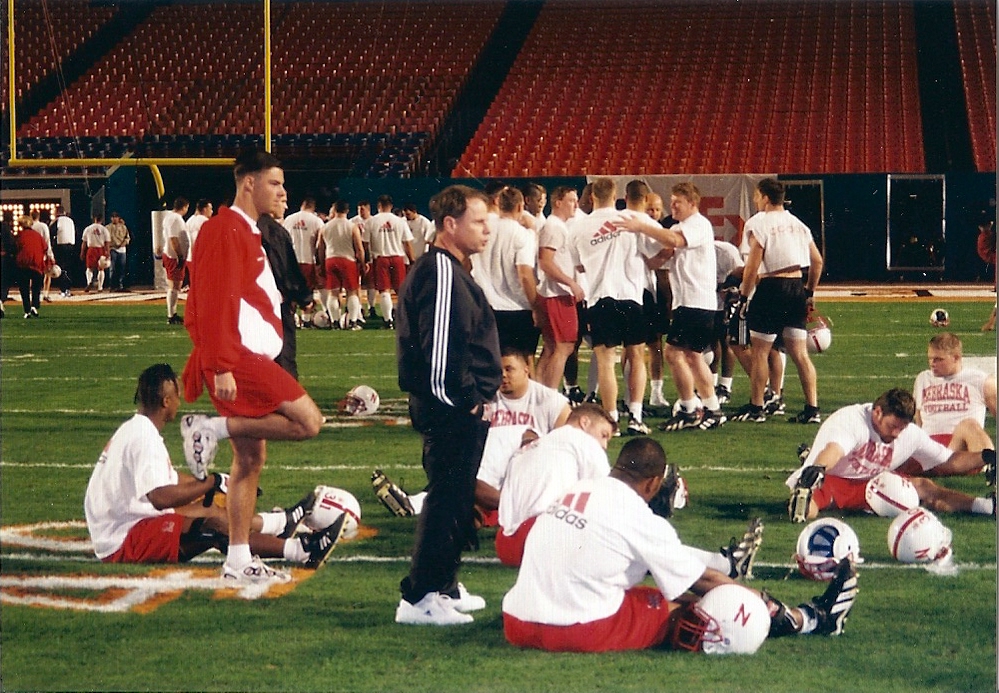 Ryan Held and Frank Solich with the running backs the night before the national championship game.
…we'd go through football practice and then the coaches would walk off and turn us over to the graduate assistants, and it was like track practice. They ran us. We'd do a lot of conditioning drills: the four corner drill… and honestly, I think they did that just to weed out the people who really didn't want to be there. – Jon Pederson
It's important to understand what these young staffers did for the football operation: from unburdening the full-timers of administrative minutiae to acting in their stead, from breaking down film and preparing the scout team's play calls in practice to serving as spies of sorts, theirs was a hands-on apprenticeship, and you couldn't put a price on the education they received, nor their worth. Later on we'll find out the great value of other behind-the-scenes staffers, too.
Copyright @ 2013 Thermopylae Press. All Rights Reserved.
Photo Credits : Unknown Original Sources/Updates Welcomed
Author assumes no responsibility for interviewee errors or misstatements of fact.
Summary Chapter to be continued…..