Anatomy of an Era, Coach Ryan Held, Part 1
Excerpted from Chapter 37, No Place Like Nebraska: Anatomy of an Era, Vol. 1 by Paul Koch
The harvest of old age is the recollection and abundance of blessings previously secured.
-Maruc Tullius Cicero, De Senectute
When the Kansas-Nebraska Act of 1854 opened up the conjoined territories to settlement it allowed the new settlers to determine whether the states would be admitted to the union as either "free" or "slave." The arrangement in the southern half of the equation begot the term "Bleeding Kansas," as violence followed the birthing of America's present day heartland. A future generation's son by the name of Ryan Held decided the educational opportunities both in the classroom and on the field were simply too rich and promising to pass up, despite the promise of blood and bruises, so he left the Sunflower State and headed north to the city of Lincoln and the state of his forerunners.
Trust me when I tell you, this was an interesting conversation (dating back to 2011/2012) and one that you surely don't want to gloss over, as it dares to expose a practical depth and a breadth of football knowledge as wide as the rolling plains themselves. Let's catch up with Ryan Held.
Notable Quote #1:
"The thing that set it apart, also, was that this behavior was done in scrimmages: the cut-blocking, the physicality. In practice. And not many programs do that. You can't just turn it on on game day, you have to do that all the time."
Ryan Held
Walk-on, Split End, Overland Park, Kansas (Blue Valley North)
Where are they now? University of Nebraska, Running Backs Coach (updated 2018)
Question: So Ryan, where have you been and what have you been up to?
Ryan Held: Well, for the last four years I was in Weatherford, Oklahoma. Head Football Coach at Southwest Oklahoma and the previous three was at Oklahoma Panhandle State, which is in Goodwell, OK. But now I'm Head Coach at Highland Community College here in Highland, Kansas. And do you remember Peru State in Peru, Nebraska? I was up there as Head Coach in 2001.
Q: Wow, you've had quite a football career.
RH: For a young guy I've experienced a lot. We turned the two worst programs in the state of Oklahoma around and had winning seasons. It was a lot of hell going through it, but we found a way to get it done. It was interesting, to say the least. (laughs)
Q: You were from Kansas originally, right?
RH: Yes. Well, my whole life I loved Nebraska. My grandparents lived in Bellevue and growing up we'd go up there for the holidays. I'd always had a love for Nebraska, and my senior year I led the state of Kansas in receiving. I was a possession-type guy, not a speed guy, and I sent my film to Coach Ron Brown -who was the receivers coach at the time- and they offered me to come up and take an official visit and offered me a walk-on opportunity, and that was a dream come true to me. You remember how walk-ons were treated just like scholarship guys? So that was obviously very appealing to play for the team you love.
And I had a chance baseball-wise back then, with Coach John Sanders, the baseball coach, and baseball was a pretty good sport, as well, and he said I had a chance to try to play there as well, though I never did take him up on that. But I figured, "Hey, it's only three hours away from my home, so why not do it?"
Q: When was your first year on campus?
RH: The fall of '93, a freshman from Overland Park, Kansas and Blue Valley North high school.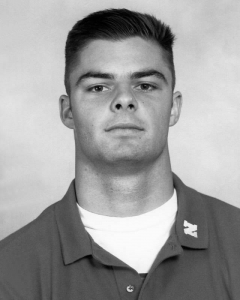 Q: Original impressions?
RH: Well, I can remember my freshman year was the last year they allowed freshman two-a-days, so we were there maybe a week before the varsity would show up, and they got us out there and put us through some pretty intense practices. And there were only two outside wide receivers -Jeff Lake and I- so we had to run about every play at practice. (laughs) And the only play we got off was the power set, the power I. It was the only play we got off during two-a-days.
I just remember being there and I can remember Lawrence Phillips, a guy I was wowed with, being a special player. I remember, Paul, my first varsity practice they put the freshmen against the Blackshirts. For my first practice I'm out against Barron Miles and Tyrone Williams, and you talk about a rude awakening? The game sped up like I'd never seen before. Being a 160-pound freshman wide receiver, it was an eye-opening experience, but it was a deal where you lived with it.
There were some good days and bad days, Paul. I remember my redshirt year my aunt passed away, so I went to her funeral, and then 4 days later my Mom's dad died, so I went to two funerals in less than a week. So you're redshirting and getting your butt kicked on scout team and you're a little homesick, but the bottom line was that you're playing at arguably the best program in America, so you had to make the best of it and fight through it. And it made you stronger.
You know, you have a girlfriend back home and she's calling you. And I'm like, 'What am I doing? I've got all these freshman girls here on campus and I'm dealing with a girl back home?' (laughs) We all make poor decisions, and that ended and I got smart and began messing with the Nebraska girls. (laughs) It was good, though, you realized what it was going to take, just the work ethic and philosophy of what the program was built upon, and that was what I really enjoyed. And to be honest with you, Paul, the reason I went to Nebraska -a lot of guys go there because they want to eventually play in the NFL, and I knew in a hundred years that I wasn't going to be a great player, I was going to be the typical Nebraska football player that was a walk-on and that I was going to do whatever it took to help the football team, whether it's on scout team, ones or twos or whatever- but I knew I wanted be a coach, so it was an unbelievable opportunity to be a sponge and learn from the best. Guys were there for the NFL, but it was an opportunity for me to learn from the best. And sometimes there might be guys potentially dozing off in meetings, but for me I made sure I paid attention because I might pick up one detail that someday might help me.
Q: When did you decide you wanted to be a coach, Ryan?
RH: I knew when I was a little kid that I wanted to be the guy that wanted bad programs. I tell you what, when Bill Snyder took over Kansas State, that was everything I wanted to do someday. And I love building organizations. I used to take baseball cards when I was 8 years old and I'd put them together like a general manager of a team. Joe Horst was my roommate and he was from Wood River (and Scott Frost eventually transferred back- and they were teammates in high school), another walk-on. I really had a bunch of us walk-ons hung out together a lot in addition to a bunch of scholarship guys, too. We had a common bond that way. Brendan Holbein and Chris Dishman from Cozad, those guys were great.
Q: So Ron Brown was your position coach. How would you describe him?
RH: Well, Ron Brown, first of all, is an unbelievable person, a Christian man of faith and just a guy that would never let you settle for mediocrity, always trying. There was never a second during practice where he wasn't trying to get the tight ends, the receivers better. He was very detail-oriented and expected the best, did what he said he was going to do.
And he's back there now because of those type of characteristics and qualities that it takes to be an outstanding position coach, because he had a chance to go to Florida State. Bobby Bowden wanted him, the NFL and Tony Dungy wanted him. You can't teach that, it's just ingrained in the person. I learned so much from Ron Brown. I would take certain things from meetings and practice habits when I was coaching my team, different drills. All those things.
Q: What mannerisms of his coaching really stick with you?
RH: Really, the stressing of physical play. The receiving corps at Nebraska stood alone in college football, was just known as the all-around type of receivers in the United States because of the work ethic, the physicality, the cut-blocking, all the things that you have to be an unselfish, hard-working guy that didn't care about credit. You were going to do whatever it took to spring that block and enable the running back to go all the way, and you know, a lot of times prima donna receivers don't like to do that stuff. If you look at my teams offensively, with the wide receivers we stressed the cut-blocking and all those things.
There were other things, but that was a big thing I took away. And what it is, the thing that set Nebraska apart back then was the philosophy of the physicality of winning that began in the fourth quarter. It was a learned behavior. It was tough in practice. Everybody believed in it from the strength staff to the coaching staff to the tutors in academics, everybody believed in it. It was tough from the moment you walked in to the moment you left, and there was no going against it, and the thing that was nice was that you would see success in it and you could believe in it. Sometimes if you don't see it you don't believe in it. But you would see it, and it would make you believe more and more and more.
It's not something that happens overnight, it's something that's taught. And it happened over time. It's the same philosophy as the military, they taught a philosophy as to how they were to go about things, and it was the same at Nebraska. You see a lot of programs going up and down and left and right, they don't have that type of philosophy they can hang their hat on. That's why there's turnover and not success in the system.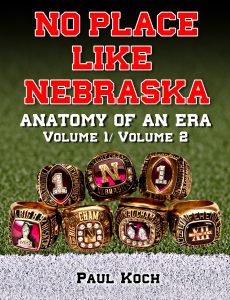 Both volumes available on Amazon.com
Q: How long do you think it took the typical player to fully buy into this mindset?
RH: Well, what I look at, Paul, there weren't many freshmen that really played at Nebraska. What did most kids do? Most of them redshirted, maybe they played some special teams or backup duty. A lot of kids didn't play 'til maybe their sophomore or junior year and sometimes their senior year.
And the thing that set it apart, also, was that this behavior was done in scrimmages: the cut-blocking, the physicality. In practice. And not many programs do that. You can't just turn it on on gameday, you have to do that all the time. It went into spring football, the Tuesday and Wednesday full pad practices. And the thing about it, with all the walk-ons and the kids that were in the program, when you've got 145 guys out there you can get a lot of reps in practice, and that allows you to train your body and the motor skills and techniques that they wanted you to do because you were doing it over and over and over. The offensive linemen, they came in 6'5" 240 and by the time they're seniors they're 6'6" 300 and they've done this thing a million times. They don't have to think, they just play. That's what it's all about, that's why it was very successful.
Q: What about Coach Osborne?
RH: He's like John Wayne. Big, tall, 6'3", 6'4" guy. When he walks in everybody shuts their mouth. It's obviously his history and what he did in the past, instant respect. Obviously he was very consistent, too. He explained why we do things. He said, "We're not gonna be a team that throws it 60 times a game because the state of Nebraska in November might be freaking 20 below zero, so this is why we have to do what we do." It doesn't take a brain surgeon to figure out what was right.
To be continued….
Copyright @ 2013 Thermopylae Press. All Rights Reserved.
Photo Credits : Unknown Original Sources/Updates Welcomed
Paul Koch
---
---
---