Anatomy of an Era, Coach Ryan Held, Part 2
Excerpted from Chapter 37, No Place Like Nebraska: Anatomy of an Era, Vol. 1 by Paul Koch
Anatomy of an Era, Ryan Held, Part 2
Q: What about Coach Osborne?
RH: I remember this, (and he came in on Monday, and we always had 8 or 9 new offensive plays that week) we're getting ready to play Colorado and he drew up a formation and he said, "Guys, we're gonna line up like this the first play of the game. They're gonna line up just like this, and we're gonna score a touchdown." Well, we lined up like that, Paul, the first play of the game we ran it and it was a 75 yard touchdown, Ahman Green at the University of Colorado. So what he drew up earlier in the week? It was exactly what they did. We were never out-prepared. Everything that he said, they did. And maybe a tinker here or there, but for the most part we were always well prepared and had a lot of meeting time and we were never left with any surprises.
Q: What about other coaches?
RH: Obviously, Charlie McBride, he speaks for himself, just how intense and smart he really was. He was probably, when you look at defensive coordinators in college football, he has to go down as one of the top ten of all time. Unbelievable how he could think ahead and prepare the Blackshirts on a day-to-day basis.
And he came in one day to the meeting room and just absolutely went ballistic at the whole team, the whole football team. I'll never forget, it might have been '94 when we didn't play as well against Wyoming, and I think he just came in that Monday or whatever it was and went absolutely ballistic. And ever since then it was just a turning point. Normally the coordinators didn't talk to the whole football team, it was just Coach Osborne, but he took the stage and just ripped everybody's ass. It was awesome! (laughs)
Q: Can you describe how he would go ballistic?
RH: It was all of the above: spit flying, tobacco juice, he'd go off on some tangents. If he talked, you better keep your mouth shut. Nobody moved an inch. If you moved an inch everybody thought it was over, it was unbelievable.
Q: What would you say your greatest contribution was?
RH: You know, my main contribution was: I redshirted, I was on scout team my freshman year (the year that Tommie Frazier had the clots in '94). I moved to scout team quarterback to help the team and I remember I was 4-time Scout Team Player of the Week because I just got out there and busted my ass to help out as scout team quarterback. That was probably my best accomplishment. For me to get that award 4 times in an 11 game season, that was something.
Again, I wasn't even a guy that played a whole lot. I got a little bit of time here and there, but behind the scenes, just like a lot of guys who helped prepare the Blackshirts every day and just be a team player, man, I was not in it for myself. I was in it to help whatever way I could, whatever role I was given. You've got to have guys like myself and my roommates who didn't care who got the credit. Like that old saying by Ronald Reagan: "You'd be amazed what can be accomplished when you don't worry about who gets the credit." And that's how that program was built. There were a lot of guys like that on scout team that might have gotten one play in their career, Paul, and it was well worth it. And most kids would have quit and said 'forget it' and went out on O Street on Friday night, but they believed what was going on, and the friendships and camaraderie that you get from it?  Matter of fact, Aaron Taylor just 'Facebooked' me tonight before you called and asked me how things were and if I was ever going to get back into coaching. Here's Aaron Taylor, the Outland Trophy winner and here's Ryan Held, the walk-on wide receiver, and we're still in contact.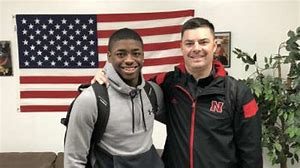 Q: Do you recall the first time suiting up and running onto the field?
RH: It would have been the year after my redshirt, in '94. I just remember there'd be some days like Tuesday and Wednesday practice and you're getting your butt kicked every day, and you're, 'Oh, my goodness.' But then when you run out onto that field on Saturday it takes all that away, Paul. When you see the fans and the excitement and the energy level of the stadium and just being able to run through the band and hear 'Hail Varsity', it's just, you get goose bumps. There's no better deal. That was just a special deal for me, just being on that sideline and seeing all the great players that were playing, you know what I mean?
And the thing is, just like what Coach Osborne would put up on the board -for me, personally?- I would like to sit there and watch it all unfold. I got a kick out of that. Here it goes, 'Boom!' I'd stand there around the quarterbacks writing down the plays and I'd want to know what play was coming and wanted to know, 'Okay, what play is coming? Where should we run it?' And I was always thinking ahead and trying to figure out, 'Okay, what would I do here?' And then watch Coach Osborne call a play and set up things down the road.
Q: What did you get your degree in, Ryan?
RH: Well, I was in Teachers College, and then going into my senior year I switched to Community Health so I could graduate early, so I could go the University of Tennessee and be a graduate football coach instead of coming back to school in the fall and missing that opportunity.
And I don't know if you know, Paul, but I was part of the three national championships at Nebraska, and then in '98 I went to Tennessee and we won the national championship, beating Florida State, so I actually have 4 National Championship rings.
Q: Can you tell me what it was like preparing to play Nebraska?
RH: It was a nightmare. (laughs) There were so many things you had to stop, that Nebraska did offensively. You had to stop the fullback, stop the outside power game, you've got to stop the option game, you've got to stop the bootleg. When you're on the other side there are so many things, you can't believe what you have to prepare for. And you just couldn't simulate it in practice. Teams just couldn't simulate what we did in practice. Coach Osborne, absolutely, was the true inventor, there's no question that a lot of different stuff we did helped evolve the spread offense. If Coach was still coaching, he'd be doing some of those things, obviously.
Q: So you redshirted your first year in '93 and spent five years at Nebraska, were you playing your senior year or were you an assistant?
RH: Yeah, halfway through my junior year I hooked my shoulder, so I gave up my senior year to be an undergrad football coach and getting a medical scholarship. My senior year I was actually a coach… well, half my junior year and my senior year. My senior year I was an undergrad coach with Coach Solich and the running backs.
Q: Anything stand out from that time?
RH: Well, you go from player mode to being in meetings and really getting behind the scenes and stuff, and that was just great to be able to watch the film more in depth and hear what the coaches were saying, all those things that helped prepare for an upcoming game. I felt I learned even that much more, obviously, going into those 6 a.m. staff meetings.
You know, Coach Osborne would always do one of those moments where they would take a Bible verse and say it and relate it to what was going on at that time, which I thought was awesome. Not many staffs do that: bring spirituality, Christianity, into the mix. And that was the thing, Paul, going back to Ron Brown and talking to Turner Gill and all those things. You know everybody always talks about that separation of church and state, but whether or not you were religious or not, you respected it. It was just awesome, because you felt good about everything about the organization. There wasn't negativity.
Obviously we had issues -every program does- but Saturday morning there was chapel and mass, and that kind of stuff I think is very important. And I adopted it in my coaching when I coached, I gave that as an option in my organizations, as well.
Q: Working under Coach Solich, any reflections about the man?
RH: Well, he's a bulldog, you know? He's a feisty guy. He's a really good football coach and I respect him a lot. He was a great recruiter, worked hard, earned his stripes, it's too bad the whole situation how he got ousted, I think. I respect him a lot, he's a great coach.
And Turner Gill? I knew Turner Gill was going to be an unbelievable coach. With his work ethic, his spirituality, how he treats people, philosophy… and that was another thing with Coach Osborne: how you treat people. Whether it's the custodian, whether it's the secretary, the walk-on kid from wherever? You look at all those things and in any successful organization the top guy knows everybody in the organization, because everybody had a role. Whether it's the guy taking the trash out or the secretary answering phones, everybody had a role. And he knew everybody's name, and that goes a long way when you look at championships and successful business, for any organization, I believe.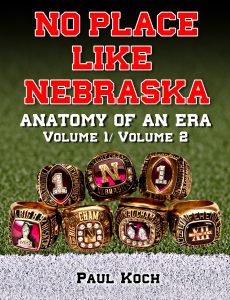 Both volumes available on Amazon.com
Q: And in those film sessions, what stands out to you?
RH: Well, just listening to them watching the opponent, watching the defense of the other teams, their philosophy, how the other team would line up on defense and "Here's how we were going to attack it." Everybody was just on the same page and it was, "They're gonna line up here, so here's how we're gonna attack 'em this way. Oh, and look what they do on this set. We can attack 'em here." You know, Paul, football is the closest thing to a military operation. It really is, attacking, it's the closest thing to military warfare. And you get in there and look at it, and you're preparing for a football battle and you're in there and, "How are we gonna attack these people and what are their weaknesses?"
And then when I got better and was learning everything, I'd be right on the same page and right there along with them, because you just did it over and over and over. And you saw so much film it was just ingrained in your mind.
Q: And I suppose so many of those guys had been together for so long, I'm sure they often began to think alike and almost didn't even have to speak, they just gave a wink or a nod and each knew what the other was thinking, too? Like they had their own special language?
RH: Absolutely. And that was another thing: continuity and camaraderie, that goes a long way. I'm trying to think, Coach Steele might have left during my era and we brought in Nelson Barnes…there wasn't much turnover. And Dave Gillespie came in, and you add all that up and Milt Tenopir and Dan Young, they had such an unbelievable system… we could out-scheme anybody in America because they'd done it so long. And then you get on out on the game field and see what the other team is doing? Just the ability to make adjustments at halftime and during the game and get the guys aside and go, "Okay, they're running this against this, so we're running this." And if you don't have a system like we had and the program like we had, you can't do those things.
Q: Take me back to when you were in the coaching position. Where were you during the games?
RH: Let's see… actually I was on the field. My job during that time was to (along with Graduate Assistants Mike Grant one year and Chad Stanley another), would tell me what the defense was for each play that we ran, and I would draw up the formation and draw in the defense, and then those cards I would give to Coach Osborne and he would go to the quarterbacks and show them, "When we do this, they do this…"
Now, in the NFL, Paul, they take pictures. You watch on the sideline, they've got those cameras, but we would draw it up and that's how we would make adjustments. And he'd call all the quarterbacks, Tommie Frazier, "Hey, we ran One Right 41 Sprint, we probably should have gone 49 Sprint." That's how we made those adjustments in the game and really helped us to be successful.
Q: So tell me, you're on the sideline versus Tennessee and it's the last game you know you're gonna be a Husker. What was that like?
RH: Well, it was special knowing I was gonna be on the coaching staff of Coach Osborne's last game and last season as Head Coach. Not many people can say that. That was just a special deal to be a part of it, whether you were player or coach. That will go down in the history books. And you always want to be a part of history, somehow, and you want to make sure it's positive. (laughs) That was a great deal. Obviously, it was a sad, sad situation with him retiring, but it happened for a reason and I was just happy to be a part of it.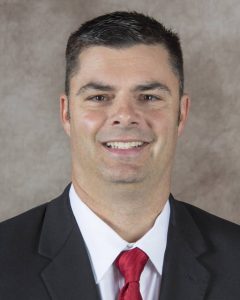 Q: What was your all-time favorite game?
RH: The Miami game in '94. What I can remember is looking out and seeing Warren Sapp. We had this function and we went to a sea aquarium or something, and both teams got together and Warren Sapp was so arrogant and walking around thinking he was the greatest thing since sliced bread, and I can remember him in that fourth quarter sitting on his knees gasping for air. I just remember how we talked about wearing them out and just winning the game in the fourth quarter. And I think it's on a shirt or a picture, somebody's got it, it was him and Ray Lewis and some of those guys out of gas. I just remember that was my favorite game, because we could never beat Miami. They would always beat us in the Orange Bowl down there, and to beat them on their home turf was awesome.
Q: Anything else about that that bowl game stick out to you?
RH: Well, I just remember that old Orange Bowl, it had those old metal seats. And it was so loud in there, you know? It just had a mystique about it. I have to give Miami credit, it was tough to win down there. It was so old, and the announcer was the same guy, they had a heck of a thing going. The odds were against us. We were supposed to get their locker room because they weren't supposed to have their own, old locker room, and somehow they complained about it and we just said, "Screw it. We'll take the visitors' locker room and they can have their old locker," and there we go.
To be continued….
Copyright @ 2013 Thermopylae Press. All Rights Reserved.
Photo Credits : Unknown Original Sources/Updates Welcomed
Paul Koch
---
---
---