Tad Stryker: Pelini stakes his future on ability to turn defense around
Judging by the response at Memorial Stadium Saturday, Bo Pelini seems to have made some progress repairing his relationship with Nebraska's fan base. That seemed easy enough. It'll likely take a lot more work to go to get his defense fixed, though, and in the final analysis, Pelini's success or failure in Lincoln will be decided by his team's results on the field.
Pelini seems more concerned about the defense than his reputation anyway, and probably, that's for the best.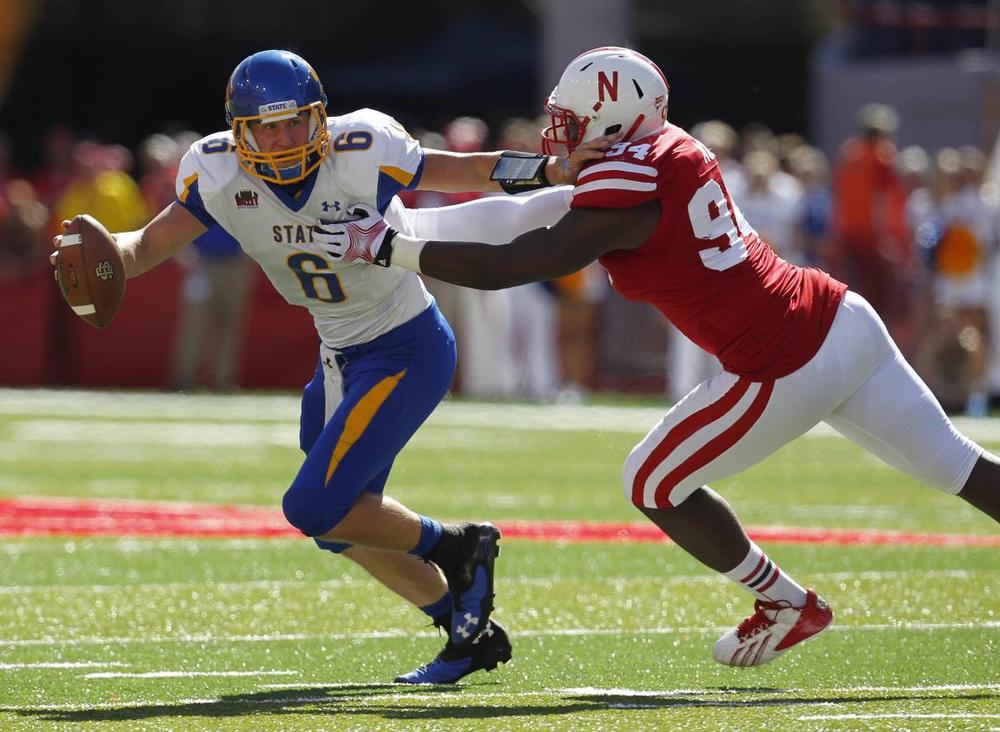 His stock briefly took a nosedive during an embarrassing and draining week that started with his team's meltdown against UCLA and went shockingly downhill from there, to the point where people were whispering about Pelini possibly losing his job for indiscretions caught by a microphone he didn't know was open. Then the Cornhuskers gave their edgy fan base a little something extra to worry about for one quarter Saturday, as South Dakota State ripped the Husker defense for 146 yards and two touchdowns on their first 10 plays from scrimmage.
The Jackrabbits eventually piled up 465 yards of total offense on a beautiful sunny day in Memorial Stadium. Although Nebraska managed to stop the bleeding midway through the second quarter, It was a good thing the Husker offense ran beautifully behind quarterbacks Tommy Armstrong Jr. – who was smooth and decisive in his first start – and Ron Kellogg III. It was also good that the shaky Blackshirts managed to get three takeaways. Still, there was a lot more anxiety surging through the stadium than a 59-20 final score would indicate.
With Taylor Martinez sidelined by a bad case of turf toe, it seemed likely that Nebraska would run the ball most of the day. The Huskers indeed had success on the ground, but Armstrong and Kellogg passed effectively enough to give the Huskers 300 rushing yards and 300 passing yards in the same game for the first time ever.
So were NU's eight consecutive scoreless drives against UCLA merely an aberration? Possibly, but the jury's still out. Pelini focused the post-game attention in a different direction. There's a sense of urgency throughout the Husker fan base about the young and erratic defense that has allowed more than 450 yards a game thus far. No doubt about that. And Pelini raised the stakes after the game, doubling down on his confidence that he can get the ship turned around.
In his press conference, Pelini ran a vigorous PR campaign to convince his constituents that he knows just what needs to be done to fix the defense – and that he will surely get it done. Let's lay aside any pretense that defensive coordinator John Papuchis is anything but a figurehead doing his best to run Pelini's schemes.
The thought of Pelini running a PR campaign makes me a little nervous. But then, a lot of folks want him to start behaving more like a CEO, instead of a boorish football coach. Right?
Nobody was getting anything done on defense in the first quarter. Both teams churned up and down the field easily, and it was 14-14 less than nine minutes into the game.
SDSU's Zach Zenner, a 6-foot, 220-pound running back, pounded and slashed Nebraska's pillow-soft run defense for 202 yards and two touchdowns on 21 carries. It would have been worse, but Zenner left the game early and was seen icing his ankle on the sideline.
It also could have been worse had SDSU head coach John Stiegelmeier, trailing 21-17, decided to let his team run the ball on third-and-2 from the 50-yard line early in the second quarter. Instead, quarterback Austin Sumner threw an incomplete pass, and Stiegelmeier decided to punt on fourth down, prompting a collective sigh of relief from millions of worried Husker fans around the nation. If the Jacks had converted and gone back to take the lead, the game could have turned out differently.
The encouraging thing was that the Husker defense started to solidify in the second half and forced three turnovers – including a pick-six by defensive end Randy Gregory, who was lined up as a linebacker and made a nice break on the ball. With SDSU running the ball effectively, Nebraska couldn't get a consistent pass rush, but the Huskers put five sacks on the board when they got the outmanned Jacks into obvious passing situations. It won't be that easy in the Big Ten schedule.
Less encouraging was the fact that safety Corey Cooper had to make 10 tackles to tie for the team lead. Zenner spent way too much time churning through and the around the Husker front seven, making them look silly. Right now, Nebraska can't stop much of anything between the tackles. Come to think it, the Huskers can't seal the edge, either. Zenner had no trouble bouncing outside for big yardage. Pelini acknowledged that nobody is getting off blocks among his front seven.
Pelini's post-game comments about his defense were direct and carefully chosen.
"In football, no one's going to give you anything," Pelini said. "You've got to take it. You've got to earn it. If you don't have that kind of approach, it's not going to work out well for you. Right now, that's how we're playing. We're not playing with a type of attitude that you need to take to the field defensively. There has to be a sense of urgency every time you line up. For some reason, that isn't the case right now. That's the first thing that we need to get fixed."
Pelini's comments reflect his own sense of urgency. He has never been shy about touting himself as a an expert who knows how to put together a defense. But he's taking his "I-can-get-it-done" theme to a new level.
Perhaps as a nod to the reality that this defense needs a lot of work, Tim Beck slowed his offensive tempo to keep the Husker defense off the field as much as possible. The youngsters still are feeling their way along – or groping blindly, in many cases.
Husker fans seem ready to give Pelini a bit of slack. There was no organized anti-Bo sentiment that I could see at or around the stadium. After the game, several hundred fans in the rapidly-emptying north stands gave Pelini and the team an enthusiastic cheer as they left the field. There was definitely more energy at that moment than would normally occur after the Huskers run roughshod over an FCS opponent.
That energy could turn quickly if teams like Illinois, Minnesota and Northwestern find as much running room as everyone else has this year.
Formerly the sports editor at the North Platte Bulletin and a sportswriter/columnist for the North Platte Telegraph, Tad Stryker is a longtime Nebraska sports writer, having covered University of Nebraska and high school sports for more than 25 years. He started writing for this website in 2008. You can e-mail him at tad.stryker@gmail.com