Stryker: Return of Superman is a thing of beauty
A national television audience may have thought Nebraska's 13-7 win over Iowa on Black Friday was sluggish, even dull. But Husker fans around the nation recognized the beauty of Rex Burkhead's return to action.
After sitting out roughly the equivalent of five full games, Superman reappeared in the second half on a cold, windy day in Iowa City, and none too soon for the Big Red. He immediately added a missing dimension to the Nebraska running game that was badly needed because Taylor Martinez was neutralized by an inspired Iowa defense on Senior Day.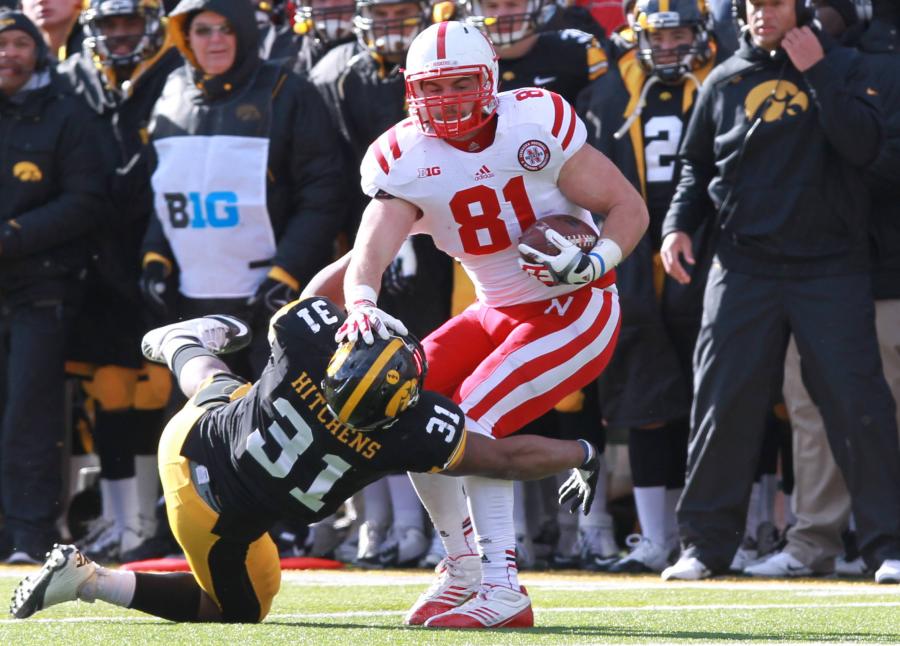 Tight end Ben Cotton tries to fend off Iowa cornerback Anthony Hitchens. | Reese Strickland-USA TODAY Sports
Before the game, most Husker fans expected a rather easy win over the Hawkeyes, and hoped Burkhead could get a few carries to get the rust knocked off his game before moving on to Indianapolis. But Burkhead was the main offensive force of the day, rushing 19 times for 69 yards and the go-ahead touchdown, a 3-yard run that was similar to his TD against Iowa last season in Lincoln.
He didn't break any long runs, but his short game was powerful. When it comes to getting the tough yards in the red zone or on third-and-2, Burkhead is the best Nebraska has seen since Ahman Green. The Huskers are glad to have him back for the Big Ten Championship Game, and he could be the difference.
The Huskers will need all the spark Burkhead can deliver, because they will play without center Justin Jackson (ankle injury) and defensive tackle Baker Steinkuhler (knee). The defensive line will be thin without Steinkuhler and it will be battered by a resurgent Wisconsin team with a big-time power running game.
Still, you have to play with who you've got. Wisconsin will be without its starting quarterback. But the Badgers have Heisman candidate Montee Ball.
Even without Jackson and Steinkuhler, I think the Huskers can beat Wisconsin as long as they stay even in turnovers. I'll gladly trade the return of Burkhead for the loss of Jackson, even though he has been as consistent as any Husker offensive linemen this year. That's not to minimize the play of Jackson, a native son who has shown excellent leadership and toughness, but it's just to emphasize the extra dimension Burkhead brings to the Husker attack. Ameer Abdullah has had a great year, and Braylon Heard (46 yards on four carries) played the best game of his short career Friday at Iowa, but Burkhead is a cut above, and his leadership in Lucas Oil Stadium will be important.
Burkhead rushed for 69 yards on 19 carries, including a touchdown that probably nobody else on the roster would have gotten. If Burkhead started the game, NU likely would have punched its long opening drive into the end zone instead of settling for a short field goal by Brett Maher.
Iowa played power football, and its workhorse back, Mark Weisman, had 91 yards on 29 carries. He dented the Blackshirts in the first half, but did not become a difference maker. He got 33 of those yards on the Hawkeyes' opening drive that ended in a touchdown. After that, the Blackshirts took over, led by senior defensive end Eric Martin.
It will be a long winter for Iowa (4-8, 2-6 Big Ten), especially for coach Kirk Ferentz, who is paid about a million dollars a year more than Bo Pelini makes at Nebraska, but has done a miserable job of coaching since taking Iowa to the Orange Bowl in 2009.
Meanwhile, Nebraska achieved what few thought possible, winning its last six regular season games after getting walloped in Columbus, Ohio. But the question persists: will Nebraska's penchant for turning the ball over finally come back to bite the Big Red? Or will they continue to be the sloppiest successful team since the Oakland Raiders of the 1970s?
It's hard to say, but here are some things we know for sure: the Huskers are 10-2, have won seven conference games for the first time since 2001, and continue to gain mental toughness, especially on defense. Their six-game winning streak ties the best of the Bo Pelini era. This year's Huskers may get punched in the mouth once in awhile, but they'll get up and hit you back.
Just how mentally – and physically – tough the Blackshirts have become will be tested Dec. 1.

Formerly the sports editor at the North Platte Bulletin and a sportswriter/columnist for the North Platte Telegraph, Tad Stryker is a longtime Nebraska sports writer, having covered University of Nebraska and high school sports for more than 25 years. He started writing for this website in 2008. You can e-mail him at tad.stryker@gmail.com.
---