Stryker: A rising running game lifts all Husker boats
The rising frustration and widening divide among Nebraska football fans is real. My inbox is evidence that three consecutive losing seasons under favorite son Scott Frost are reopening fault lines that have plagued the program for two decades.
Frost returned in December 2017 to near-unanimous support, which has quickly eroded. I've been hearing regularly from someone I'll call Frost Is Floundering. He's one of many who tell me that the head coach and his staff are in over their heads in the Big Ten. This man is bracing for a dismal season in 2021.
"I just don't see 2021 being significantly better than it has been to date," Frost Is Floundering wrote in mid-January. "Something's seriously wrong with the culture. Frost's recruits are not buying into what he is selling or coaching. I believe future recruits already have their doubts about NU returning to power."
Not only does Frost Is Floundering regularly criticize the anemic 23-points-per-game offense, he has serious reservations about the Husker defense, saying I give Erik Chinander and his unit too much credit. "His defense will get run over by a good team and destroyed by an elite team," he told me late in 2020.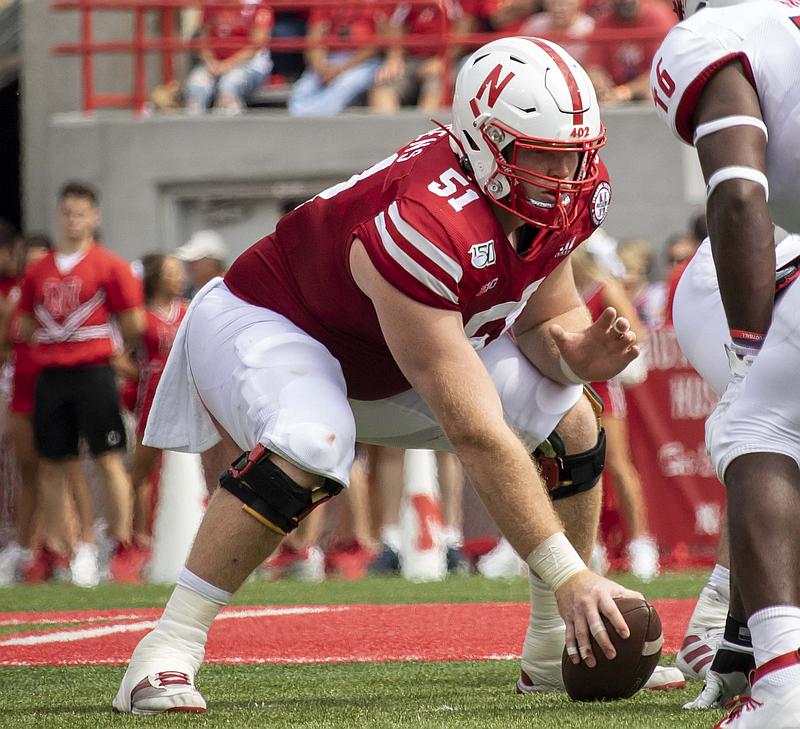 Cam Jurgens should be ready to support a steady Husker ground attack in 2021. | Kenny Larabee, KLIN
Hogwash, say fans who think I've been too hard on Frost lately. This group, which has been declining in number over the past year, generally points out what a wretched mess Frost inherited from Mike Riley, who wrecked NU football's culture and work ethic. Their perspective is the current Big Ten is the toughest conference NU has ever played in, so "let's give him time and recognize these are not the 70s, 80s or 90s." In fact, one of them told me to lighten up, no substantial changes are needed, and, "I think we'll be fine."
"Could you pleeease just let Frost and his staff do their thing?" wrote Frost Will Be Fine in response to my Jan. 23 column. "This staff is good."
No doubt, Frost Will Be Fine is glad the Husker football CEO just extended the contracts of all his assistants, including strength and conditioning coach Zach Duval. At least nobody can argue this fall that the Huskers lack stability in their coaching staff.
Can Frost Is Floundering ever make peace with Frost Will Be Fine? Yes, I think so. In fact, it really doesn't have to be all that difficult. Run the damn ball. But not always with the damn quarterback.
The history of Nebraska football clearly shows that a good running game heals all maladies, makes crooked paths straight and turns bitter enemies into friends. It also wins football games. I think Nebraska football can quickly return to national prominence, but not if Frost sticks to his finesse-based attack that relies too heavily on horizontal passing to jumpstart the offense. With a little assistance from Ryan Held and Greg Austin, Frost can overcome a 12-20 start and unite Husker Nation by Christmas if he learns to lean on the inside zone, the quick pitch and the counter trey.
It may sound crazy now, but a 1,000-yard running back would breathe all kinds of redemption into the Big Red's soul. Just as importantly, it would take a huge load off Adrian Martinez, who looks like he often plays under self-imposed pressure. Seems to me he's trying to hit a grand slam almost every series. Nebraska fans are all too familiar with Martinez working under a "gotta-win-it-all-by-myself" mentality. Mix in spotty pass blocking, and it's a recipe for failure.
The byproducts of a true downhill run game would be profound, starting with, but not limited to, a healthier Martinez, a more relaxed Martinez, a more focused Martinez, a less turnover-prone Martinez and an effective play action passing game (you're up, tight ends).
If a Nebraska running back can pound out 1,000 yards this fall, and a second running back kick in 400 more (it hasn't been accomplished since 2013), the Huskers will win at least eight games, and should at least have their blue-collar identity back, which would help energize an increasingly apathetic fan base.
Obviously, a lot rests on Held and his ability to develop at least one young back into a consistent producer. He has six backs to work with, each having received his share of recruiting buzz when he arrived on campus. None of them appears to be a true home run hitter — that is, the back who's a threat to score each time he gets the ball. Ameer Abdullahs and Ahman Greens have become rare in Lincoln. Those skills and that mindset are largely in place by the time a young man graduates high school. But a doubles hitter who blasts an occasional homer and can catch the ball out of the backfield, well, that kind of talent can be developed from three- and four-star recruits if they're running behind a decent line. We saw that with Devine Ozigbo in 2018. I think Dedrick Mills would have been that guy in 2020 if he had stayed healthy.
You don't have to be a home run hitter to get to 1,000 yards in a 12-game season, or to remove significant pressure from the Husker quarterback, who ran the ball 18 times per game against Big Ten defenses last year.
A steady Correll Buckhalter / Brandon Jackson-style No. 1 back and a No. 2 in the image of Imani Cross or Terrell Newby is what Frost needs right now to take a dramatic step forward, because the offensive line is finally set to become a reliable yearly asset. The experience gained by Cam Jurgens, Bryce Benhart and Ethan Piper absolutely has to start paying off from the opening whistle this fall, and I've got a hunch that Turner Corcoran will advance steadily as a redshirt freshman. If Frost, Matt Lubick and Greg Austin can get on the same page and feature a north-south run game, it would be the salvation of the program. It would prove that Frost is capable of returning to his central Nebraska roots, in deed as well as in word.
We know that Held can recruit. Can he get one (and preferably two) of his backs ready by August? Yes, if there's a normal spring-summer-fall schedule, and if it's a high enough priority. Nebraska has six players with at least three years of eligibility remaining, all highly touted when they came to Lincoln. The most recent, Southern Cal transfer Markese Stepp, likely will get the most looks during spring drills, although he may not be eligible this fall pending adoption of the NCAA transfer legislation or extension of the blanket waiver. Stepp is joined by Marvin Scott, Rahmir Johnson and true freshman Gabe Ervin. Sevion Morrison and Ronald Thompkins were both highly touted, but couldn't get healthy last season. Maybe this year?
Last season, true running backs carried the ball a pitiful total of 96 times for 323 yards over the first seven games, before Mills finally broke out against Rutgers. That's fewer than 14 carries and 50 yards per game (3.4 yards per carry), not counting Wan'Dale Robinson, who should have played the entire season in the slot. NU running backs should gain at least 120 yards per game this fall. Frankly, that's not a very ambitious goal.
Anybody who's watched Husker football for more than a decade knows that Nebraska wins when Husker running backs do well. Let's not overanalyze it. If there was anything good about losing a smart, tough, mature player like Robinson, it at least removed the temptation for Frost to run his offense through an undersized slot receiver.
Maybe the opponent will have to commit seven or eight defenders to the box. Maybe an erratic veteran quarterback will finally change the trajectory of his Husker career. Maybe a roomful of young wide receivers will settle down and settle in.
Can Zavier Betts, Alante Brown and Thomas Fidone thrive in a power run-based attack? Yes. Will Frost have to significantly change his offense or teach new terminology? No. Would it have to look exactly like Wisconsin or Iowa? No. It might even open up the downfield passing game, which would open up an occasional bubble screen, if enough wide receivers and tight ends are serious about blocking for it.
It could look promising in 2021. It should look powerful in 2022. Sounds like something Husker Nation could agree on.
A longtime Husker fan, sportswriter and history buff, Tad Stryker started writing for this website in 2008. You can email him at tad.stryker@gmail.com
---
---
---
---